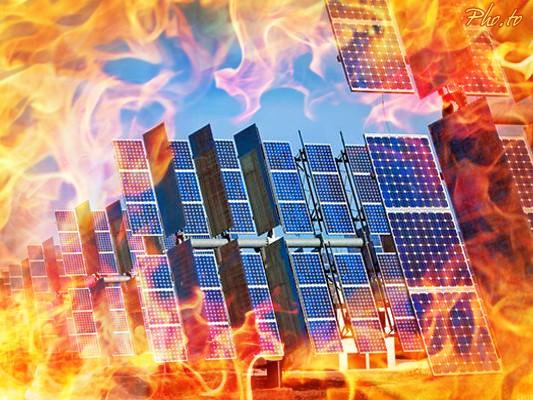 There's those panels and what they'll bring to Tesla
Out of the blue, Tesla (NASDAQ:TSLA) has announced that it offered to acquire SolarCity (SCTY) in a "no-brainer" deal. Officially, the Elon Musk reasoning is that suddenly you'll be able to have your solar panels, car charger and battery storage all installed in one go. To this, we're sure to hear serenades on the attractiveness of the energy storage business. A business that is already running massively behind expectations.
We could start by saying that Tesla's car charging outlet is not installed by Tesla and that nearly no one will be installing storage solutions. Instead, Tesla asks you to find an electrician and the current Powerwall has very little capacity (<7kWh) and is uneconomic as per Tesla itself. So much for those synergies. However, we won't dwell on this. Instead, I'll just describe the real motive for the deal, which is pretty obvious.
So, what's the real motive for this deal and what's the main consequence from it? This article will answer both questions.
The Real Motive
Straight out, the real motive for the merger is simply "SCTY's ongoing access to capital so as to finance its significant capex needs."
SCTY is not unlike TSLA. It too needs added debt and equity in a regular fashion. Only, contrary to TSLA, it has already lost access to the equity markets, and such lost access would now shut it out of the debt markets - to an extent, even the secured debt markets it has been relying on.
SCTY's business, in what regards leases and PPAs, relies on providing the customer with a $0 upfront cost for the solar systems it sells, turning that purchase into a stream of stable periodic payments from the customer. Of course, the solar system still needs to be bought and installed, all of which implies significant capital needs. Traditionally, SCTY has financed those needs by issuing (non-recourse) secured debt with a claim on the cash flows provided by the assets.
However:
Even this kind of financing was becoming expensive, with a recent securitization coming in at a 6.25% blended yield, which SCTY put down to dislocations in the debt markets. Notice that this yield is already above the discount rate SCTY uses to calculate the NPV (Net Present Value) of its solar system portfolio.
The non-recourse debt has, at times, much shorter maturities than the lives of the assets it finances. This means this debt has to be continually refinanced which itself puts pressure on the need to issue new debt. For instance, as of Q1 2016, $241 million of SCTY's non-recourse loans were classified as current, adding to $211 million in recourse debt also classified as current.
The debt being non-recourse does little for SCTY's value, since all its value is locked on the assets which are taking the non-recourse debt. There is no other value to be protected, outside of those assets.
The need for more debt is ongoing, since any new installed systems sold through periodic payments need to be financed.
This reality affects SCTY's capital needs even as it runs at a severe operating loss. Furthermore, SCTY's definition of "positive cash flow" is basically a joke that tracks the cash balance including the increase in financing (so the company taking on additional non-recourse loans which might keep the cash balance stable or growing is seen as "positive cash flow").
In truth, SCTY's free cash flow is negative to the tune of $200-$700 million per quarter, depending on whether one thinks SCTY's leasing/PPA business can be shut down or not (if no more leased systems were installed then SCTY wouldn't have to buy and install them at no upfront gain, and its negative free cash flow would converge to a much lower number).
Then again, SCTY as a separate entity could never stop its leasing business. The reason was obvious: what would remain, its direct selling business, is also an obvious money loser, as I explained in my recent article titled "SolarCity: Now The Loans Don't Work, They Just Make It Worse."
SCTY thus had no way out. It could not continue its business practices, and it could not shut them down. Hence, it needed to be bailed out by TSLA, which hasn't lost its access to equity markets yet (as shown by the recent $1.7 billion equity raise).
SolarCity's Equity Value
We could argue a thousand different ways on how to value SCTY's complex structure. Here, I am going to use the most optimistic way. I am going to use SCTY's own valuation process (with a single obvious exception).
SCTY runs at a loss, but builds a portfolio of yielding assets (the solar systems sold to customers on leases and PPAs). This is not unlike a regular YieldCo, only relying mostly on residential solar systems (with a bit of commercial thrown in). To ascertain the value of this existing portfolio, SCTY uses a NPV approach. What SCTY says its existing portfolio is worth is as follows: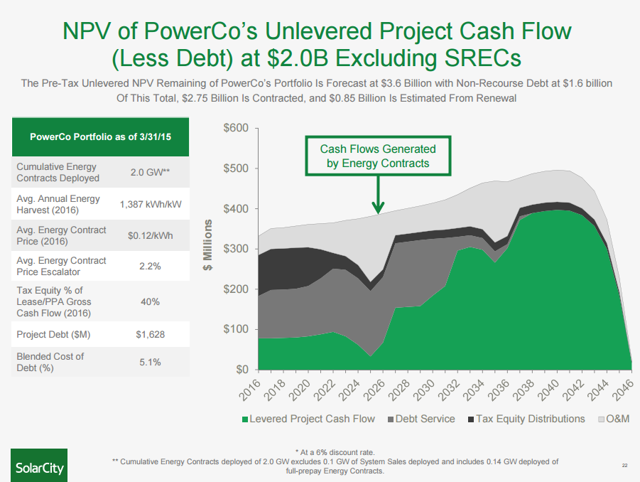 Source: SCTY Presentation
So there you have it, SCTY puts a value of $2 billion on its existing solar portfolio. Of course (and this is the exception), from this we have to deduct $0.85 billion, which are based on the NPV of contract renewals (at a 10% discount to existing power prices at the end of the contract). These make no sense at all, since by then the solar systems would be 20 years old and they lose efficiency over time. Obviously, at that point modern systems would have a much lower cost and higher efficiency than they had at the inception of this contract, so the same $0 down financing scheme in all likelihood would then provide a much better deal than continuing an existing scheme.
Moreover, SCTY would then be liable for removing the (worthless to deploy again) systems the customers refused to renew - which would entail a cost. At that point, it would thus likely be less expensive for SCTY to just give the customers the systems (and get nothing more from them). Even then some customers might refuse, but we can ignore that and call the whole thing a $0.
This brings down the NPV to $1.15 billion, already excluding non-recourse debt.
However, SCTY still has:
An otherwise unprofitable operation it needs to keep running (other than the PowerCo, sustaining operational losses), so worth $0.
Lots of recourse debt. Recourse debt stood at $1.52 billion during Q1 2016, from which we can remove $361 million in cash. Hence, we end up with $1.16 billion in net recourse debt.
Alas, the whole NPV of "YieldCo" is eaten away by the recourse debt. The value for equity is thus zero. Plus, this is an optimistic view. I say as much both because it uses SCTY's own numbers and because if you look at a recent deal by SCTY where it sold a portfolio of existing assets, you notice:
The assets were sold at $3/Watt.
SCTY supposedly kept some upside, but that upside was mostly in the renewals, which the acquirer knew as well as us will be worth $0.
$3/Watt is less than SCTY's marginal cost of building the assets, which stood at $3.18/Watt during Q1.
As such, SCTY is already monetizing assets at prices which guarantee a negative return. Capital needs force it to, like they forced TSLA to bail it out. And again, these conclusions are all made using SCTY's own numbers, which are obviously optimistic on many grounds.
The Problem For Tesla
As I have already written, TSLA is in a position where it needs periodic cash infusions. Thankfully, it hasn't lost access to the equity markets yet, so it was recently able to raise another $1.7 billion which it will now burn through.
The problem for TSLA here is that acquiring SCTY will increase the capital needs. Said another way, TSLA + SCTY will now burn cash faster. Moreover, while there's still a lot of cash hanging around, TSLA will be incentivized to burn some of it down instead of paying the higher interest rates needed to continue financing SCTY's capital needs.
Also, the problem can be larger still. In typical Musk fashion, SCTY's disclosures are shady. Still, they include this in the risk disclosures:
Notes

Holders of the Notes will have the right to require us to repurchase their Notes upon the occurrence of a fundamental change at a repurchase price equal to 100% of the principal amount of the Notes to be repurchased, plus accrued and unpaid interest, if any. However, at such time that we may be required to repurchase the Notes, we may not have sufficient available cash or be able to obtain sufficient financing to allow for repurchase. In addition, one of our existing credit facilities prohibits us from repurchasing the Notes upon a fundamental change.
I say this is shady because there are several Notes (convertible notes) in SCTY's balance sheet. Here, it isn't clear if SCTY is referring to just one of those issues or all of them. But the fact is that a change in control (TSLA buying SCTY) would trigger this repurchase, and then the cash outflow would be something between $113 million (if only the zero-coupon notes are involved) and $909 million (if all converts are involved). At the higher end, this could be a massive cash outflow for TSLA, eating away more than half of its recent equity issuance.
Furthermore, notice that the outflow described above would be augmented by the possible need to pay down the unquantified credit line mentioned.
There are other unquantifiable liabilities in SCTY's filings. For instance, there's the passage below:
As of March 31, 2016 the Company was contractually required to make payments to a fund investor in order to ensure the investor is projected to achieve a specified minimum return annually. The amounts of any potential future payments under this guarantee are dependent on the amounts and timing of future distributions to the investor from the fund, the tax benefits that accrue to the investor from the fund's activities and the amount and timing of the Company's purchase of the investor's interest in the fund or the amount and timing of the distributions to the investor upon liquidation of the fund. Due to uncertainties associated with estimating the amount and timing of distributions to the investor and the possibility and timing of the liquidation of the fund, the Company is unable to determine the potential maximum future payments that it would have to make under this guarantee.
For now, I'll leave readers just with what's quantifiable. SCTY's structure is complex enough that problems can come from left field, well beyond what's predictable.
Any way one cuts this deal, if it goes through then TSLA's risk has increased materially. Furthermore, this deal can jeopardize TSLA's own access to equity. Were that to happen, and TSLA would probably go bankrupt within 2 years, even taking into account the recent equity raise.
The Silver Lining
There is, of course, a silver lining for TSLA shareholders: The deal can fail. While SCTY shareholders are very likely to approve the deal, TSLA shareholders will be much less so, including institutional shareholders.
At this point, this deal failing is TSLA shareholders' best hope.
Conclusion
Two conclusions can be drawn from this exercise:
One is that SCTY was bailed out as it approached a wall of unprofitability and capital needs.
The other is that if this deal goes through it materially increases TSLA's risk of bankruptcy. It does so because it will increase TSLA's cash burn rate and maybe even lead to an immediate $909 million cash outflow. At the same time, it will endanger TSLA's access to the equity markets. This is a very dangerous combination. Just think like a recent shareholder, just having fed $1.7 billion into TSLA to supposedly advance the manufacture of TSLA's Model 3. What would you be seeing now? You'd be seeing that TSLA would be burning part of that $1.7 billion keeping SCTY alive, hastening the time where it would again need to come for more money.
There is no way to see this deal positively. This is not a "no-brainer" acquisition. This is a "no brain" acquisition.
Disclosure: I am/we are short TSLA.
I wrote this article myself, and it expresses my own opinions. I am not receiving compensation for it (other than from Seeking Alpha). I have no business relationship with any company whose stock is mentioned in this article.