Vuzix (NASDAQ:VUZI) held the company's annual shareholding meeting Monday at Vuzix headquarters in Rochester NY. Over 50 people attended the event including several fund managers and analysts. Attendees had an opportunity to interact with management, board members and demo Vuzix products of today and tomorrow. Vuzix's partners provided important 3rd party validation of the competitive landscape and just how far ahead Vuzix is ahead of the nearest competitors. Vuzix smart glasses provide efficiency gains, save money, reduce errors and empower workers to leverage hands-free technology.
8 Key Takeaways:
Vuzix M100 and M300 augmented reality smart glasses continue to beat the competition (Google Glass and Microsoft's HaloLens) head-to-head
Vuzix's customers base spans across multiple industries (manufacturing, logistics, BioPharma, HVAC) and include some of the largest companies in the world
Vuzix's first volume batch of 200 M300 units will be received shortly and sent out to VIP accounts
Paul Boris, Head of Manufacturing Industries, General Electric Digital and Vuzix board member sees smart glasses becoming a standard issue within a few years
Vuzix's M300 will be part of General Electrics's upcoming wearable challenege that will span across multiple divisions within General Electric
After just 6 months in the Field XOEye's customers are seeing a return of $20.11 for every $1 invested in Vuzix's smart glasses
Vuzix iWear will be front and center at an ESPN televised Drone Racing Event in August
Vuzix iWear headset is best in class in the drone racing arena in terms of FOV (Field of View), latency and image quality according to IDRA's Chief Marketing Officer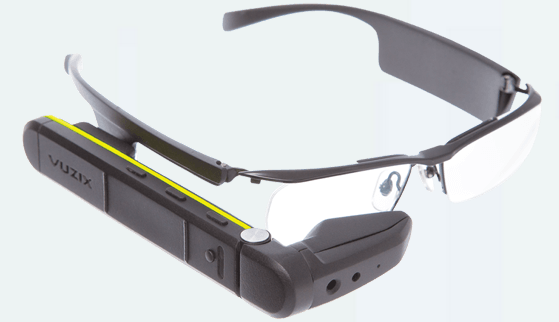 (Vuzix's M300 Smart Glasses Are Pictured Above - Source Vuzix)
Vuzix CEO Paul Travers walked attendees through the corporate presentation and provided an update regarding the M300 project. Travers' presentation was followed by Paul Boris, a former executive with SAP, a developer of software and current executive at General Electric (NYSE:GE) and Vuzix's newest board member. Paul Boris was followed by several Vuzix partner presentations, which provided attendees with partner specific backgrounds as well as overview of several industrial markets.
The most important takeaway from the event was that Vuzix's augmented reality partners are beginning to a significant uptick in commercial order flows. Pilot programs that generated 10 and 20 unit orders are now order 200 and 500 unit orders. Although the presenting companies serve very distinct and different industries the messaging was consistent and overwhelmingly positive. Industries represented included HVAC, BioPharma, Insurance and Manufacturing.
What The Partners Are Saying About Vuzix
Apprentice Field Suite has relationships with the top 10 BioPharma companies in the world and expects two companies in the Fortune 50 to deploy M300 units this year. Apprentice Field Suite like all of the smart glass software developers makes money on SW and support will package augmented reality smart glasses with their software solutions for customers.
Apprentice Field Suite's goal is to generate revenue and package their software with the best product in the field. In a head to head test Microsoft's (NASDAQ:MSFT) HaloLens went head-to-head with the Vuzix M100 (1st generation AR glasses) and the hands down winner chosen by customers was the Vuzix device over HaloLens.
When you put the Vuzix smart glasses side by side with competitors including Google (NASDAQ:GOOGL) and Magic Leap it is clear why Vuzix is an industrial leader. Vuzix has a clear edge in battery life, comfort, availability and cost. Comfort is extremely critical because smart glass users are expected to wear augmented reality smart glasses for full or extended shifts.
Image Source: Vuzix June 20th Presentation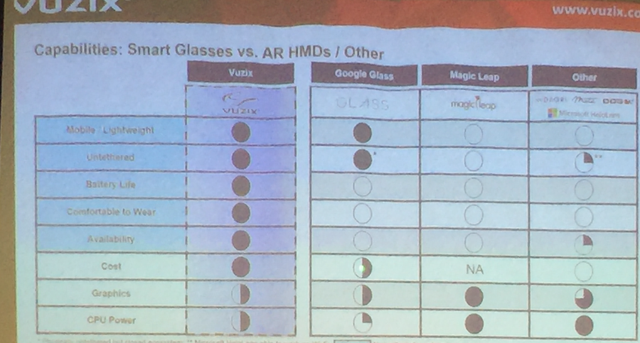 XOEye Technologies a company that develops software solutions for blue-collar workers and industries including HVAC. Smart glasses are already generating significant savings for customers with a return on investment of $20.11 for every $1 invested in smart glasses.
Pristine technology serves field workers across several industries including Insurance, Field Maintenance, Audits and Field Operations. The issue facing the United States is the shortage of skilled workers. The current expectation is that skilled worker job openings will rise from 800,000 today to over 10 million by 2020. Smart glasses like Vuzix's M300 will provide a technological bridge to enable under skilled workers to perform field maintenance based on step-by-step instruction received through smart glasses.
One key point that seemed to resonate from each of the presenters was that mobile phones and tablets are ineffective tools compared to smart glasses. The benefit of wearable smart glasses is that they provide the user with a "hands free" solution. It is difficult enough for field technicians and other industrial workers to perform tasks with two hands and it isn't feasible to be laying underneath a large piece of equipment or standing on a roof trying to video with your smart phone or tablet.
Ten Minutes with Vuzix's Newest Board Member Paul Boris
I had an opportunity to spend 10 minutes with Vuzix's newest board member Paul Boris. Boris brings a unique experience to the table having worked for SAP supporting and servicing the needs of enterprise customers. Within General Electric Boris has served as the CIO of Advanced Manufacturing Strategy and is now the Head of Manufacturing Industries of General Electric Digital.
Paul Boris has worked with Vuzix since his days at SAP his experience and affinity for Vuzix's augmented reality hardware should add significant value for Vuzix shareholders. General Electric will be incorporated Vuzix's M300 smart glasses within General Electric's upcoming wearable challenge.
Boris is a wearable device visionary and believes smart glasses will be worn from the time people wake up until they are done for the day. He described a baseball player fielding a fly ball off the bat that would flip his sunglasses down to catch the ball and flip them back up when they were done.
He views the design of the Vuzix M300 in a similar light since it allows users to flip the smart glasses down or up depending on the tasks being performed. General Electric's manufacturing staff totals approximately 150,000 and Boris sees smart glasses becoming a standard issued device just a few years down the road. Smart glasses will help enable data driven decisions, which in turn will improve decision making, drive efficiencies and ultimately save money. When I asked him during the Q&A session if the software that enables the smart glasses is ready for prime time his response in summary was "Yes".
Vuzix's Relationship with the International Drone Racing Association Is About To Take Flight
Drone Racing is undergoing tremendous growth in terms of popularity of the sport as well as media interest from the likes of ESPN and other online video providers. Since October 2015 the number of drone pilots has risen from 10,000 to over 100,000 worldwide. Charles Zablan, International Drone Racing Association (IDRA) Chief Marketing Officer attended Monday's shareholder event and also provided attendees with a close up drone racing experience.
I spent 15 minutes speaking with Charles Zablan during the day and it is clear that the IDRA has very big plans for drone racing. The IDRA wants to bring drone racing to the masses through content streaming agreements and by bringing drone races to countries all over the globe. Drone pilots range from 15 to 80 and include both men and women so the appeal is broad and covers both genders and people of all ages.
As far as where the Vuzix iWear fits into the drone racing picture the answer is right in the middle. Vuzix's iWear is a significant upgrade from existing FPV displays and will provide racers, viewers and judges with a HD view of the action. The difference between standard definition and high definition is the difference between a black and white TV and a HD TV.
The Vuzix iWear according to Zablan is also a perfect fit for drone enthusiasts viewing from home that will put them right inside the action. As Zablan described in his presentation when a Drone racer crashes his drone the racer experiences emotion and this will be same experience shared by viewers wearing Vuzix's iWear from home.
When asked where Vuzix's iWear ranked against competitors the response was that the Vuzix iWear is superior to any current product in the market. The advantages of the Vuzix iWear over the competition include near zero latency (video delay), larger FOV (field of view) and significantly improved image quality that allows drone pilots to view the blades of grass instead of just seeing a green image.
My Final Thoughts
The demand for Vuzix's M300 smart glasses is significant and very real. Key partners are seeing key customers move from pilot programs into commercial deployments in volume. Vuzix's augmented reality smart glasses continue to outperform competitors such as Google Glass and Microsoft's HaloLens in head-to-head testing in the field. Connected device visionaries including Vuzix's newest board member Paul Boris see smart glasses being a standard issued device within a few years.
Monday's investor event provided 3rd party validation for investors that Vuzix's book of business and interest in the latest M300 smart glasses is overwhelming and spread across diverse and very large addressable markets. The event provided additional validation that the interest in Vuzix's next generation M300 smart glasses is extremely strong and continues to expand on a weekly basis.
Disclosure: I am/we are long VUZI.
I wrote this article myself, and it expresses my own opinions. I am not receiving compensation for it (other than from Seeking Alpha). I have no business relationship with any company whose stock is mentioned in this article.
Editor's Note: This article covers one or more stocks trading at less than $1 per share and/or with less than a $100 million market cap. Please be aware of the risks associated with these stocks.