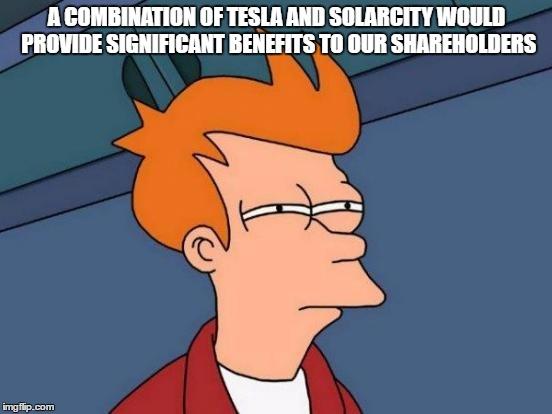 Tesla (NASDAQ:TSLA) buying SolarCity (SCTY) doesn't make sense for the regular Tesla shareholder. The offer by the automaker is explained on its blog. Potential tangible benefits include:
People visiting Tesla stores can be sold solar panels as well as a new car (and you thought 2nd hand car salesmen were annoying).
Tesla's designers can make solar panels look better.
SolarCity's expertise in financing products would benefit Tesla building out a similar program.
SolarCity's installation prowess would be helpful rolling out Powerwalls and Tesla charging systems.
Only the most dedicated of Musk fans would argue these are great reasons for Tesla to lay out several billion, as if the ramp-up of its production isn't ambitious enough already.
SolarCity's annual revenue equals its customer's energy bills and payments for solar renewable energy certificates. Customers contract for 20 years. SolarCity's difficulty acquiring these future cash flows lies in the upfront financing and the patience required before they materialize. SolarCity pays the upfront costs and to sustain its growth model it requires low-cost capital. If the cost of capital is too high, the annuity-like cash flows it acquires become too expensive for the company to generate a profit over time.
If you are a Tesla shareholder the deal doesn't make a lot of sense from a business perspective. Tesla needs cash to ramp up its car production. It doesn't need a problem segment that consumes cash and only starts throwing off significant cash later in its life-cycle when it's too late to help the company during this critical ramp-up phase.
SolarCity has too much debt already to borrow money cheaply. Because SolarCity has had some recent setbacks its share price collapsed, which increases the cost of capital when issuing equity. Recently SolarCity started selling some of its future cash flow. The solar bonds sold by SolarCity were bought up in size by SpaceX, another Elon Musk company. If SolarCity would be unable to sustain its business it would hurt Musk in more than one way.
So, even though the combination doesn't make a lot of sense from a Tesla shareholder perspective, there is one paradigm under which a deal clearly makes sense: if you own 22% of SolarCity and 21% of Tesla and a % of SolarCity lender SpaceX and
You believe SolarCity's future cash flows are undervalued by its current share price, especially if it can continue to grow.
You believe Tesla shares are overvalued but you can't really unload a massive amount without endangering its prospects.
Under such circumstances buying SolarCity with Tesla shares, as is the proposal, does make a lot of sense. It would increase the intrinsic value of your holdings, it would give SolarCity access to another source of cheap capital; equity financing at the Tesla level and your SpaceX investments in solar bonds would be preserved as well.
To the regular Tesla shareholder without stakes in any of the other companies, the deal makes a lot less economic sense and I wouldn't support it. If the market interprets the offer as a sign its CEO views its shares as overvalued, it can induce a sell-off. I wouldn't blame anyone, even Tesla supporters, for wanting to get out for a while and observe how the dealmaking process unfolds. The risk in that would lie in SolarCity not being interested or Tesla shareholders voting down the deal. On such news Tesla shares could quickly bounce back. In my view, the latter risk appears limited compared to the potential magnitude of the sell-off.
Disclosure: I/we have no positions in any stocks mentioned, and no plans to initiate any positions within the next 72 hours.
I wrote this article myself, and it expresses my own opinions. I am not receiving compensation for it (other than from Seeking Alpha). I have no business relationship with any company whose stock is mentioned in this article.