Adobe (NASDAQ:ADBE) announced Q2 results after the markets closed on Tuesday, 6/21, and the results were generally in-line with expectations. The Q3 guide was slightly light, and so shares sold off around 4% in after-hours trading. They're down nearly 5% late Wednesday morning in New York. While we are fans of the growth story at ADBE, we feel the stock is fully priced here and investors should avoid buying the dip.
The quarter was quite good. Like many other software giants, ADBE is transitioning to a higher-margin, sub-based business model. The company features multiple cloud-based sub plans that provide the consumer with apps focused on different purposes. Unlike many other software giants, ADBE is experiencing tremendous success in growing its cloud business without over cannibalizing its product business. Product rev fell 28% Y/Y, but this $78 million decrease in the quarter was more than offset by a $310 million increase in sub rev (+40% Y/Y). The result was net revenue growth of 20% Y/Y, with Creative and Digital Media setting quarterly records. Digital ARR exited the quarter at $3.41 billion, representing a $285 million sequential increase. Margins expanded and both GAAP and Non-GAAP earnings were up significantly. The Q3 rev guide was light, but EPS was guided more-or-less in-line. Full-year targets were maintained, with management saying the company was on-track to even surpass the targets, and those targets include 20%+ rev growth and 30%+ earnings growth. If the stock was trading around 20-30x earnings, then we likely would've seen a significant rally in shares following the ER.
The unfortunate truth here, though, is that the stock is trading nowhere near 20-30x LTM EPS. Going into the ER, the stock was trading at over 60x earnings. It was also trading at 26x Fy17E earnings. While this looks favorable on a management-guided earnings CAGR of 30% over the next 3 years, investors should remember the FY17E estimate of $3.79 is a non-GAAP estimate. The Non-GAAP adjustments usually amount to $1.00 per share per year, with the controversial stock comp contributing roughly $0.70 per share. The GAAP estimate for FY17E, then, is more like $2.80, meaning the stock was trading at 35.6x forward earnings on a 30% earnings CAGR. The PEG ratio blows up to above 1 and the one multiple that looked attractive on a Non-GAAP basis (1y forward P/E) all the sudden looks like a premium to growth. Despite being a fantastic growth company, the stock looks fully priced here without much upside.
We think historical data adds credence to this argument. When one analyzes the historical P/E and EV/EBITDA multiples for ADBE, a clear pattern forms wherein ADBE's valuation is subject to spikes and pullbacks. The valuation seemed to spike late in 2014 when the stock was trading north of 125x trailing earnings. We seem to currently be on a pullback in valuation to the more historical normalized levels ~25x earnings and less than 20x EBITDA. This means that we see a significant risk of continued multiple compression over the next several quarters.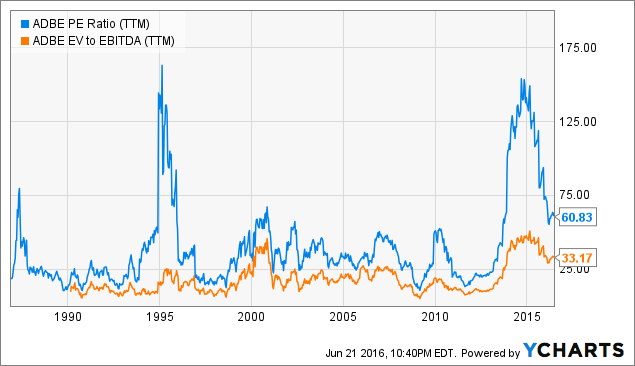 Multiple compression isn't necessarily a bad thing if the company can continue to grow earnings. It simply means the stock is growing into its valuation. Looking at the stock price chart since before 1990, we can see that the stock has been on a strong run-up over the past several years despite a lower multiple. This is due to earnings growth. We feel though, that the company has already grown into its valuation. The chart indicates the stock is primed for a multi-month pullback, as the stock has traded above its 200-day moving averages for several years now. The stock had similar ableit shorter run-ups into the dot-com bust and the 2008 financial crisis. The chart indicates something similar is going to happen soon.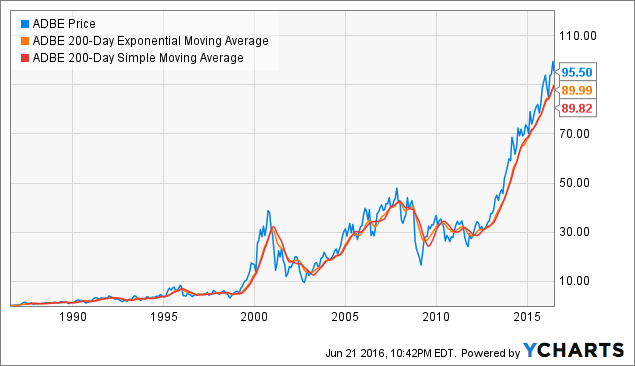 We do not think the pullbacks will be as drastic as the two previous ones for multiple reasons. Firstly, we do not see any foreboding economic crisis on the horizon which will send broader market averages spiraling. Secondly, the company is expecting a 20% revenue CAGR and 30% Non-GAAP earnings CAGR into 2018. This sort of consistent growth in both revenue and earnings is something the company has struggled to do in the past, especially on earnings. While the trendline is clearly up, there tend to be pullbacks in LTM EPS. Converting to a sub-based, ARR driven model eradicates a majority of this "cyclicity", so we should just see steady earnings and revenue growth over the next several years. Thus, we do not foresee a dramatic pullback in the near future.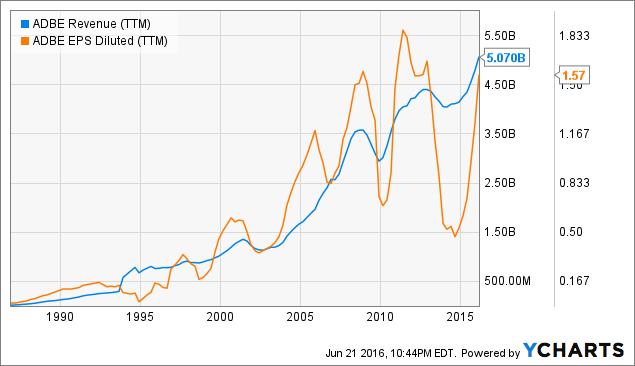 But we do see some sort of correction. The multiple is already compressing. The stock was heading into earnings at a P/E multiple higher than 60x (on GAAP EPS) The after-hours quote puts the trailing P/E multiple below 55x. A $2.00 Fy16E EPS means the stock needs to sport a 47.5x P/E multiple or higher to support the current $95 share price. For all the reasons listed above, 47.5x seems like a high estimate for LTM P/E by the end of this year. Moreover, when a stock trades at this rich of a valuation, it needs to blow estimates out of the water to shoot the stock price higher. With the consensus analyst estimate for this year set above the guide and next year's consensus estimate calling for 33% growth, we don't see significant enough upside to the estimates to warrant buying here.
We are fans of the ADBE growth story, but just can't get our heads around the valuation. We think this sell-off will persist and start a multi-month downtrend in shares. While we do not expect this decline to be of the dramatic variety (maybe 5-10%), we do think investors can wait for cheaper prices to buy into the growth story.
Disclosure: I/we have no positions in any stocks mentioned, and no plans to initiate any positions within the next 72 hours.
I wrote this article myself, and it expresses my own opinions. I am not receiving compensation for it (other than from Seeking Alpha). I have no business relationship with any company whose stock is mentioned in this article.