Bed Bath & Beyond Inc. (NASDAQ:BBBY) is a retailer of home products, through the chain stores Bed Bath & Beyond, Christmas Tree Shops, Harmon and Harmon Face Values, buybuy BABY & World Market or Cost Plus World Market.
Founded in 1971, BBBY has grown to a Fortune 500 and Nasdaq 100 index listed company. As of November 28, 2015, the Company operated 1,526 stores plus its various websites, including: 1,022 Bed Bath & Beyond stores (source). Despite this impressive growth and a well-regarded management team, shares of BBBY are trading near prices last seen in 2005. And without a dividend that means near-zero returns for buy and hold shareholders during that period. Ouch.
So when I see the share prices of big brands like this languishing, I can't help but take notice. Is this poor share price performance reflected in their operating and financial metrics? Before we get in to the analysis, have a look at this chart for yourself: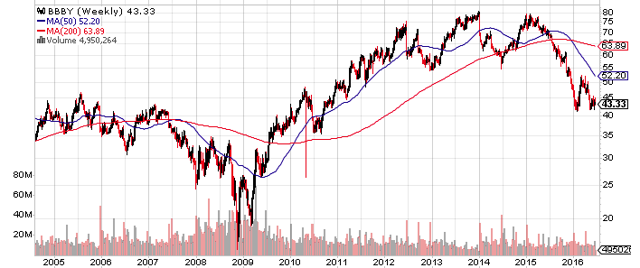 Naturally, you might be wondering, is BBBY ready to recover? Or is there more pain to come? While nobody can predict the future, this article will examine historical operating trends to try and look for clues. Now let's get down to business.
Revenue, Earnings and Beyond: Digging into the data on BBBY
As a brick-and-mortar retailed in an Amazon (NASDAQ:AMZN) world, the obvious question is, how are sales at BBBY stores doing? Rather than beat around the bush, here's the most recent trailing 12-month number as well as sales data over the last 10 years (source):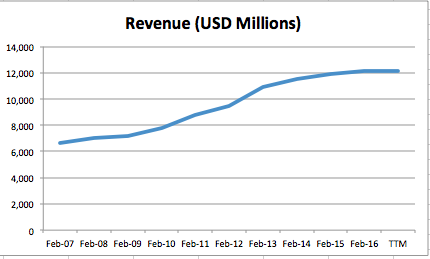 In my opinion, although the sales picture isn't pretty, I've seen worse. And if this is the only reason for the decline in stock price, then it seems like a little bit of an overreaction. Additionally, bulls may be wondering whether the recent acquisition of One King's Lane can help fuel top line growth.
Regardless of what the future holds, I do believe the current decline in stock price looks worse than you'd see from just slowing sales. To me, this might indicate that slowing sales are hitting the bottom line harder than you might initially think. With that in mind, let's see how margins have been acting in the face of slowing sales growth: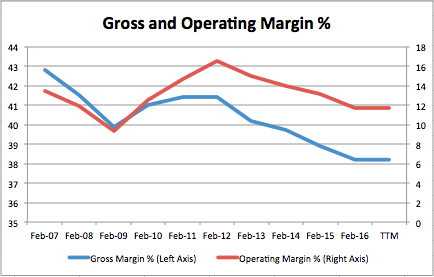 Now, to me, this trend is a little bit alarming. I don't like to see declining margins. But I especially don't like to see declining sales and declining margins. If this trend continues, I fear BBBY could have more trouble ahead. These trends might indicate the market is not as impressed with BBBY's competitive offering as it once was.
To further confirm this, let's take a look at same store sales. In the most recent quarter, the year-over-year growth came in at 1.7% (source). I'm happy to see a positive number. But this is pretty meager. And if it came on lower margins, the bottom line impact of that growth might be negligible.
The good news is, online sales are growing faster. The bad news might be, once again, these sales are lower margin (source). If that's going to be the dominant growth channel going forward, then lower margins could be here to stay.
I think another reason the stock punishment might be so severe is because the company has issued debt amidst this slowing revenue and earnings. This has put pressure on the historic book value per share growth. Without the reduction in share count, this trend would likely look a lot worse: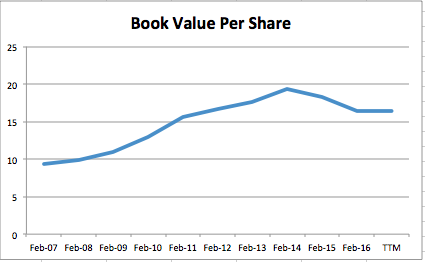 I can't say I'm too impressed with those results. That's because as an equity owner, I like my book value to be consistently growing. This is especially true if the company hasn't been paying dividends. I'm discouraged that book value per share is well below prior highs. If this trend continues, it's going to be hard to justify buying BBBY.
However, one bright spot worth mentioning is the working capital position. While BBBY does have $1.5B of long-term debt they raised last year, the company still has ample cash on hand and easily generates sufficient cash flow to service the debt. Given the recent acquisition of One Kings Lane, I'm glad to see the company being a little more dynamic with their capital and willing to give them the benefit of the doubt here. Time will tell if this proves to be a wise choice.
Another big bright spot for BBBY is simply the valuation. The stock is only trading at about 10 times free cash flow and 7 times operating cash flow. Those numbers don't look quite as good on an enterprise value basis. But debt is cheap and BBBY throws off a huge amount of cash. The forward P/E of 8.3 seems to be pricing in a lot of bad news. On valuation alone, I think BBBY is worth seriously considering.
And in terms of capital return to shareholders, BBBY management has been relatively equity friendly. They have consistently been buyers of their own shares, reducing share count from 285M in 2006 to 165M today. The company also recently announced a dividend policy (source). Time will tell if they can maintain and grow it. The cash-rich earnings are a good start, but slowing revenues present a headwind.
So with all this in mind, do shares of BBBY present a compelling investment opportunity right now?
Conclusion: I'm a Window Shopper
I like the valuation on Bed Bath & Beyond. But I can't get excited about buying the shares when sales growth is slowing and margins are contracting. I realize the shares present attractive value, but I don't see a catalyst that makes me want to jump aboard. I'm afraid it's a value trap. And for me, the risk of finding out is a little too high.
But this is just my investment style. Do you think BBBY presents an attractive value opportunity? Or does it have more pain in the quarters and years ahead?
Disclosure: I/we have no positions in any stocks mentioned, and no plans to initiate any positions within the next 72 hours.
I wrote this article myself, and it expresses my own opinions. I am not receiving compensation for it (other than from Seeking Alpha). I have no business relationship with any company whose stock is mentioned in this article.