Introduction to Technology
The second part of this article will address the technology behind Gogo (NASDAQ:GOGO) and ViaSat's (NASDAQ:VSAT) in-flight connectivity services. In doing so, it will correct the fundamental misunderstanding that ViaSat won the business of American Airlines because its products or services are technologically superior to those of Gogo.
ATG Connections- The Beginning of In-Flight Wi-Fi
ATG stands for air-to-ground and represents the first generation of in-flight connectivity. In-flight ATG connections were first used by Gogo in 2008 and are now being phased out in favor of higher performance alternatives. Since its rollout, Gogo has equipped 1,400 aircraft with ATG hardware plus another 700 with the enhanced ATG-4 hardware. Note that 'ATG-4' is simply an updated, faster version of the previously implemented 'ATG' technology, but still uses air-to-ground infrastructure. Planes fitted with ATG hardware can be easily upgraded to have ATG-4 capabilities.
Peak bandwidth capacity for ATG and ATG-4 are 3.1 Mbps and 9.8 Mbps, respectively. The latter is theoretically capable of streaming IPTV, but does not in practice as high traffic in the airspace inhibits actual bandwidth.
Ka vs. Ku Band- Evolution of In-Flight Wi-Fi
The next generation of in-flight connectivity infrastructure will function on an physical infrastructure of high throughput satellites (HTSs), rather than cellular towers. Modern HTSs transmit data on either the Ku or Ka band. Gogo's newest product, called the 2Ku, will - as the name suggests - use Ku waves, whereas ViaSat's will use Ka waves. A topical understanding of the differences between the two technologies is critical to addressing the capabilities of each company's products.
Ka and Ku are two wavelength classifications for electromagnetic waves. Ku uses longer wavelengths (lower frequency), whereas Ka uses shorter wavelengths (higher frequency), shown below.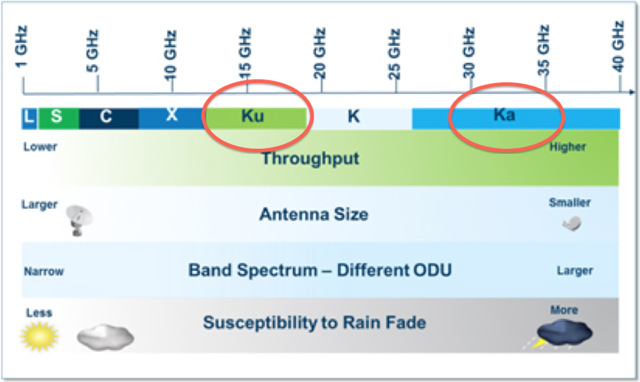 Figure: Depiction of Ku and Ka bands in terms of frequency. Source: Denis Sutherland.
While the topic is a point of contention even among industry experts, Ka is regarded by many as the 'next big thing' in satellite communications for the reason that the newest generation of Ka satellites is capable of much greater volume of data transmission than the Ku satellites currently in use. Note that future generations of Ku HTS's are also expected to be far faster than current ones.
While this sounds like a major advantage for Ka HTS's, in terms of in-flight broadband application, the difference between Gogo's 2Ku and ViaSat's Ka is nill to the end user as both are capable of supporting just about any web application in-flight.
Forbes' tech journalist, Jason Rabinowitz explains that during a recent 2Ku test flight, "with everyone on board hitting the system as hard as they could" web apps like Netflix, FaceTime, and Periscope all performed as usual. Moreover, Rabinowitz clocked bandwidth of just under 25 Mbps on that test flight; that's less than 2Ku's claimed peak speed, but about as fast as a typical terrestrial Wi-Fi connection and more than fast enough to stream IPTV. Note that 25 Mbps of observed bandwidth on 2Ku represents a more than 8x increase in performance over ATG's peak speeds. Gogo also points out that 2Ku speeds will increase once higher throughput satellites are launched.
When compared to Gogo's last-generation ATG services, the capabilities of ViaSat's Ka products are vastly superior. However, as 2Ku has already been shown to support IPTV streaming, the notion that Gogo is at a technological disadvantage to any competitor is purely false.
Conclusion and Proposed Long Strategy
Gogo is at no meaningful technological disadvantage to ViaSat in the in-flight connectivity space. In theory, ViaSat's products may be capable of generating faster streaming speeds for connected fliers, however Gogo's 2Ku system is more than fast enough to enable usage of any common web application, including streaming IPTV.
ViaSat's winning of the American Airlines contract is conformation that the company will be a long-term threat to Gogo. However, Gogo has been in the space for almost a decade now and has built up a dominant market share.
Gogo is clearly under threat, however the recent market sell-off has put the company's shares on sale. Regardless of industry threats, Gogo produces low-20% range top-line growth and trades at a discount to the overall market on a P/CF basis. The 2Ku rollout has already promised Gogo billions in revenues and should serve as an upside catalyst going forward. While it may be too early to bet on Gogo just yet, this stock is certainly worth keeping an eye on.
Disclosure: I/we have no positions in any stocks mentioned, but may initiate a long position in GOGO over the next 72 hours.
I wrote this article myself, and it expresses my own opinions. I am not receiving compensation for it (other than from Seeking Alpha). I have no business relationship with any company whose stock is mentioned in this article.