The strong up trending S&P 100 stocks are more diverse than the strong down trending S&P 100 stocks. The down trending stocks tend to be within energy, financial and healthcare.
The ratio of strong up trends to strong down trend in the S&P 100 mega-caps is 1.63:1 (as defined by our four criteria being either all Up or all Down -- mixed Up and Down not rated as "strong").
For the S&P 500 large-caps and the S&P 400 mid-caps, the ratios are 1.51 to 1 and 1.60 to 1 respectively.
For the S&P 600 there is no meaningful ratio as there are 168 in strong up trends and none in strong down trends. There are 52 in down trends, but none in strong down trends, defined as all four factors pointing down. The rest are rated as weak or transitional because of a mixture of up and down pointing factors.
Overall this is Bullish for US stocks, particularly as the small-caps are stronger than the large-caps and mid-caps.
Looking abroad, we see a different and less Bullish, effectively Bearish story.
The ratio of strong up trending stocks to strong down trending stocks in the UK FTSE 100 is 0.60 to 1. The Europe Stoxx 600 ratio is 0.54 to 1. This is Bearish.
The ratio for the combined China Hang Seng and Shanghai exchanges is 0.25 to 1. This is strongly Bearish.
On June 19, we published our 4 factor monthly trend ratings on 38 ETFs representing key asset categories, and on 24 ETFs that are reasonable components of 4 different hypothetical example portfolios.
This post (June 21 data) presents those 32 members of the S&P 100 stocks that have the strongest UP trend rating; and those 19 with the strongest DOWN trend rating based on our monthly 4 factor indicator. The remainder of the index constituents have mixed indicator elements.
Our 4 factors monthly trend and risk allocation indicator was used to create this list of ratings. When we run it before the end of a month, as we did today, the current partial month is treated as a whole month in the averages and other calculations.
As with any single tool, findings are merely the basis for filtering and an invitation to more in-depth review. To aid DIY investors in launching that review, we offer download of a spreadsheet with built in convenient links to a variety of data sources for each of the S&P 100 stocks.
Figure 1: The strongest UP trends In S&P 100: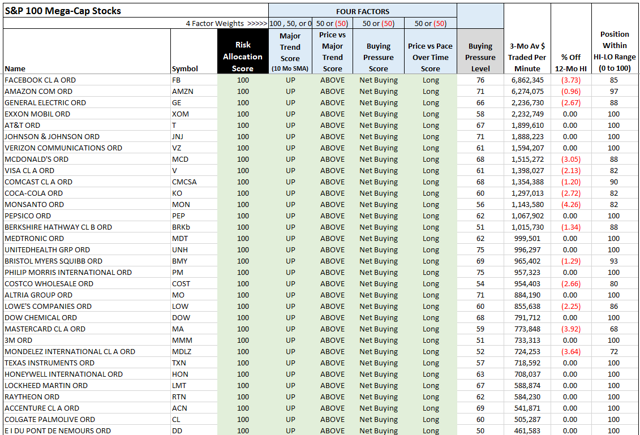 The symbols for the stocks in the strong UP group are:
(NASDAQ:FB) (NASDAQ:AMZN) (NYSE:GE) (NYSE:XOM) (NYSE:T) (NYSE:JNJ) (NYSE:VZ) (NYSE:MCD) (NYSE:V) (NASDAQ:CMCSA) (NYSE:KO) (NYSE:MON) (NYSE:PEP) (NYSE:BRK.B) (NYSE:MDT) (NYSE:UNH) (NYSE:BMY) (NYSE:PM) (NASDAQ:COST) (NYSE:MO) (NYSE:LOW) (DOW) (NYSE:MA) (NYSE:MMM) (NASDAQ:MDLZ) (NYSE:TXN) (NYSE:HON) (NYSE:LMT) (NYSE:RTN) (NYSE:ACN) (NYSE:CL) (DD)
Figure 2: The strongest DOWN trends in S&P 100:
(click to enlarge)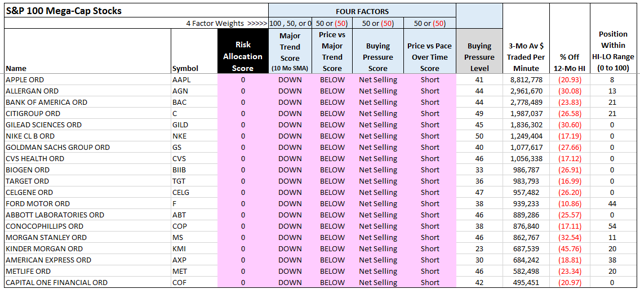 The symbols for the stock in the strong Down trend group are:
(NASDAQ:AAPL) (NYSE:AGN) (NYSE:BAC) (NYSE:C) (NASDAQ:GILD) (NYSE:NKE) (NYSE:GS) (NYSE:CVS) (NASDAQ:BIIB) (NYSE:TGT) (NASDAQ:CELG) (NYSE:F) (NYSE:ABT) (NYSE:COP) (NYSE:MS) (NYSE:KMI) (NYSE:AXP) (NYSE:MET) (NYSE:COF)
If you would like the complete list, along with convenient links to business descriptions, fundamental data, valuation, price charts, 12-month performance rating and target prices, and short-term daily technical ratings, you can download the Excel spreadsheet represented by this image.
Figure 3: Sample format of available spreadsheet with supplemental information links: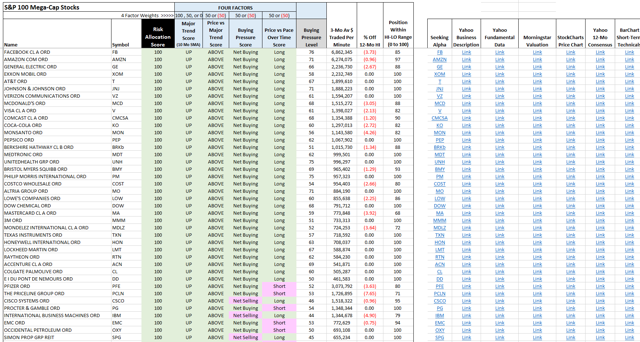 The 4 factors in our trend and risk allocation tool are:
Direction of the tip of the 10-month average (the most heavily weighted piece of data) - gold line in charts (rated 0 or 100)
Position of the price above or below the 10-month average - black vertical bars in charts (rated 50 or -50)
Buying pressure position above or below 50% (net buying or net selling) - dashed green line (left scale) in charts (rated 50 or -50)
Price performance versus a geometric pace (Wilder Parabolic Stop and Reverse) - red dots in charts (rated 50 or -50)
The rating is the sum of the scores subject to a maximum score of 100 and a minimum score of 0.
The overall ratings are either 100, 50 or 0 for positive trend, transition, and negative trend.
The four factors are displayed in the tables, to add detail to the ratings. The pink shading in some cells shows weakness. A stock with all green cells is in a strong up trend. A stock with all pink cells is in a strong down trend. Stocks with both green and pink cells have a mixed picture.
Only those with a 100 rating where all of the factors are positive (all green), or with a zero , where all of the factors are negative (all pink) are shown in Figure 1 and Figure 2.
The full Excel spreadsheet contains all of the stocks in the index, including those with mixed positive and negative factors (green and pink cell)s. Figure 3 is a representation of the spreadsheet layout.
Here are charts showing the time series for two positive trend stocks, and charts showing a time series for two negative trend stocks.
The rating is in black in the top panel. The four factors used in the rating are plotted in the main panel with the colors indicated in the bulleted list above.
Facebook has been in a positive trend for some time. Exxon just recently had a trend change to positive. Apple is in a long somewhat of a roller-coaster pattern. Bank of America is in a long-term rounded topping pattern into a negative trend.
Facebook (positive trend)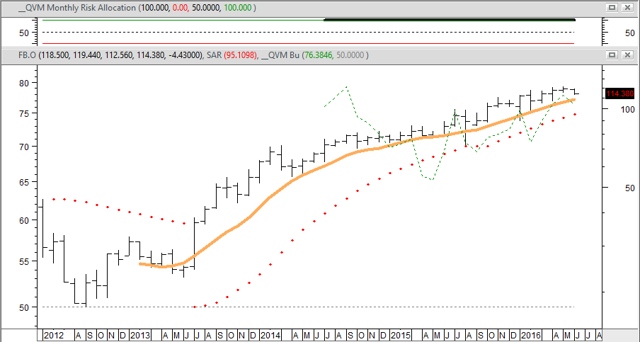 Exxon (positive trend)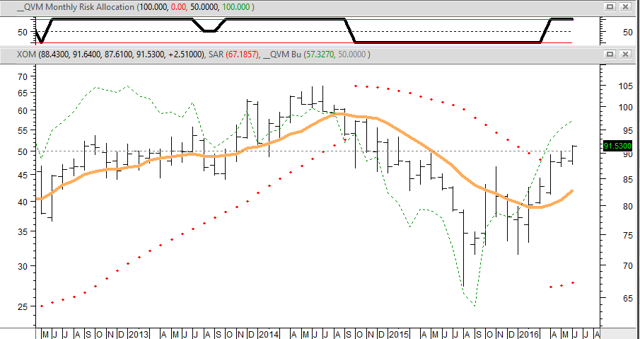 Apple (negative trend)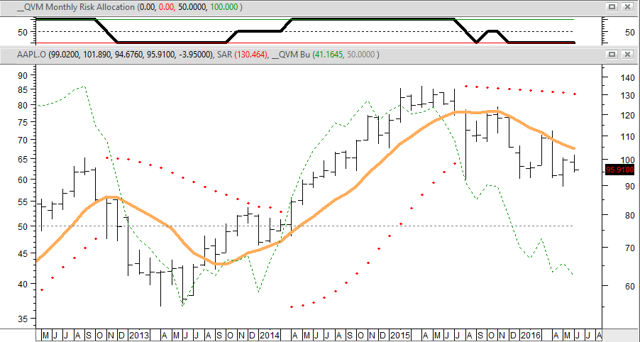 Bank of America (negative trend)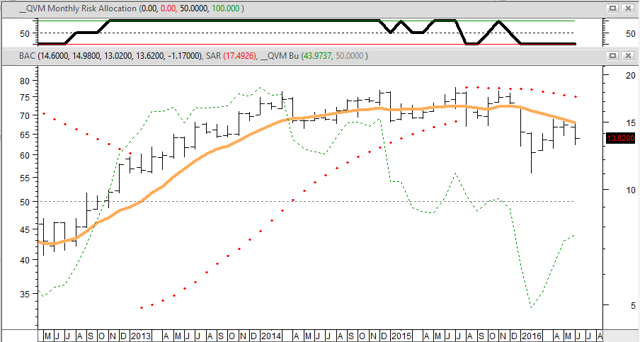 The rating system is not perfect, as none are, but it does a decent job of identifying up and down trends, and trend reversals before they are too far developed. It is prone to whipsaw like any trend-based system in sideways moving markets.
Once again, do your homework and do not rely exclusively on this or any other single set of facts in your investment decisions.
Disclosure: QVM has positions in a few of the stocks within the S&P 100 as of the creation date of this article (June 2016). We certify that except as cited herein, this is our work product. We received no compensation or other inducement from any party to produce this article, but are compensated retroactively by Seeking Alpha based on readership of this specific article.
General Disclaimer: This article provides opinions and information, but does not contain recommendations or personal investment advice to any specific person for any particular purpose. Do your own research or obtain suitable personal advice. You are responsible for your own investment decisions. This article is presented subject to our full disclaimer found on the QVM site available here.