The copper price rally so far this year is running on fumes, and so is Freeport-McMoRan's (NYSE:FCX) stock price. With gains in excess of 70% this year, Freeport has managed an impressive turnaround on the stock market. This impressive rally in Freeport's stock has been driven by an increase in copper prices this year, which have rallied on the back of an apparent increase in Chinese demand.
In fact, encouraged by the increase in demand from China, Freeport's CFO expects that the prospects of the copper market will continue to improve in the long run. However, I think that this will not be the case. Let me tell you why.
Imports are losing steam
China has been importing a lot of copper this year. For the first five months of 2016, China's copper imports have increased 22%. But, a closer look at the import pattern indicates that a slowdown is taking place. On a sequential basis, China's copper imports were down 4.4% from April in May. For the month of April as well, China's month-over-month copper imports had dropped a massive 21%.
Thus, after the initial frenzy in the earlier part of the year, China's copper imports are gradually slowing down. Looking ahead, it is quite likely that China's copper imports will continue to lose momentum as treatment and refining charges increase and substantial stockpiles already in place.
In fact, as reported by Market Realist, LME copper inventory has been on the rise in recent weeks, increasing by 50,000 tons in June itself. At the end of last month, LME bonded copper stocks stood at 620,000 metric tons, rising 20% from April, while Chinese bonded copper stocks have shot up by 240,000 tons over the past three months. In all, so far this year, the copper market has seen an increase of 150,000 metric tons as far as the stockpiles are concerned.
Due to this higher level of inventory, it is likely that copper imports will now start losing pace. In fact, the rise in copper prices despite a rise in copper inventories is a surprise in itself and it shouldn't be long before the market starts correcting itself.
Chinese copper demand might be apparent, not real
China has been importing a lot of copper this year even though the country's purchasing manager index has been contracting consistently. Now, you might be wondering where all the copper imported by China is being used. Apart from finding its way into stockpiles, copper is also used as collateral in financing.
More specifically, Chinese traders use copper on a collateral basis in order to finance a carry trade, wherein investments are made in high-yielding assets in Chinese currency after borrowing the money in foreign currency. Additionally, copper is also used as an instrument to back loans. As reported by Financial Times:
"The use of copper to back loans surged in the years before a scandal in the port cities of Qingdao and Penglai in 2014 found that some metal had been pledged multiple times at collateral.

"Metal collateral financing booms are not new in China, but the latest wheeze seems to be geared towards smaller players simply in need of cheap credit [in today's jittery lending atmosphere]," she said. "[They] have found a lending channel backed by copper collateral, facilitated by the importers."
The bad news is that some of the metal stored at the Shanghai Metal Exchange is not backed by exchange warrants, which will give rise to the probability of default as seen earlier. Hence, China's copper imports are not being driven by higher consumption in infrastructure, but by speculative traders who get loans by putting copper as collateral. In all, it is estimated that this carry trade accounts for 46% of overall demand for copper in China, indicating that the real demand might be 54% less than what's actually witnessed.
Thus, it is not surprising to see that China's actual demand for copper is set to take a hit this year. According to CRU, copper demand growth for 2016 will slow down to just 0.6% as compared to a rise of 3.8% last year. This is not surprising as key industries where copper is consumed are facing weakness.
For instance, even though the real estate market in China has seen a massive spurt of late, it is suspected that the growth in housing starts is being driven by the lure for tax breaks rather than actual demand. Thus, the whole copper price rise in recent months could turn out to be good for nothing as there is very less transparency as to what exactly China is doing with its copper.
This is bad news for Freeport-McMoRan since the company's rally this year has been exclusively driven by a copper price rise, and not by improvements in its financial performance. This is shown below: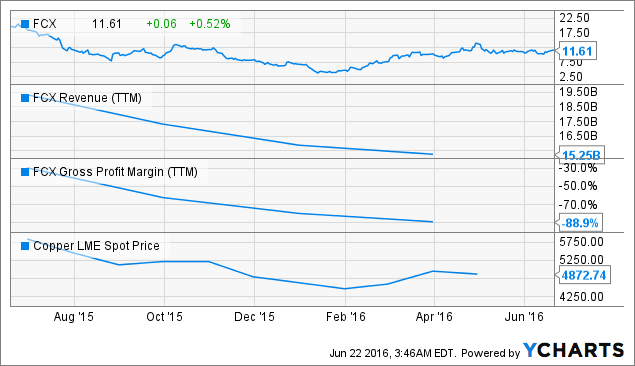 FCX data by YCharts
Conclusion
I believe that it will be a bad idea for investors to continue holding Freeport-McMoRan shares. The company's rally does not have any foundation as copper prices have improved this year mainly on speculation. The trends of copper consumption in China are not clear as imports seem to be driven by collateral financing demand and loose lending policies. Moreover, China's copper imports have started losing steam of late.
So, in my opinion, investors should book their profits in Freeport-McMoRan since it won't be long before the stock starts losing ground as reality strikes.
Disclosure: I/we have no positions in any stocks mentioned, and no plans to initiate any positions within the next 72 hours.
I wrote this article myself, and it expresses my own opinions. I am not receiving compensation for it (other than from Seeking Alpha). I have no business relationship with any company whose stock is mentioned in this article.