Back in December last year, I had advised that investors should consider buying Denison Mines (NYSEMKT:DNN) as it looks well-placed to benefit from a recovery in uranium prices due to its favorable asset base. Even though uranium prices have not been able to make a comeback in 2016, Denison Mines' revenue and margin growth, on the back of its efficient assets, has led to impressive gains on the stock market this year. This is evidenced below: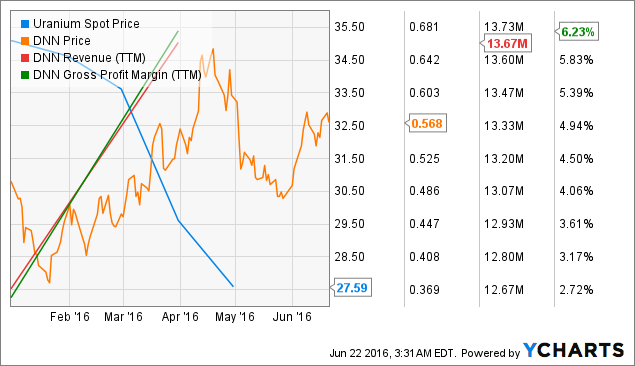 Uranium Spot Price data by YCharts
Thus, Denison has effectively managed to overcome the weakness in the uranium market due to its high-grade assets from where it can extract more ore at low prices. So, the only thing lacking at present that could accelerate Denison's performance in the long run is the strength in uranium prices. So, in this article, we will see why the uranium market is under pressure and why it is set to recover in the long run.
What's holding the uranium market back?
The reason why uranium prices have been subdued is because of low demand and higher supply, a trend that started post the Fukushima nuclear disaster back in 2011. In fact, the uranium market is still in oversupply mode as a result of this disaster, which knocked the confidence out of this form of energy to generate electricity.
Now, even though nuclear reactors in Japan have been coming back online, the country still has a huge uranium stockpile that is still to be used. In January this year, Japan brought online three reactors out of a total of 43, as the country has put stringent regulations in place to give approvals to plants. However, one of these plants was forced to down its shutters due to safety concerns raised by the inhabitants in the area.
Thus, five years post the Fukushima disaster, the process to bring online nuclear plants in Japan has been slow. As a result, the company's uranium stockpile of 120 million pounds is weighing on the price of the ore. This is because around 80% of the uranium ore in Asia has a lifecycle of 18 months, so even if nuclear plants come online in Japan, the country will take time to consume its current stock of uranium.
As a result, the current oversupply situation in the market will persist in the near term. But, from a long-term perspective, I believe that the price of uranium will increase, and this will help Denison Mines accelerate its financial performance. Let's see how.
The uranium market's demand-supply environment should improve
However, over the long run, it is likely that the uranium market will come out of its slump. This is because the demand for nuclear power to generate electricity is set to rise going forward.
For instance, it is estimated that there will be a 44% jump in nuclear power capacity in the next 15 years to 540.6 GW. Asian countries, especially China, will be adding the most capacity. In fact, 64% of capacity additions will be taking place in China, while 24% of the additions will be accounted for by Korea, India, and Russia in order to meet electricity needs.
A closer look reveals that at the end of last month, there were 444 nuclear reactors generating electricity in 30 countries across the world. Looking ahead, this number is expected to go up as 63 plants are being constructed in 15 countries.
Thus, as the demand for sustainable electricity across the globe increases, nuclear capacity will increase and this will eventually lead to an improvement in uranium demand. This is because the nuclear reactors will need more uranium to generate energy. As such, uranium demand will rise 48% in the coming 15 years to 268.8 million pounds, mirroring the rise in nuclear capacity.
However, uranium is not an infinite resource. At the present rate of consumption, it is estimated that our uranium reserves will last for another 200 years. But, as the rate of consumption increases with more nuclear capacity coming online, uranium's availability will fall. As a result, the rate of uranium discoveries and mining supplies will dwindle since uranium is a finite resource.
Therefore, it is not surprising to see that the supply of uranium will increase just 11.5% in the next decade to 168.7 million pounds as compared to the end of last year. Eventually, this will lead to an increase in uncovered uranium demand, which simply means that the production won't be able to cover all of uranium demand.
More specifically, due to the rise in demand and inadequate supply, uncovered uranium demand is slated to increase 39% in the next three years to 75 million pounds. This will lead to an increase in uranium prices going forward, which are set to increase from the current level of around $28 per pound to almost $70 per pound in 2018, signifying an upside of 150%.
Conclusion
Denison Mines has done well despite a continued downturn in the uranium market. Looking ahead, as the market recovers in the long run on the back of stronger demand and lower supply, Denison will find another growth driver in the form of stronger uranium prices. So, given Denison's resilience and prospectively higher uranium prices going forward, the stock is capable of running higher.
Disclosure: I/we have no positions in any stocks mentioned, and no plans to initiate any positions within the next 72 hours.
I wrote this article myself, and it expresses my own opinions. I am not receiving compensation for it (other than from Seeking Alpha). I have no business relationship with any company whose stock is mentioned in this article.
Editor's Note: This article covers one or more stocks trading at less than $1 per share and/or with less than a $100 million market cap. Please be aware of the risks associated with these stocks.