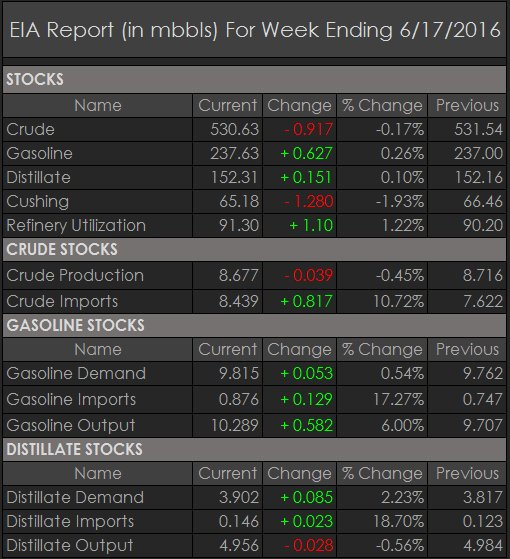 Source: EnergyBasis via Twitter
Highlights
The first figure we want to discuss here is the fall in U.S. production. EIA's weekly report estimates that U.S. production fell once again from last week to 8.677 million b/d. This is meaningful, and we are certain that the market is paying particularly close attention to this. Despite oil prices' ascent back to $50, U.S. production will continue to decline, paving the way for a more balanced market.
Imports saved the day once again. Crude imports were higher by 817k b/d, or 5.719 million bbls higher on a weekly basis. Headline figures will point to a slightly lower draw compared to 2015, but one has to take into account the lower U.S. production and much higher imports.
As we've written in past oil market dailies, global supply and demand need to balance first. Once the market tightens, imports will drop. But we think imports will remain high for the remainder of 2016, and likely offset any meaningful U.S. production decline.
Gasoline demand just hit another high to an implied 9.7 million b/d over the last four weeks.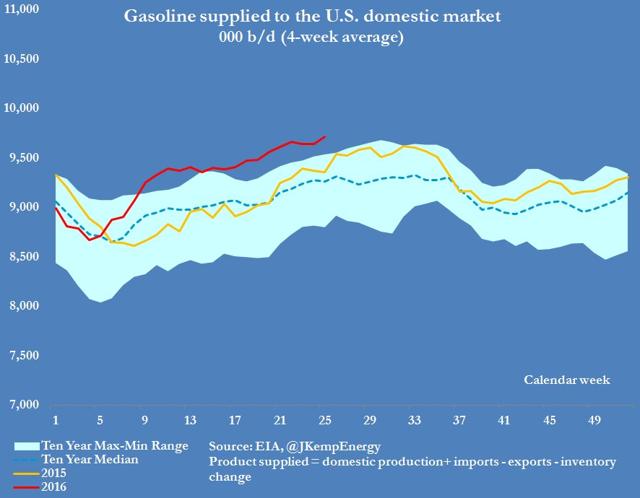 Gasoline storage, however, increased as refineries stepped up throughput.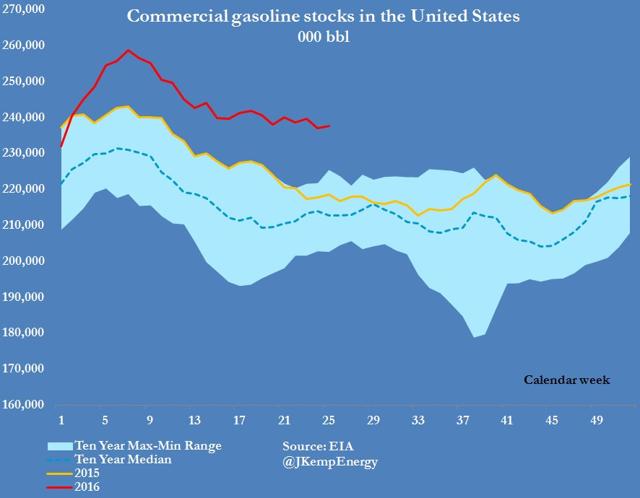 One scenario we think will happen is that if oil prices continue to recover, the gasoline stock would likely remain close to current levels. Refinery throughput combined with refinery capacity glut could pressure gasoline prices. In turn, consumers won't experience the same level of increase in gasoline prices, and crude oil rising should have a much more meaningful delay until the gasoline storage glut is resolved.
Overall, this was a neutral report. The lower U.S. production was offset by the higher imports and demand for refined products remain strong. The market is still in the midst of rebalancing, and we are seeing fundamentals back the recent rise in oil prices.
We hope you enjoy our weekly oil (NYSEARCA: USO) inventory reports. Be sure to check out some of our old ones, and click on the follow button above if you would like to receive our "Oil Markets Daily" articles. In addition, we also have a premium subscription platform that's tailored to long-term value-oriented investors. We provide recommendations of stock ideas and portfolio composition. We look forward to you joining the HFI platform.
Disclosure: I/we have no positions in any stocks mentioned, and no plans to initiate any positions within the next 72 hours.
I wrote this article myself, and it expresses my own opinions. I am not receiving compensation for it (other than from Seeking Alpha). I have no business relationship with any company whose stock is mentioned in this article.