Tesla (NASDAQ:TSLA) made a big splash Tuesday afternoon, posting a new blog article announcing that they were making a friendly bid for SolarCity (SCTY). The proposed all-stock bid valued SCTY at between $2.6-$2.8Bil when it was announced, although the 12% after-hours drop in Tesla's share price has dropped it down to $2.3-$2.5Bil.
Many analysts, including our own Montana Skeptic, Brad Kenagy, and solar expert EnerTuition, have trashed the deal, asking what Elon Musk is thinking. On the other hand, Tesla has explained the deal as a chance to create the world's first vertically integrated clean-energy company, offering customers the ability to buy their energy generation, storage, and EV from a single source.
At first glance, it's easy to come to the same conclusion. However, I see potential for this merger to be a very good deal for Tesla, and a positive for SolarCity as well. Below, I break down why.
1. SG&A cost savings could be substantial
SolarCity spent about $700M on SG&A in 2015, with over $450M devoted to sales and marketing alone. This figure is expected to be even higher in 2016. Tesla also spent over $920M on SG&A in 2015. Even a 10% savings on combined 2016 SG&A expenses would total over $200M.
Tesla argues that "Because of the shared ideals of the companies and our customers, those who are interested in buying Tesla vehicles or Powerwalls are naturally interested in going solar, and the reverse is true as well. When brought together by the high foot traffic that is drawn to Tesla's stores, everyone should benefit." I agree. Tesla's stores should be an excellent place to market SolarCity's product offerings, which could substantially lower their sales costs/watt. These totaled almost $1/watt during Q1, a substantial increase from the previous quarters.
2. Tesla is paying for the transaction with overvalued stock
In my mind, this is a key point of the deal. Many have argued that Tesla's stock is extremely overvalued, a sentiment I accept. If there's one thing a company with overpriced stock should do, is take advantage of the situation to buy other companies with lower valuations, especially if these companies can be easily integrated. Tesla's offer is an all-stock offer, so none of its precious cash will be used in the deal.
Others will disagree with me, but I believe that SolarCity's current portfolio of power assets has an NPV-8 of at least $2.6B. This assumes the company's current contracted value is correct, while discounting the renewal value by 40%. While some have panned solar leases as being a ticking time-bomb, my research has indicated that in many situations, they can make a lot of sense for customers. Thus, I expect minimal losses on SolarCity's contracted payments, and expect the company to be able to renew a large portion of the deals for an additional 10 years (albeit at prices 40%-50% lower than the company itself projects).
If my analysis is correct, then Tesla is getting a minimum of $1B worth of current NPV for the existing portfolio (at NPV-8), and possibly as much as $1.6B (if we use NPV-6).
Given that Tesla's shares are likely overpriced by as much as 50%, I would argue that they are picking up SolarCity for potentially less than the value of their existing portfolio, and getting any future value creation for free. Given that SolarCity is currently installing over 1GW per year, this could be substantial in the future.
3. SolarCity is going to turn into a cash cow within 10 years
I wonder how many people really understand how much cash is going to be generated by SolarCity's contracts over the next 20-30 years. The company's existing portfolio of 2GW is currently generating annual revenue of $350M, an amount that will grow to over $400M by 2030. Conversely, the costs associated with maintaining these revenues will decline substantially over the course of the contracts, leading to expanding free cash.
(Solar City June 2016 presentation)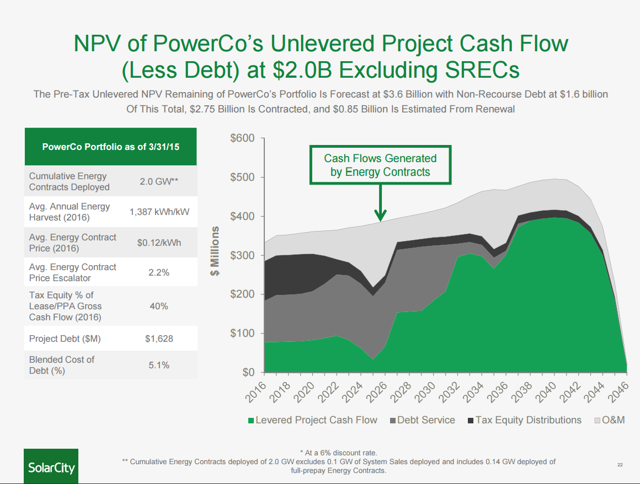 The above shows actual cash flows expected by the company for the existing portfolio. They will total about $750M through 2025, an additional $2B from 2026-2035, and by my estimation (I'm accounting for my lower estimated renewal price/kWh), another $2-2.5B after 2035. That's a total of about $5B in net cash being generated by the existing contracts.
Of course, this is going to occur over a 30-year period and thus the value needs to be discounted, but Tesla would be getting access to these cash flows without putting up any cash today. Instead, they are simply using their overpriced stock.
At the extreme, Tesla could strip SolarCity to the bone, getting rid of anything that wasn't needed to service the existing portfolio, and simply enjoy collecting $5B in free cash flows over the next 30 years. They won't do that of course, but I think it's an interesting illustration of what they are getting in exchange for their shares of overpriced stock.
In reality, SolarCity will continue to grow their portfolio. The company will add another 1GW in 2016, and simply maintaining this pace over the next 4 years would triple the existing portfolio. Doing so will cost a lot of money, but the company has shown that it continues to be able to access those funds, a large portion of which come from tax equity financing.
Takeaway
I'm not surprised to see everyone panning this offer from Tesla for SolarCity. Elon Musk is involved in both companies, they both lose a lot of money today, and both stocks look overvalued. I won't spend any time considering all the potential negatives, as this has already been done by all my colleagues. Instead, I aim to try to see this proposed transaction through a different lens.
I suggest that investors take a step back and review the situation more carefully. This deal would combine two companies that have very similar cultures, values, and missions. It would result in substantial cost savings, and Tesla is paying for the deal solely in stock; stock that is considered by many to be extremely overvalued. Thus, I think that the net result could be an excellent piece of business for Tesla and Musk.
Disclosure: I/we have no positions in any stocks mentioned, and no plans to initiate any positions within the next 72 hours.
I wrote this article myself, and it expresses my own opinions. I am not receiving compensation for it (other than from Seeking Alpha). I have no business relationship with any company whose stock is mentioned in this article.