Last month, the great investor Stan Druckenmiller gave a presentation that we think every serious investor should spend the time getting familiar with.
We would like to start with one paragraph from that speech because we believe it could be the most important thing that an investor will read this year. The paragraph contains all of 139 words and basically tells you exactly what to do for the next ten years.
When I started Duquesne in February of 1981, the risk free rate of return, 5-year treasuries, was 15%. Real rates were close to 5%.

We were setting up for one of the greatest bull markets in financial history as assets were priced incredibly cheaply to compete with risk free rates and Volcker's brutal monetary squeeze forced much needed restructuring at the macro and micro level.

It is not a coincidence that strange bedfellows Tip O'Neill and Ronald Reagan produced the last major reforms in social security and taxes shortly thereafter. Moreover, the 15% hurdle rate forced corporations to invest their capital wisely and engage in their own structural reform.

If this led to one of the greatest investment environments ever, how can the mirror of it, which is where we are today, also be a great investment environment?
The bolding is ours and it is a question we think investors need to think long and hard about. Back in the early 1980s, all you had to do was buy the S&P 500 (NYSEARCA:SPY) and chill out for the next 35 years. Sure, there were some bumps along the way, but if you didn't pay attention, you wouldn't even have noticed.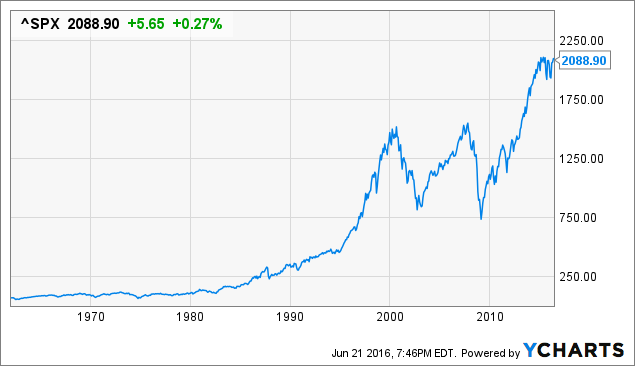 Alternatively, an investor could have just gone to U.S. Government bonds and sat back and chilled out. Again, the next 35 years would have been extremely rewarding.
But here is the thing. In the early 1980s, people didn't want to own stocks despite the fact that they were cheap. And they most definitely did not want to own U.S. Treasuries in a world where interest rates were flying higher month after month.
The 1980s had the perfect setup for massive bull markets in both stocks and bonds. It consisted of this:
- Interest rates were incredibly high
- Stock valuations were low
- Inflation was the problem
- Corporations fighting high interest rates had no alternative but to get extremely efficient
Now let's compare that to today.
Is This Opposite Day?
Your author is the proud father of two little (quickly getting big) girls. These kids have a game that they call "opposite day." The game involves saying the exact opposite of what they mean.
For example, they might say that "we like eating spinach and think that cookies taste yucky."
From what we can tell, in June 2016, we are having an "opposite day" from the early 1980s.
In the early 80s, we had incredibly harsh, record high interest rates. Today, we have the opposite; in fact, some countries have negative interest rates (pigs must be flying).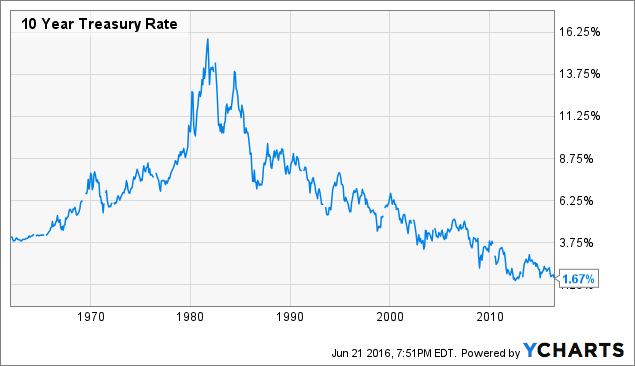 10 Year Treasury Rate data by YCharts
In the early 1980s, those high interest rates created very compressed stock valuations. Today, we have the opposite, stocks are at pretty expensive levels historically speaking.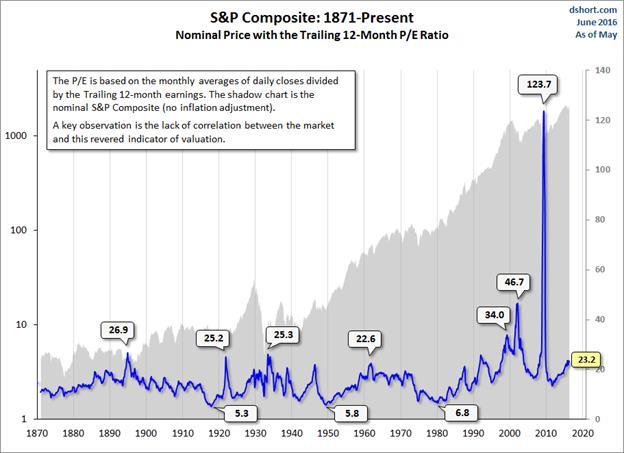 Source: Advisor perspectives
In the early 1980s, inflation was out of control and Paul Volker was putting on his cowboy hat and doing what nobody else wanted to do. Today, we can't get prices of anything jump started and the Fed isn't able to raise interest rates by a quarter point.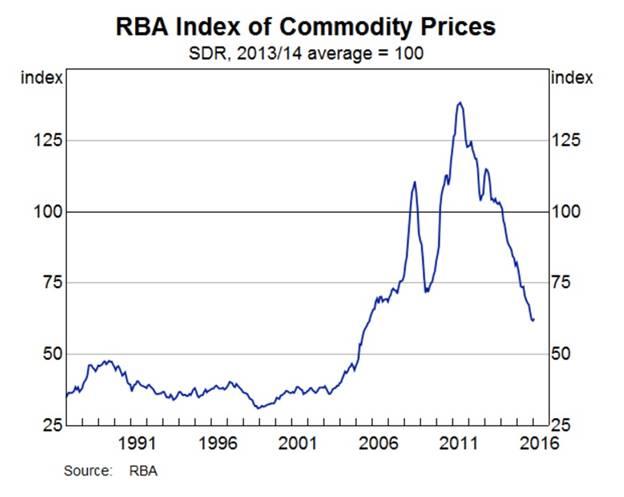 In the early 1980s, corporations were cutting costs like mad and getting lean so that they could turn a sufficient profit in a high interest rate world. Today, corporations, governments and individuals have record amounts of debt.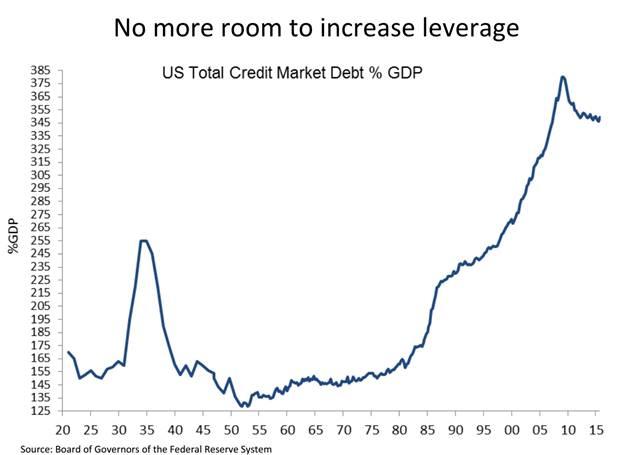 So What Then Is An Investor To Do?
The answer to this question friends is not complex. The conditions of the early 1980s set up stocks and bonds for an incredible run. Interest rates had nowhere to go but down, corporations had plenty of room to take on more debt once those rates dropped and starting point valuations were cheap.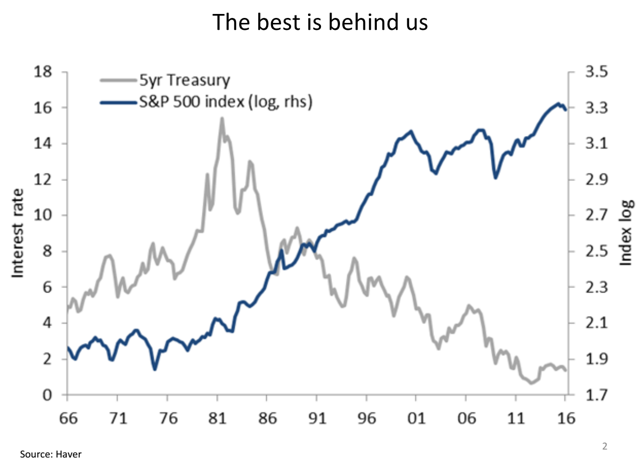 Source: Druckenmiller EndGame Presentation
Do you know what didn't work as an investment following the early 1980s? It was exactly the asset that everybody wanted in the early 1980s to protect them against inflation. It was gold (NYSEARCA:GLD) which went nowhere but down for the next 25 years.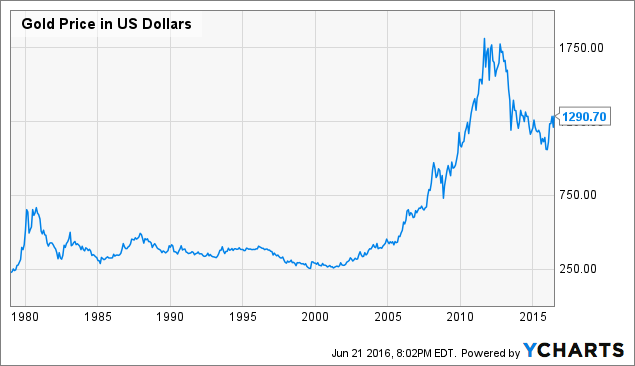 Gold Price in US Dollars data by YCharts
Look folks, it makes a lot of sense. What worked in the early 1980s shouldn't work today when everything is opposite.
Druckenmiller concluded his presentation with this:
"On a final note, what was the one asset you did not want to own when I started Duquesne in 1981?

Hint…it has traded for 5000 years and for the first time has a positive carry in many parts of the globe as bankers are now experimenting with the absurd notion of negative interest rates. Some regard it as a metal, we regard it as a currency and it remains our largest currency allocation."
We already previously identified a couple of ways to profit from gold prices rising in the coming years. Today, we would like to offer a third.
The first idea was to follow Druckenmiller into his largest gold holding. At March 31, 2016, the Duquesne Family Office managed by Stan Druckenmiller reported $1.3 billion of assets including $237 million of notional exposure to the SPDR Gold Trust.
The second opportunity as we noted last week, is that both Druckenmiller and his former boss and fellow billionaire George Soros have significant positions in Barrick Gold (NYSE:ABX).
We think a third and more leveraged way to play what could be a bull market for gold would be to get long junior miners. These companies are going to be the ones with the most upside should gold prices do really well.
The problem with investing in a junior gold miner is that not only are the stocks volatile but the individual operations of these companies are risky. They often carry political risk, exploration risk, execution risk, and of course, the commodity (we think gold is a currency) risk attached to the price.
So rather than try and pick one junior miner and hit a homerun, why not buy a basket of them and do well as the entire sector rises? We like that option and suggest that VanEck Vectors Junior Gold Miners ETF (NYSEARCA:GDXJ) would provide that exposure to the juniors while avoiding specific company risk.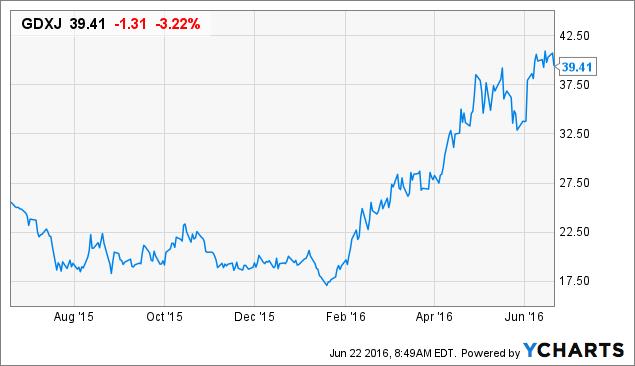 If you are feeling a little more adventurous, we have identified for our premium subscribers what we think is the single best managed small-cap gold company. If you are interested in getting a look at this idea and many others sourced from the portfolios of the world's greatest investors, just follow the link and get started.
Thanks for reading. Good luck with your investing. Click the follow button at the top of the article, if you'd like more of our free content.

Disclosure: I/we have no positions in any stocks mentioned, and no plans to initiate any positions within the next 72 hours.
I wrote this article myself, and it expresses my own opinions. I am not receiving compensation for it (other than from Seeking Alpha). I have no business relationship with any company whose stock is mentioned in this article.