I have taught six different courses on sustainable energy at a couple of different academic institutions over the years. On each occasion the incoming students have started the semester with the expectation that we will spend all of the lectures covering topics such as energy resource depletion, pollution, and greenhouse gas emissions. While these are indeed crucial elements to any discussion on the sustainability of energy, I prefer to spend the first few weeks of class covering what I consider to be its most important element:
An energy pathway cannot be sustainable if it is not economically feasible.
This is especially true in a capitalist and relatively-free market economic system such as that of the United States. It really doesn't matter how sustainable an energy resource is in terms of resource depletion - renewables such as sun and wind power being especially so - or lack of pollution. After all, the technology for stably sequestering atmospheric carbon underground has been available for at least several hundred years. We are still worried about atmospheric carbon levels despite this availability because of the costs that reducing them to pre-Industrial Age levels would incur.
Furthermore, to be sustainable, an energy resource needs to be affordable enough to generate demand. A 2009 YouGov poll found that more than 50% of Americans supported a climate bill along the lines of the American Clean Energy and Security Act if the annual household cost was $80 or less. Support fell to 30% as the annual cost increased to $175 and less than 10% at $770. Most Americans want to be green, but only if it doesn't have a negative impact on their wallets. And without demand, economic feasibility is unlikely to be achieved.
Tesla, SolarCity, and sustainability
This sustainability requirement was on my mind this morning as I read about Tesla's (NASDAQ:TSLA) proposed buyout of SolarCity (SCTY), both of which are closely linked to CEO and co-founder, respectively, Elon Musk:
Tesla Motors Inc. has offered to buy SolarCity Corp., a $2.8-billion deal that would unite two Bay Area companies funded and driven by Los Angeles billionaire Elon Musk.

If a deal for the struggling rooftop solar giant is approved, Tesla would become more than just an electric car maker, evolving into an increasingly diverse company with interests across a range of green technologies.

"The world does not look for another car company, the world looks for sustainable energy companies," Musk told reporters and analysts in a call Tuesday.

The combination would allow customers to generate solar power from Tesla rooftop installations, store the energy in Tesla batteries and transfer the energy into Tesla electric cars.

"It's now time to complete the picture," Tesla said in a blog post. "Tesla customers can drive clean cars and they can use our battery packs to help consume energy more efficiently, but they still need access to the most sustainable energy source that's available: the sun."
Tesla is using the phrase "sustainable energy" frequently to describe the rationale behind its proposed acquisition. Ars Technica reports that the goal of the move is to create the world's first vertically-integrated sustainable energy company, one capable of handling transportation electricity production, distribution, storage, and consumption. The result would be akin to Ford Motor Co. (NYSE:F) owning oil E&P, refining, fuel logistics, and fuel retail segments. (The fact that such integration has never occurred before in more than a century of automotive history might create some awkward questions in the minds of Tesla and SolarCity investors.)
At first glance the acquisition would represent a major branding coup. Electric vehicles [EV] such as those produced by Tesla only achieve substantial reductions to emissions of greenhouse gases and particulate matter relative to fossil-fueled vehicles if powered by clean sources of electricity, especially the renewable variety. The proposed vertical integration would completely do away with the debate over the questionable impact of EVs on climate change by making it possible for EV owners to truly achieve zero lifecycle greenhouse gas emissions while driving. Whereas most EVs today simply relocate vehicle pollution from the point of the tailpipe to the point of the power plant, Tesla's acquisition would allow drivers to become completely "green" as part of a package deal.
The appeal of such an arrangement is obvious, especially given growing public concern over greenhouse gas emissions in the U.S. There is just one problem with it, though: I see no evidence that Tesla's creation of a vertically-integrated electric transportation firm would be sustainable. True, it would likely meet the social and environmental pillars of the Three Pillars of Sustainability. But it would almost certainly fail the third pillar, which is also the one that we as investors are the most concerned with: economic feasibility.
Much electricity has been consumed writing about Tesla's historical and possibly future lack of profitability. Even the company's most ardent bulls recognize that they are investing for future earnings that likely won't be reported for several quarters and possibly years. The company is in much better shape than SolarCity, however, which has incurred rapidly-escalating losses that have outpaced even its revenue growth. The latter has nearly quadrupled its annual revenues since FY 2011. Over the same period, however, its annual EBITDA and free cash flow losses have increased by an order of magnitude (see figure). This result is the exact opposite of conventional business theory, which predicts high initial losses from start-ups that slowly transition to positive cash flows if and when revenues achieve scale. SolarCity, on the other hand, bled more than $2.6 billion of cash last year, an incredible amount for a firm that had a market cap high of roughly $6 billion in the same year.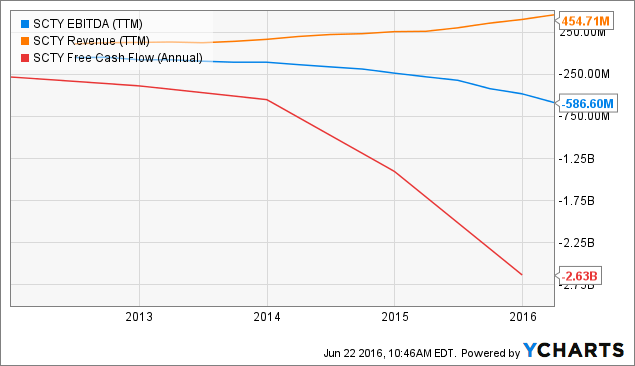 SCTY EBITDA (NYSE:TTM) data by YCharts
It gets worse. Even if we optimistically assume that both Tesla and SolarCity achieve steady-state profitable operations (this is not a dig at either company but rather a reflection on the poor success rate of "new tech" firms), the latter is not expected to achieve anything close to the returns of the former. As Oppenheimer analysts put it:
[W]e do not view this acquisition as the best and highest use of TSLA's capital and human resources given the potential return on capital possible in the electricity industry (typically ~8%-9%) versus the potential leverage of the TSLA auto platform which we believe could demonstrate [return of invested capital] of 15%-20%+,
The best case scenario, then, is that the capital of Tesla's shareholders (the acquisition will be financed via an exchange of shares) will be used to attain the shares of a firm that is expected to, at best, achieve lower returns than the acquiring firm. In the process Tesla will be doubling its negative free cash flow and doing additional damage to a bond rating that is already at junk status.
How much is a brand worth?
Seeking Alpha's Paulo Santos is most likely correct when he interprets the buyout proposal as the attempted bailout of an almost-bankrupt related company rather than a value-added acquisition. However, let us generously assume for the sake of discussion that, as Dana Blankenhorn phrases it, Tesla investors bought into a vision rather than a mere company. In other words, Tesla investors believe that the firm has value as part of the overarching "Musk Brand" rather than just as an auto producer. Mr. Musk himself has said as much by saying that the acquisition is a "no-brainer" because this "is the right time to complete the picture." Does the acquisition make sense when cast in that light?
Frankly, I don't see how it does. What Tesla needs as a stand-alone company is positive cash flow, not a rebranding of its image. While its cash flow and EBITDA results have fared better than those of SolarCity over the last five years, they have still moved inversely to revenue (see figure). Admittedly this is more expected since Tesla has yet to begin what could be termed production at scale, something that won't occur until the Gigafactory begins to make deliveries. What Tesla really needs, however, is a segment capable of generating the steady positive cash flows that will finance the scale-up and initial implementation of its untested mass-production segment.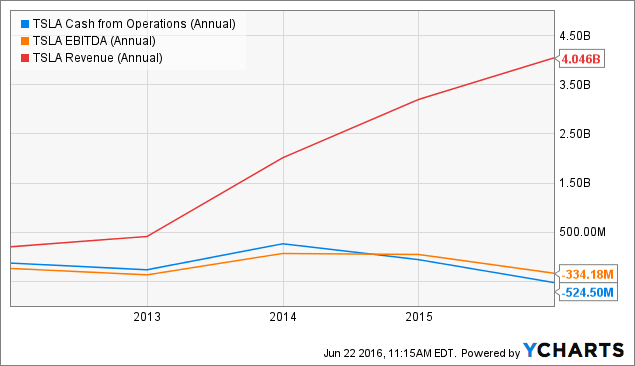 TSLA Cash from Operations (Annual) data by YCharts
A good comparison in the renewable energy sector is that provided by many utilities. Utilities have some of the least volatile operating cash flows seen in the market since electricity and natural gas are always in demand. This is especially true for regulated utilities, which operate under a compact with state regulators that ensures their profitability so long as their returns don't exceed a cap. Utilities are required by both state and federal laws to generate an increasing share of renewable electricity, however, despite the inherent riskiness of wind and solar farms. They are able to meet their legal obligations by financing investments in these riskier assets with their reliable cash flows.
The problem with SolarCity is that it operates outside of the utility model (and, as some would argue, possibly in direct opposition to it). It has no reliable cash flows; indeed, it hasn't even reported a positive annual operating cash flow since FY 2013. While it produces renewable energy, I would hesitate to call it a sustainable energy producer since it has yet to develop an economically-feasible model for producing renewable energy.
What Tesla needs is a Pattern Energy Group (NASDAQ:PEGI), NRG Yield (NYSE:NYLD), or TransAlta Renewables (OTC:TRSWF), a firm that produces a steady supply of both renewable electricity and operating cash flows. After all, the global nature of greenhouse gas emissions means that it doesn't matter whether the company's renewable electricity, if it is set on becoming a producer and thereby improving its brand, is used by households in Canada or Tesla drivers in San Francisco. Tesla is proposing to acquire another SunEdison (OTCPK:SUNEQ) instead, a millstone to be placed around its metaphorical neck. Two sets of negative cash flows don't make a positive in this case; if anything, they will do more harm than good to the Musk Brand.
Disclosure: I/we have no positions in any stocks mentioned, and no plans to initiate any positions within the next 72 hours.
I wrote this article myself, and it expresses my own opinions. I am not receiving compensation for it (other than from Seeking Alpha). I have no business relationship with any company whose stock is mentioned in this article.