For BlackBerry's (BBRY) fiscal 2017 Q1 earnings tomorrow, I expect CEO John Chen to announce a new mid-priced Android smartphone. This will be the company's last chance to get an Android phone right, after its terrible Priv. I consider it likely that BlackBerry has learned from the Priv disaster.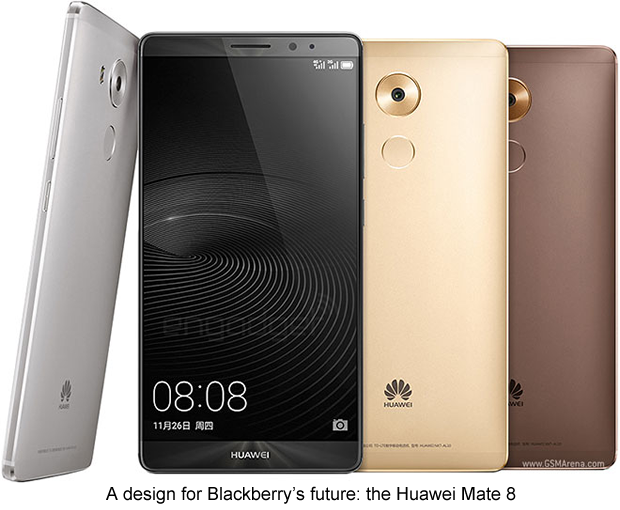 Source: GSM Arena
Abandoning the Old BlackBerry
As it becomes increasingly obvious that BB10 is dead and Priv's sales were minuscule, it appears that many long time BlackBerry bulls are finally giving up. Here on SA, the article by SA contributor Achilles Research is an example.
At this point, I can't really blame anyone for bailing out on BlackBerry. Yesterday, I highlighted BlackBerry as one of four case studies in failures to turn around declining technology companies. However, it seems to me that the failure to turn around the company was already fully manifest a year ago. It seems that analysts and the market only now catching up to that reality.
The prevailing pessimistic view of Blackberry may still be lagging current developments. On the basis of the Priv failure, it's clear that BlackBerry must abandon the design and engineering of smartphone hardware, as I made clear following last quarter's earnings report.
I fully expect BlackBerry to announce a new round of staff reductions as most of the hardware engineering organization is jettisoned. This can be expected to enable more operating cost reductions, and we'll probably get an estimate of the savings during tomorrow's conference call.
Does this mean that BlackBerry's smartphones go away completely? I actually don't think so. As I said last quarter, BlackBerry has one more shot at hardware. The key difference will be that it won't be designed by BlackBerry. More than likely, it will be designed by a manufacturing partner such as Huawei, along the lines of what Huawei did for Alphabet (NASDAQ:GOOG) (NASDAQ:GOOGL) with the Nexus 6P. In keeping with this approach, some of the hardware staff will be retained in order to provide supply chain management and engineering support to the manufacturing partner or partners.
This is the business model that I've been advocating for BlackBerry for some time, and which I believe it has now been forced into by economics. Huawei is the most likely partner, as it looks to expand its presence in North America. Huawei can build BlackBerry a mid-priced Android smartphone with flagship credentials, judging by the very impressive Mate 8.
Following the Priv, it seems to me that BlackBerry bulls have thrown up their hands and decided that the Android strategy can't work. But the Priv was so poorly executed that its fate doesn't really bear on the viability of the strategy.
A Viable New Model
The main appeal of the Nexus hardware approach for BlackBerry is that it gives BlackBerry a relatively low risk and low cost way to offer BlackBerry branded smartphones going forward. It's the only avenue left to BlackBerry.
At this point, I consider it preferable to the alternative of completely abandoning hardware, which I think would greatly damage the image of BlackBerry, as well as revenue. BlackBerry is still very dependent on hardware. For the 2016 fiscal year which ended in February, Hardware and Other accounted for $887 million in revenue, 41% of the total.
I also think there's a real market for a modern Android device (no keyboard, please) that offers BlackBerry grade security and management. That thesis for a BlackBerry Android device is still perfectly sound, and I don't see any reason why such a device couldn't sell the several million units per quarter required for hardware break even.
It has certainly taken too long for BlackBerry to get to this point. These are decisions that should have been taken a year or two ago, but that's with benefit of hindsight. As I said last quarter, I don't really blame Chen for this. As an outsider coming into blackberry in 2013, he had a lot of institutional inertia to overcome.
With the demise of the Priv comes the demise of the old BlackBerry, and it's perhaps understandable that some long time BlackBerry supporters are now abandoning ship. There's a tendency, especially in technology companies, for people to invest in companies that have business models that are familiar and understandable. When the business model changes, this will tend to make existing investors uncomfortable.
Investor Takeaway
BlackBerry's long painful transition out of the old business model is far from over, but I see reason for optimism. What I'm looking for in tomorrow's conference call is a distinct, unmistakable break with the past.
This will involve a number of things. Staff reductions in hardware are a must. Chen also needs to make absolutely clear that BlackBerry is embracing Android irrevocably. There needs to be an announcement of the new mid-priced Android device, preferably with the original design manufacturer (ODM) identified.
Investors also need to hear how the integration of Good Technology is going, and whether there will be cost savings as a result. There should be, if things are going well.
The consensus estimate (via Yahoo!) is for revenue of about $471 million and an EPS loss of $0.08. While this represents a significant 28% y/y decline in revenue, it's slightly better than last year's $0.10 EPS loss. Also, it represents a slight sequential revenue gain of 1.5%, so the revenue decline may have stabilized.
I continue to rate BlackBerry a hold, but of course, that will be revisited post earnings.
Disclosure: I/we have no positions in any stocks mentioned, and no plans to initiate any positions within the next 72 hours.
I wrote this article myself, and it expresses my own opinions. I am not receiving compensation for it (other than from Seeking Alpha). I have no business relationship with any company whose stock is mentioned in this article.