When I first started investing, I followed and invested in some of the most popular stocks: Apple (NASDAQ:AAPL), Exxon Mobil (NYSE:XOM) and Waste Management (NYSE:WM) to name a few. My research style was easy. All I had to do was pull up the recent 100 or so articles written about those companies and boom, no independent research was needed.
As I grew and evolved as an investor, I began to realize that I needed to do my own research and not rely upon the opinions of other investors. I then realized that doing research on companies like Apple, where hundreds of others have done the same research, was mundane, boring and unoriginal. That is when I started to transition into a microcap investor and/or a researcher who focuses on overlooked and unfollowed ideas.
The banking industry and especially the community banking space has fit nicely with my independent research and investing style, which tends to go where others have not gone. It's simply amazing at the lack of coverage community banks get, especially on Seeking Alpha. I mean just check out these five banks' Seeking Alpha pages and corresponding followers/lack of research…
Chino Commercial Bancorp (OTCPK:CCBC)
California Business Bank (OTCPK:CABB)
Shore Community Bank (OTCPK:SHRC)
Kentucky Bancshares (OTCQX:KTYB)
It is in my belief that there is a lot activity going on in the banking space that oftentimes gets overlooked. Given the lack of information on banks, we would like to write a weekly column highlighting some notable and actionable ideas in the banking industry that many investors tend to not pay attention to.
In addition, it is my belief that to have an edge in the investing industry, you must be willing to do what others will not do. Due to the lack of investor attention in regards to banks, I believe that the banking industry as a whole could be a good hunting ground for alpha.
M&A Activity
Back in the 1980s, there were around 14,000 banks in the US. Today, the number is approaching the bottom of ~6,000. With a rapidly consolidating industry and the regulator golden number of ~1,500 banks expected in the US in years to come, the industry is prime hunting ground for M&A guys.
At CompleteBankData, we love public companies, but we also focus on private banks as well. In fact, there are just as many opportunities following private banks as there are public banks. Because private banks interest us just as much as public banks, we would like to share a few M&A ideas happening now in the banking world (public and private).
Mergers and Acquisitions in the past few weeks of June
Ascent Bancorp of Helena, Montana is becoming a bank holding company by acquiring First Security Bank of Helena, Helena. Granted on June 2nd, 2016.
First Interstate BancSystem (NASDAQ:FIBK), Inc. of Billings, Montana is acquiring Flathead Bank of Bigfork, Montana. Furthermore, First Interstate Bank is to merge with Flathead Bank of Bigfork and thus establish a branch. Approved on June 10th, 2016. It may be beneficial to keep FIBK on your watchlist as a growing bank.
Louisiana Community Bancorp of Houma, Louisiana is acquiring Tri-Parish Bancshares of Eunice, Louisiana, thus acquiring Tri-Parish Bank. Approved June 9th, 2016.
CNB of Centreville, Maryland is merging with The Talbot Bank of Easton, Maryland. Merger was approved on June 7th, 2016.
Weymouth Bank of East Weymouth, Massachusetts is merging with Equitable Co-Operative Bank of Lynn, Massachusetts. The combined companies will thereby establish branches. This deal was approved on June 9th, 2016.
Patriot Financial Partnership is acquiring 10% or more of Heritage Commerce Corp. (NASDAQ:HTBK) of San Jose, California. The deal was filed on 5-31-2016. California is a fast growing economy on a multiple of fronts. Furthermore, Heritage Commerce Corp. has been able to grow its total assets, in the past five years, at a 12.29% annualized rate. Additionally, Heritage Commerce Corp. has grown its total loans at a 13.07% annualized rate in the past five years. Heritage Commerce Corp. may make for a good acquisition target given Patriot Financial Partnership's interest and the company's growing loan book, total asset growth, and the population tailwinds of the California economy.
Blue Ridge Bankshares (OTCPK:BRBS) of Luray, Virginia is acquiring 100% of River Bancorp of Martinsville, Virginia. Blue Ridge Bankshares is thereby indirectly acquiring River Community Bank of Martinsville, Virginia. The deal was announced the week of June 11th, 2016.
Blue Ridge Bankshares should be an interesting bank to watch given the bank's historically strong balance sheet and income statement growth.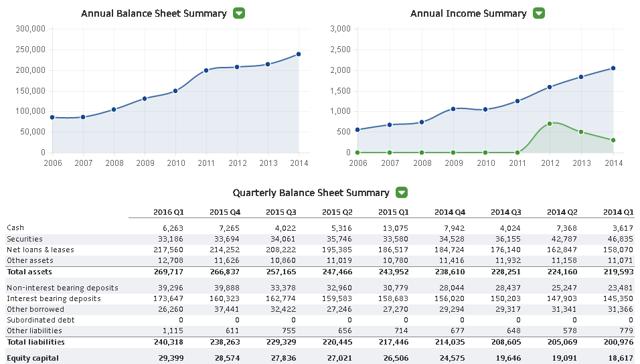 Source: CompleteBankData Blue Ridge Bankshares
Marquis Bancorp will become a holding company by acquiring 100% of the outstanding shares of Marquis Bank of Coral Gables, Florida. The deal was announced the week of June 11th, 2016.
Smith & Hood Holding Company, of Amite, Louisiana will become a bank holding company by acquiring 10.49% of the shares of First Guaranty Bancshares (OTC:FGYH) of Hammond, Louisiana. Deal was approved the week of June 11th, 2016.
Central Bancshares of Muscatine, Iowa is acquiring 100% of Brimfield Bank of Brimfield, Illinois. In addition to this merger, The Farmers and Mechanics Bank of Galesburg, Illinois has sent in an application to merge with Brimfield Bank. The deal was applied for the week of June 11th, 2016.
Fentura Financial of Fenton, Michigan is acquiring 100% of Community Bancorp of Saint Charles, Michigan. The deal was applied for the week of June 11th, 2016.
The Michigan banking market is very interesting and has been seeing an uptick in M&A in the most recent years. For an example County Bank Corp. (OTCPK:CBNC) announced a merger with Capac Bancorp on February 18th, 2016. Furthermore, Talmer Bank and Trust was acquired by Chemical Bank (NASDAQ:CHFC) in the early half of 2016. The Michigan market isn't a fast growing economy, so one of the best ways banks can grow is through M&A.
First Mid-Illinois Bancshares (NASDAQ:FMBH) of Mattoon, Illinois is planning on merging with First Clover Leaf Financial of Edwardsville (NASDAQ:FCLF), Illinois. Application was filed the week of June 11th, 2016. There is currently an 8.61% spread on this deal.
QCR Holdings of Moline, Illinois is acquiring 100% of Community State Bank of Ankeny, Iowa. The deal was approved the week of June 11th, 2016. QCR Holdings experienced 33.33% annualized net income growth in the past two years. This acquisition may have the ability to funnel more funds to the bottom line for shareholders. Interestingly, there are a significant amount of shareholders in QCR Holdings that may sell some shares to private buyers.
Robert Greco of Wayne, Illinois has banded together with Gian Greco, Pasquale Greco, Francesca Greco, and Eduardo Greco to acquire over 10% of STC Bancshares of St. Charles, Illinois. The group will thereby control STC Capital Bank. This was announced the week of June 11th, 2016.
STC Capital Bank has an elevated risk structure due to a higher end efficiency ratio of 78.80%, poor profitability metrics and decreasing capital ratios. However, the company has decent asset quality, the top and bottom line are growing and the Greco's seem intent on providing some activism. It may be in the bank investors' interest to reach out to the Greco's and/or do further due diligence on this private bank.
Saints Avenue Bancshares of St. Charles, Missouri is becoming a bank holding company by acquiring 43.90% of New London Bancshares of New London, Missouri. Saints Avenue Bancshares will then indirectly own RCSBank of New London, Missouri. The deal was announced the week of June 11th, 2016.
Simmons First National Corporation of Pine Bluff, Arkansas is acquiring 100% of Citizens National Bank of Athens, Tennessee. It was filed on June 11th, 2016.
Peoples Equity Corporation of Wells, Minnesota is going to acquire 100% of Paragon Bank of Wells, Minnesota. Announced June 11th, 2016.
Uptown Bancorporation of Britton, South Dakota is looking to acquire at least 72% of First American State Bank of Oldham, South Dakota. Filed June 11th, 2016. Uptown Bancorporation should do well with the First American State bank acquisition. This is due to First American State Bank's poor profitability structure and higher efficiency ratio.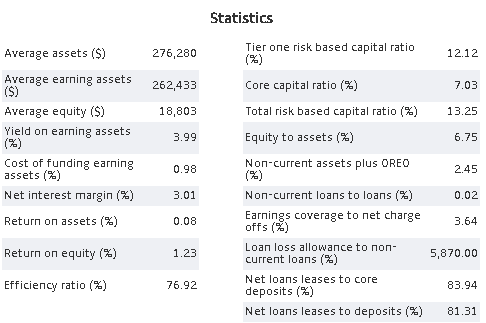 Source: CompleteBankData First American Bank
With Uptown Bancorporation's lower-end efficiency ratio, high ROE and 9.96% NIM, this acquisition should be bolt-on, giving Uptown the ability to rapidly cut costs at First American State Bank. It may be beneficial to reach out to some of the insiders holding Uptown, if interested in buying a privately growing bank.
What is the takeaway from these listed mergers and acquisitions? Good question. Well first, it is obvious that the banking industry is rapidly consolidating. In fact, it appears as if the number of banks is shrinking at an exponential rate…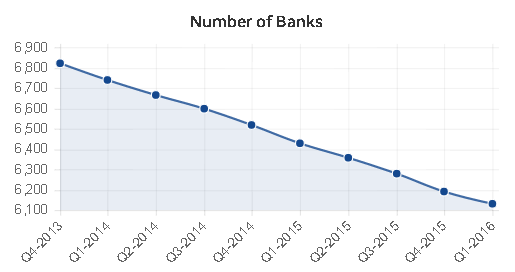 Source: CompleteBankDate Home Page
With the rapidly consolidating banking industry, investors interested in M&As and/or actionable ideas should scrounge the banking sector for potential acquisition targets given the positive macro push for consolidation. Interestingly, according to November's 2016 M&A survey by Bank Director, 67% of the 260 bank CEOs interviewed stated that they need scale to survive. Furthermore, 51% of these CEOs stated they intend to pursue an acquisition in the next year.
The reason why there is a growing number of acquisitions in the banking space are due to low interest rates, regulatory burdens, and the overall cost of business increasing. I believe that these three former consolidation factors will not go away in the near term and investors should use them to their advantage. Moreover, I think building a basket of potential acquisition targets could make for a good strategy.
A few things I look for in a potential acquisition target are: low TBV, lower-end market caps, low insider ownership, lower return on assets, more assets, a higher capital-to-asset ratio, lower profitability and greater inefficiency that an acquiring bank can improve on.
I believe that if investors build a basket of companies that meet some if not all of these metrics, they should do relatively well and may be able to hit a few acquisitions down the road.
There is a significant amount of consolidation in the banking industry that is taking place right now. What is interesting is that many people are not paying attention to the activity or even care that an M&A wave is going through. However, if you have your eyes open and enjoy investing where others will not go, the consolidation in the banking industry may be of high interest to you.
Banks Expanding
Another avenue that is interesting in the banking space is banks that are growing in this low interest rate environment. One way to find unique investing ideas in the banking space is to search for banks that are opening new branches. To save you the arduous process, we have compiled some data for you on banks that have announced a branch expansion in the most recent month.
First Citizens Community Bank (OTCPK:CZFS) of Mansfield, PA, is looking to establish a new branch office located at 720 East Main Street, Mt. Joy, and Lancaster County, PA. This bank is interesting for they have a 3.44% dividend yield, an 11.05% ROE, 1.15% ROA and NIM of 3.45%. Furthermore, the bank has a low efficiency ratio of 60.60%. Given the high profitability metrics, I would not be surprised to see the bank open other branches going forward.
Univest Bank and Trust (NASDAQ:UVSP) of Souderton, PA is establishing a new branch office at 90 Willow Valley Lakes Drive, Willow Street, Lancaster County, PA. The company is also looking to get a branch office at 922 2nd Street, Richboro, Bucks County, PA.
Univest Bank and Trust may be an interesting bank to look into given their growing deposit base…

Source: CompleteBankData Univest Bank and Trust Deposits Overview
SunTrust Bank (NYSE:STI) of Atlanta, Georgia is putting an office in at 2089 Ashley Phosphate Road, North Charleston, South Carolina. The bank is also opening a branch in at 201 Franklin Road, Suite 100, Brentwood, Tennessee.
SunTrust Bank has a market cap of $20.81 billion and an attractive dividend of 2.33%. In addition, the bank has been attractively growing their deposit base in the most recent years.

Source: CompleteBankData SunTrust Deposit Overview
Given the sheer size of the bank and meaningful intents of deposit and location growth, SunTrust may be a good bank to keep on your watch-list as a stable dividend paying bank.
1st Source Bank (NASDAQ:SRCE) of South Bend, Indiana is putting an office in at 3800 Mishawaka Road East, Elkhart, Indiana.
Lake City Bank (NASDAQ:LKFN) of Warsaw, Indiana is establishing a branch at 705 South State Road 135, Greenwood, Indiana.
Citizens Bank and Trust Company of Van Buren, Arkansas is establishing a branch at 8828 Highway 59 North, Cedarville, Arkansas.
Frost Bank (NYSE:CFR) of San Antonio, Texas is opening a branch at 12532 FM 2244 Road, Suite 150 Bee Cave, Texas 78738. They are also opening several other branches at 23787 IH-10 West, San Antonio, Texas 78257, 6305 Precinct Line Road, Suite 100, North Richland Hills, Texas 76180, 3838 Rogers Road, San Antonio, Texas 78251, and 7859 Walnut Hill Lane, Suite 190, Dallas, Texas 75230.
LegacyTexas Bank of Plano, Texas is opening a branch at 2700 East Berry Street, Lot 4R, Fort Worth, Texas 76105.
AltaPacific Bank (OTCPK:ABNK) of Santa Rosa, California is establishing a bank at 4845 Old Redwood Highway, Santa Rose, California.
AltaPacific Bank is a bank that has been on my radar for a while now. The company has a NIM of 6.51% and they have been growing their net income at a 52.81% rate YOY, with a five-year annualized growth rate of 78%.
The company has also been on the acquiring side of the M&A equation. For an example, on May 2nd, 2014, the company completed a merger with Mission Oaks Bancorp for an all cash transaction of $3.5 million. This merger not only added two new branches, but also increased the total assets from $238 million to $335 million.
Finally, the company has an attractive ROE of 10.20% combined with a respectable efficiency ratio of 53.52%. Moreover, with a TBV ratio of 0.96x, the bank looks attractive from a value standpoint.

Source: CompleteBankData AltaPacific Branches
With only five current branches, the addition of a sixth bank should provide decent YOY forward-looking deposit growth.
If you are a bank investor looking for growing banks, one way to find them is to screen for banks that are opening new branches. Interestingly, banks that are opening new branches typically are the ones that are growing in this consolidating industry and may be on the side of the M&A equation doing the acquisitions.
Banks Buying Back Stock
The final notable item we would like to focus on today is banks buying back stock. Repurchase programs are great to follow, especially in an undervalued industry such as banking. Here is a quick look and overview of a few banks that have notable buyback programs.
Investors Bancorp (NASDAQ:ISBC) has a repurchase program on the table, announced June 10th, 2015, which authorizes the company to buy back 10% of the company's common stock. This buyback was announced right after the company completed their first buyback program announced March 16th, 2015, to buy back 5% of the outstanding common.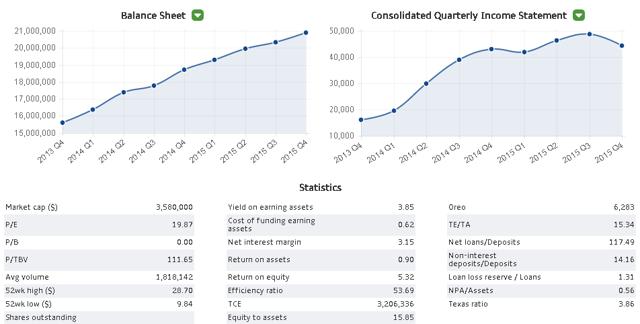 Source: CompleteBankData Investors Bancorp
Capital Bank Financial (NASDAQ:CBF) announced on March 16th, 2015 that the company will pay $1 each for CVRs issued to former shareholders of Southern Community Financial Corporation and another $0.03 to those shareholders who delivered their consent prior to March 13th. In addition to the CVR buyback, the company also announced an additional $100 million repurchase program of their common stock, or 7.6% of the float.
As of the most recent quarter, the company repurchased $4.4 million or 148,300 common shares at $29.61/share. Furthermore, in regards to their original $400 million repurchase plan, the company has bought back $298.6 million or 12,344,660 common shares at $24.19 per share. Currently, the company has $101.4 million left under the repurchase program.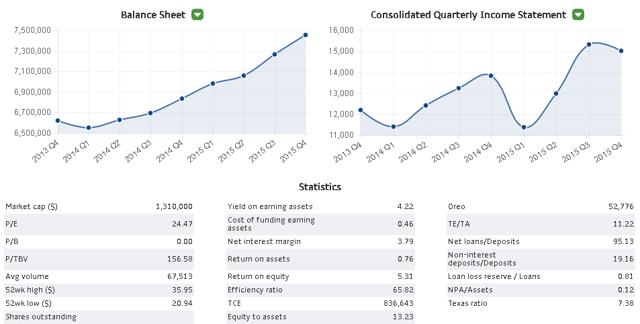 Source: CompleteBankData Capital Bank Financial
In March of 2015, State Street Corporation (NYSE:STT) announced a repurchase agreement to buy back $1.8 billion worth of common stock through June 30th, 2016. As of the most recent quarter, the company repurchased 5.6 million shares at an average price of $57.88/share, and a total purchase price of ~$325 million. Given that the company did not repurchase $1.8 billion worth of shares and the 30th is right around the corner, investors should not be surprised to see another repurchase program announced in the upcoming months.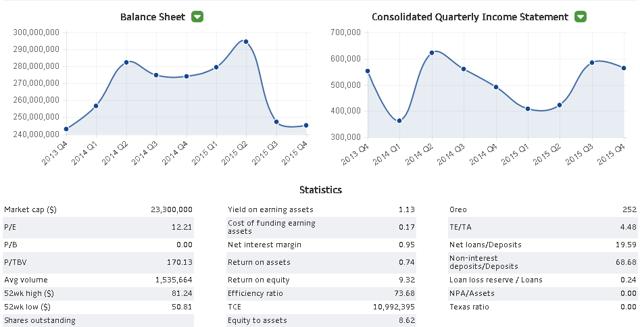 Source: CompleteBankData State Street Corporation
There are a significant amount of banks that have announced repurchase programs in the world of banking. In order to not make this an arduous read, here are a few more banks that have repurchase programs on the table. Further research into each of the following companies may be warranted.
Discover Financial Services (NYSE:DFS)
Fifth Third Bancorp (NASDAQ:FITB)
Hancock Holding Company (NASDAQ:HBHC)
CIT Group (NYSE:CIT)
BOK Financial Corporation (NASDAQ:BOKF)
Northeast Bancorp (NASDAQ:NBN)
Independent Bank Corporation (NASDAQ:IBCP)
Sandy Spring Bancorp (NASDAQ:SASR)
Old Line Bancshares (NASDAQ:OLBK)
Kish Bancorp (OTCPK:KISB)
MB Financial (NASDAQ:MBFI)
Takeaway
There is a lot of actionable ideas that happen in the banking industry daily. Likewise, many investors do not pay attention to the data in order to take advantage of this underfollowed industry.
It is my belief that in order to have an edge, you must be willing to do what others will not. The banking and especially the community banking industry is overlooked by the majority of the Street. Investing in an industry where others will not is a function of alpha generation and a form of contrarianism.
Other Readings on Banks
CCAR 2016: Could Bank Of America Fail Again?
Deutsche Bank - Closing Shorts For A 16% Gain, And Going Long Again
Deutsche Bank: Of Liquidity And Leverage
HDFC Bank: An Expensive Slice Of Indian Growth
Royal Bank Of Canada: 'El Royal With Cheese' In The U.S.
Why Are The Big Banks Out In The Cold? Example One Of Three - OTC Derivatives
American River Q1: Buybacks Are Starting To Work Their Magic
Bank Of Utica: This Community Bank Local Franchise Is A Safe And Cheap Cash Substitute
Disclosure: I/we have no positions in any stocks mentioned, and no plans to initiate any positions within the next 72 hours. I wrote this article myself, and it expresses my own opinions. I am not receiving compensation for it (other than from Seeking Alpha). I have no business relationship with any company whose stock is mentioned in this article.
Editor's Note: This article covers one or more microcap stocks. Please be aware of the risks associated with these stocks.