Himax (NASDAQ:HIMX) is an interesting Taiwanese fabless specialist semiconductor company that is well positioned for certain growth markets, most notably virtual and augmented reality (VR and AR).
The company's products can be classified into three categories, which correspond to the three divisions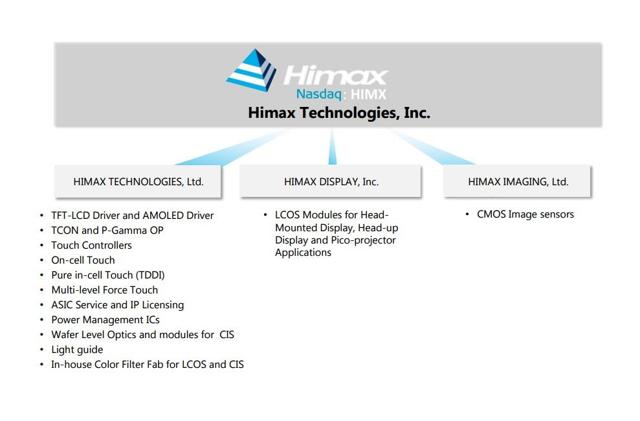 Below you see the development of the main product lines (driver ICs for large panels, driver ICs for small and medium panels, and non-driver products)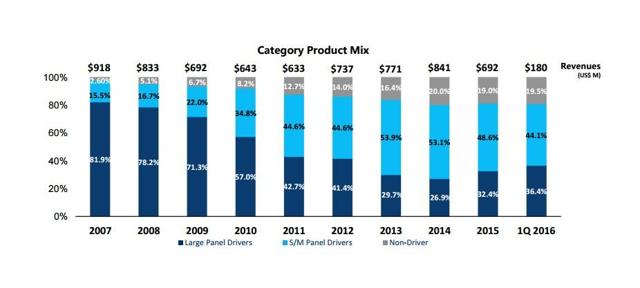 There are a few things notable in this graph. Worrying is the decline in revenues. This is a worrying reminder that many these chip markets, whilst growing, are often experiencing considerable pricing pressures.
The second thing to notice is the shift in revenues away from drivers for large panels towards the other two revenue sources (drivers for small and medium panels and other products). This seems to at least partially compensate for the pricing pressures, as margins show some tendency to grow: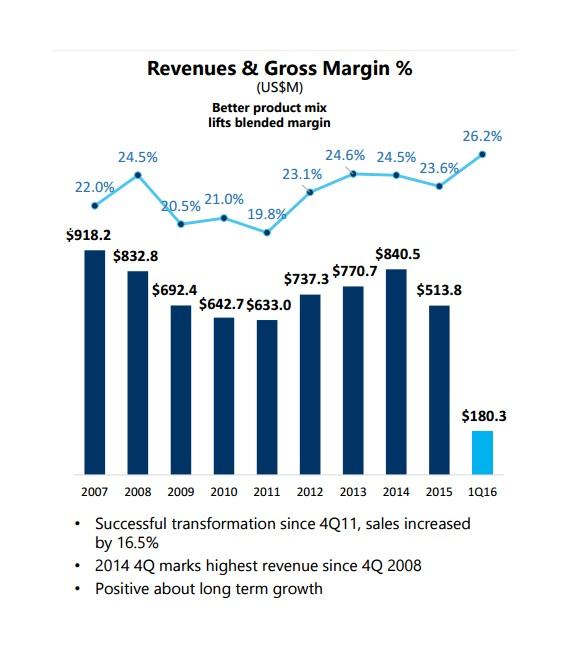 In Q1, the revenues from the different divisions were as follows:
Driver ICs for large panels: 36.4%
Driver ICs for small and medium panels: 44.1%
Non-driver products: 19.5%
Growth opportunities
Himax is the third biggest supplier (10% market share) in the display driver market, behind Samsung (25%) and Novatek (18%).
In the developed world the market for large sized LCD TVs is more or less saturated. However, this isn't the case in much of the developing world, so there are still fairly good growth opportunities in the driver market for large sized panels.
The company does have a leading market position in China, and growth here is considerably faster than in the developed world.
Migration to large scale OLED and 4K panels is still in its infancy. OLED panels have lower energy consumption and produce superior image quality as do 4K panels. So these markets provide other growth opportunities.
In the medium and small sized panels, Himax is the market leader and it will benefit from resolution migration, a shift to AMOLED panels. There are also significant opportunities in the automotive market, as more and more cars are fitted with bigger, higher resolution displays.
During the Q1CC, the company gave guidance:
Large panel drivers will grow 25% y/y with Chinese 4K TV's the main driver.
The market for medium and small panel drivers will grow at double digit rate, driven mainly by automotive and AMOLED drivers. The company has missed some revenue opportunities in the latter with a Korean customer switching from LCD to AMOLED, but this problem should be in the past. Himax is the first non-Korean supplier of AMOLED drivers and the Chinese market is about to take off, so this is actually an interesting opportunity for the company.
LCOS Microdisplays
While Himax position in the display panel driver market is solid, the real growth opportunities are probably in the LCOS Microdisplay market, as this is the technology of choice for the upcoming VR and AR markets.
There are the same technologies around for microdisplays that power larger displays, that is, LCD (liquid crystal display), LCOS (liquid crystal on silicon), DLP (digital light processing), and OLED (organic light emitting diodes). Here is how their market shares will evolve by 2020: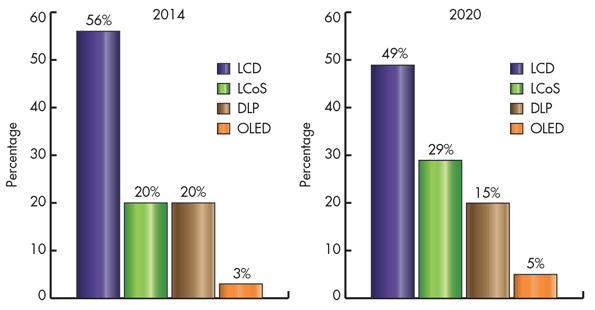 And here we have the end markets, which immediately makes it obvious that there are many more applications besides the one that is mostly in the news, consumer VR.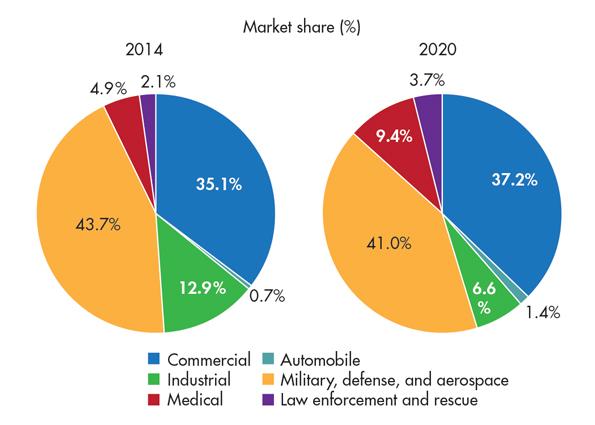 Himax is the market leader in LCOS microdisplays, which is the cheapest technology. In big panels, OLED is often considered superior technology from a performance basis due to the fact that each pixel emits its own light.
This gives an advantage in terms of contrast, refresh rates and power consumption. However, OLED microdisplays are still up to five times as expensive as LCOS displays.
Revenues from LCOS microdisplay and WLO (wafer level optics) took off in Q1 and are expected to triple(!) in Q2, but before you get too excited, this is still from a very small base.
However, there are actually quite a few reasons to get at least somewhat excited:
Even that very small base amounts to 5% of Himax revenue already.
Himax position in the microdisplay and WLO markets is very strong, basically all the big VR and AR producers like Facebook, Google, HTC, Microsoft, are a customer.
These products represent the highest value in an AR product's bill of materials. According to Jordan Wu on the Q1CC: "If you look at the LCOS or WLO or sometimes on a combined basis, they can range in the area of hundreds of dollars a set"
The company has "way more than 30 customers" in this space (the vast majority in the US, where the real innovation comes from).
Growth is expected to take off, the company expects mass production in late 2016, early 2017.
We are in the very early stages of what could become a real new mass market. However, on the consumer side, the top VR solutions (the Oculus Rift and the HTC Vive) are fairly expensive and need an even more expensive PC to be able to run.
Expensive as they might be, market growth is still expected to be rather impressive: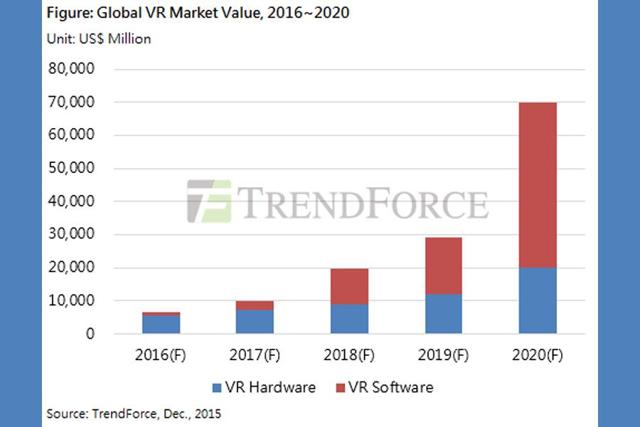 Not everybody agrees with this booming forecast ($20B for hardware!), here is Tech Times:
Several other research ventures estimated the growth of the VR market, but TrendForce is the most optimistic of the bunch. Digi-Capital calculated VR income at $30 billion by 2020, and placed its bets on augmented reality devices that should cash in around $120 billion. In October, IHS projected that 38 million VR million headsets will find their owners by 2020, leading to annual hardware expenditures of $2.7 billion. Not everyone seems to agree, though. "$70 billion assumes that VR is a mature and mainstream market.[...] There are no players in any part of the market that could turn this industry into a $70 billion industry in 4 years". VR Analyst at Moor Insights & Strategy, Anshel Sag, declared.
And there are other forecasts, for instance from Forrester (Yahoo)
Currently, there are about 3.3 million VR headsets in the US, Forrester estimates. But that could spike to 52.3 million by the year 2020, according to Forrester, which did not include cardboard devices like Google Cardboard in its estimates. A number of barriers could delay the VR revolution, though. For one thing, the vast majority of PCs don't have the necessary graphics card to connect with high-end VR devices, and getting one will cost users an extra $1,000. The high-end VR experience also faces competition from VR offered by smartphones and by Google Cardboard - the latter offers some aspects of virtual reality for just $15.
Whatever the real growth turns out to be, Himax is well positioned to take advantage, that much seems a pretty fair bet. The market is still in the very early stages
Perhaps the most important risk at this juncture is whether the cheap smartphone based VR contraptions out there are an enabler or a competitive threat. There is something to be said for both.
They are a competitive threat insofar as people already have a smartphone, adding VR capabilities is a cheap option. But these solutions aren't as powerful and immersive as the high-end devices, they play a sort of freemium role and could entice people to trade up. It remains to be seen.
Finances
The company is debt free and has cash and marketable securities of $168M.
Q1 results beat on margin and EPS, and would have beat on revenue ($180.3M) as well, if not for an earthquake slowing down demand from a significant client.
Analysts expect EPS of 40 cents this year rising to 54 cents next year. At 17 times next years earnings, the company isn't terribly expensive considering the growth opportunities, clean balance sheet, cash generation and dividend.
The company also generates significant cash from operations in excess of capital expenditures, which allows the company to pay a dividend (13 cents this year, as of Monday June 20).
After the Q1 figures, the share price took a bit of a hit because revenues were a fraction off analyst expectations. But we already mentioned this was due to an earthquake slowing down orders from an important client, and this is a one-off. Earnings did beat expectations.
The company was taken aback a bit by the share price reaction, hence they (company PR):
would like to reiterate its confidence in the positive outlook for revenues and earnings growth in 2016. Himax is seeing strength in all of its three product categories, namely large-sized panel driver IC, small and medium-sized panel driver IC and non-driver products, from market share gains and new product launches. The Company is especially excited about the business prospects in the Augmented Reality (NYSE:AR) and Virtual Reality (NYSE:VR) segments where it has a solid and unrivaled top notch customer portfolio.
We think there is an opportunity in accumulating shares on the present weakness.
Conclusion
After a long period of range bound trading, we think that the shares could take off. Perhaps not tomorrow, or next week, but as VR and AR is generating more enthusiasm and ecosystems start to take off developing new ways of using these new devices, this could lead to serious growth for the company.
Not only is it the market with the highest growth potential, it's also the one where they have the most solid position and, to top it off, ASPs of the LCOS and WLO are multiples of those of other stuff they are selling.
Of course, with such a massive market opportunity, lots of money will enter to try to unseat both the LCOS technology as Himax dominant position in it. OLED seems the best candidate simply on technology parameters, but it is still way more expensive.
Until more serious competition emerges, the company could have quite a ride, as only some of it is priced in, in our view. The downside risk seems fairly limited because the company has a raft of other products (many of which we haven't even mentioned) which face growing market opportunities (even if nothing really compares with VR/AR).
Disclosure: I am/we are long HIMX.
I wrote this article myself, and it expresses my own opinions. I am not receiving compensation for it (other than from Seeking Alpha). I have no business relationship with any company whose stock is mentioned in this article.