This is the first in a series of articles that I will publish over the next several weeks in which I assess the largest mega-cap software stocks, from Microsoft (NASDAQ:MSFT) to VMware (NYSE:VMW). Shares of these companies have been performing strongly over the past year, as nine of the top 10 names are sitting within 10% of their 52-week highs.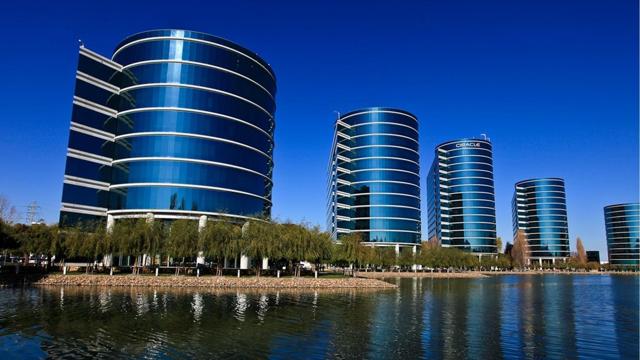 Credit: Panoramio.com
But even following the recent run, is there good value to be realized in the mega-cap software space? And which software stocks seem to be a better buy relative to their peers?
Facing off the big players in software
The table below compares several metrics, from valuation to fundamentals, across the top 10 software companies by market cap: 2016 P/E, 2016 PEG and cash-adjusted PEG, price-to-book, next-year EPS growth, net cash as a percentage of market cap, trailing ROE, dividend yield and "distance" from 52-week highs (as I have gathered preliminary evidence that buying stocks on weakness may be a good value-based strategy).

Source: DM Martins Research, using data from Yahoo Finance and Fidelity
To help better contrast the differences across the peer group, I also created the ranking below:

Source: DM Martins Research, using data from Yahoo Finance and Fidelity
One name amongst the 10 stands out to me. Oracle (NYSE:ORCL) is one of the most affordably priced stock from a forward P/E and P/B (price-to-book) perspective. Its nearly 20% trailing ROE suggests that the company is one of the most efficient at turning equity investments into profits. Lastly, Oracle is also one of the few names on the list to pay a dividend (a small 1.6% yield). The combination of low valuations and modest dividend payments makes ORCL one of the most conservative software names within the peer group, and could attract both income-seeking and value investors despite the less-than-impressive 2017 EPS growth expectations of less than 10%.
Will cloud save the day?
Oracle is in the midst of a transitional period, in which revenue contribution from cloud services are starting to become material - albeit late, when Amazon's (NASDAQ:AMZN) AWS has been around for about a decade. SA contributor Brian Gilmartin did a great job compiling YOY revenue growth and total revenue contribution of Oracle's business segments over recent quarters. Notice how, since February 2015 (fiscal 3Q15), growth in cloud SaaS and PaaS accelerated from 30% to 57% in February 2016, and then reached an impressive 67% in the most recent quarter - a level of performance that SA contributor Bert Hochfeld has challenged with merits. Management expects cloud SaaS and PaaS to grow 75-80% next quarter. Cloud as a percentage of total revenues surpassed 8% in Oracle's fiscal 4Q16 compared to 5% the year before, and this number is only likely to increase rapidly. So the bull case for the stock is undeniably supported on the continued and aggressive growth of cloud revenues, still incipient at Oracle, to offset sharply declining revenues from hardware and software licenses.
But a closer look at segment profits in Oracle's most recent 10-Q reveals that in the nine months ended in fiscal 3Q16 cloud IaaS represented only 1% of the total company's op profits while cloud and on-premise software (a sub-sector in which only 25% of the revenues were generated by cloud SaaS and PaaS) op profits accounted for not much more than 6% of the total. Segment op margins for the cloud and on-premise software sub-sector in fact have fallen off a cliff, from 29% in February 2015 YTD to 16% one year later.
On the other hand, software license updates and product support is still by far Oracle's most profit-contributing sub-sector, having produced 82% of the company's segment op profits for the nine months ended February 2016. And with new software license revenues declining double digits every quarter since fiscal 4Q15 as customers migrate to the cloud, I wonder if the crucial license updates and support end of the business might start to face headwinds before cloud can achieve scale and make up for any resulting loss in profits.
Looking good on paper, stock needs cloud to drive bottom-line momentum
I like ORCL on paper, as valuation from both a P/E and P/B perspective looks de-risked compared to other software names. Aside from single-digit EPS growth expectations, Oracle ranks higher than the peer average on almost every other key metric that I find relevant, from ROE to net cash to dividend payments.
But for shares to break the two-year long inertia and move higher, the company needs to see at least one meaningful catalyst materialize. Cloud revenue growth alone will probably not do the trick, as expectations have been set high, following the astonishing growth levels observed in cloud SaaS and PaaS over the last eight quarters, and management's expectations for over 65% top-line growth in fiscal 2017.
I believe Oracle needs to show that cloud has reached the scale that it needs to start producing not only top-line momentum, but also significant bottom-line contribution. CEO Safra Catz is expecting SaaS and PaaS gross margins to increase from 57% last quarter to 80% in the long term. For now, improvements in gross margins have yet to drive material change to the company's bottom line, as other, less exciting parts of the company (hardware, software licenses) have "worked together" to offset the upside. Proof is that total company op margins have dropped from 36% in fiscal 2015 to 34% in fiscal 2016.
Once cloud shows clear signs that it can contribute meaningfully to the company's bottom line, the stock may finally wake up from its deep sleep.
Disclosure: I/we have no positions in any stocks mentioned, and no plans to initiate any positions within the next 72 hours.
I wrote this article myself, and it expresses my own opinions. I am not receiving compensation for it (other than from Seeking Alpha). I have no business relationship with any company whose stock is mentioned in this article.