Deutsche Bank's Chief China economist Zhiwei Zhang has reported that over-documenting of imports is the most significant method of capital outflows by Chinese companies. In 2015, Chinese Customs figures showed total goods imports of $1.7 trillion, while import payments later showed to be $2.2 trillion - the difference a massive $0.5 trillion.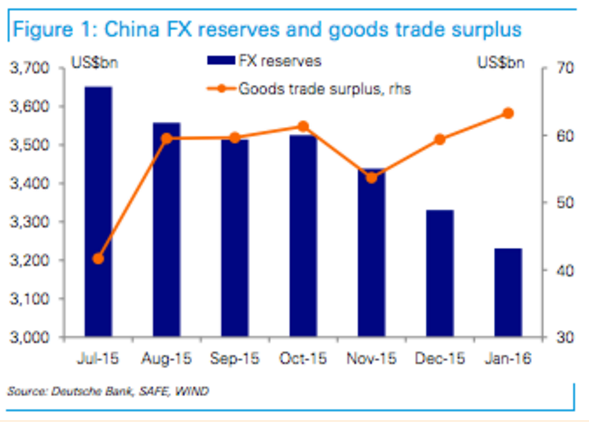 This difference between bank payment data and Customs data can be seen from State Administration of Foreign Exchange (SAFE) reported figures which show bank currency transactions on a monthly basis (based on goods traded). Deutsche economists believe the difference is related to capital outflows and the magnitude of the difference is a good gauge of market expectations for the RMB. This is shown by the $25 billion rise in July 2015, right before the PBOC moved to allow the once-off depreciation, to $57 billion in August and $67 billion in September. After the PBOC introduced measures to stabilize the RMB, it dropped in October and November but widened again in December '15 and January '16 when negative sentiment was increasing.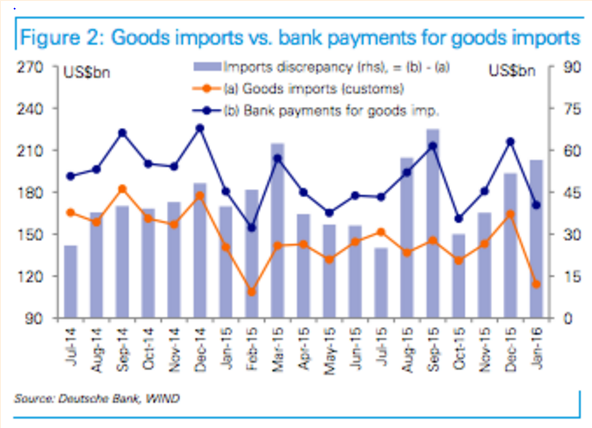 According to Deutsche 70% of the decline in reserves between August and January is explained by these outflows. During this period, reserves dropped by $420 billion while the total difference between bank payment data and Customs data was around $300 billion. Deutsche economists anchor their view on; 1) relaxed regulatory requirements on FX payments for foreign trade, making capital controls evasion easier, and 2) the switch in the import difference beginning in late 2011, from a long-term negative trend to a positive rising trend (showing historical inflows turning to outflows)
Reserves rose in March and April but were buoyed by a falling dollar and traders pricing in expectations of policy easing in the US. Regardless of the massive "rolling-over" of loans in Q1 2016, capital flows persisted in March and April. This chart from Bloomberg shows official reserves rose by $17 billion in March and April, to $3.22 trillion.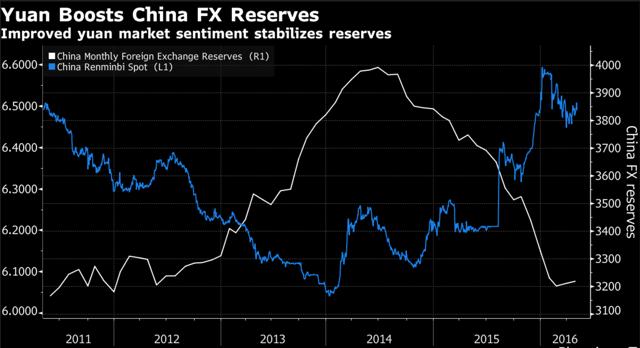 Capital outflow has a major counter-effect on continued credit expansion. External factors eased pressure in March and April with a depreciating dollar boosted the headline reserves figure by increasing the dollar-denominated value of PBOC non-dollar assets. RBS estimated that this accounted for $54 billion. There was still a difference on a flow basis and this shows that capital flight continued. Capital outflow is a strong gauge of domestic sentiment towards the RMB and the fact that outflows continued regardless of the massive injection of new credit is not a positive sign for the future.
Disclosure: I/we have no positions in any stocks mentioned, and no plans to initiate any positions within the next 72 hours.
I wrote this article myself, and it expresses my own opinions. I am not receiving compensation for it (other than from Seeking Alpha). I have no business relationship with any company whose stock is mentioned in this article.