McDermott International's (NYSE:MDR) stock price has seen an impressive rally since mid-February. The stock has more than doubled in the last four months. Normally, the rise in the stock price of an oil and gas equipment provider can be explained by the rise in the oil prices. However, for McDermott, this was not the only feature. The company did a lot on its own in the last four months to deserve this rally. These developments do not just justify the short-term upward movement in the stock price, but these will also ensure long-term growth in earnings, cash flows and better liquidity. Strong fundamental base will spur the growth over the next few years as the oil prices start a sustained recovery.
When I talk about strong fundamental base, I am referring to an adequate cash position and improving cash flows from operations. Liquidity becomes an issue for most companies operating in the oil and gas industry when there is a down-cycle of crude prices. However, McDermott looks to be in a good position and it should not face liquidity issues. Its cash reserves have in fact grown by about $15 million during the first three months of the year. At the end of the year, cash and cash equivalents were $782 million including restricted cash of $117 million. In March, the cash reserves had reached $797 million, and the restricted cash had come down to $101 million. There was a decrease of $65 million in restricted cash in 2015 due to reduced cash collateral for the LC facility (letter of credit facility), and a further decrease of about $16 million. Cash flows from operations for the quarter were also encouraging ($59 million) compared to negative operating cash flows at the end of the first quarter last year.
Another source of liquidity for the company is its credit facilities. During the last four months, the company has secured favorable amendments to its credit facility. First, the amendment to the covenants moved from EBITDA to a total leverage ratio; the company has to now maintain a total leverage ratio of 4x till the end of fiscal-year 2017, and 3.5x till the maturity of the facility in April 2019. Also, the facility can now be increased to $600 million, and it gives the company a longer time frame to mortgage the DLV 2000. In addition to this facility, there is also a term loan facility of $300 million which will mature in 2019. Letter of credit facility was going to mature in 2017, but the amendment has increased its maturity to 2019 as well. So, the company can draw from these facilities too if there is any need - both these facilities give it $900 million in liquidity if there is any need.
The base is there - now we need to look at how the business opportunities are opening up for the company. During the same four-month period, McDermott has secured six projects - either new or extensions to the existing ones. The most recent award comes from Shell Brunei and it is a multi-year project which will further add to the second-quarter backlog of the company. The image below shows the current backlog and its distribution: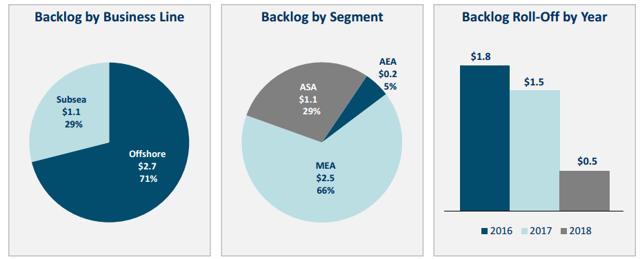 Source: Credit Suisse 2016 Engineering & Construction Conference
McDermott's backlog reached $4.4 billion in 2015, highest in the last one and a half year. This is interesting as this was the time when the major oil companies were cutting on capital spending. McDermott International, however, has a unique position in the industry, and its strong relations with the national oil companies set it apart from other competitors. National oil companies decided not to decrease their productions; in fact, producers from the Middle East decided to increase production in order to gain more market share. This was good for McDermott as Saudi Aramco is its second largest customer, and the company extracts about 28% of its total revenue from the Saudi national oil company.

Source: 10-K
Saudi Aramco used to be the largest revenue contributor for McDermott, but this position has now been taken by Inpex (OTCPK:IPXHY) due to its Ichthys LNG project. Normally, a business relying on one customer for more than 10% of its total revenue will be a dangerous proposition as a loss of one customer will result in substantial revenue loss; however, in McDermott's case, the company has had this strategy to focus on fewer customers for larger chunks of revenues. Good relationship management has allowed it to carry on with this strategy without any problems.
Focus on national oil companies means that the growth in backlog will likely continue. These companies continue to grow their production and investments in the offshore assets. Saudi Aramco is not looking to decrease its production, and the Ichthys project is kind of a crown jewel for Inpex. So, the two major revenue contributors for McDermott will likely continue to expand, which should be good news for the company. Furthermore, oil price has again crossed the $50 limit, and it looks like we will see further improvement over the next six months as the demand continues to increase. We might see a balance between demand and supply sooner than expected. This means that the capital investment from other oil companies will also increase. McDermott is in a good position to expand its operations as well as the backlog over the next two to three years. The liquidity position, cost management, efficient operations and strong relationships with major companies should result in a good performance for the company and its stock.
Disclosure: I/we have no positions in any stocks mentioned, and no plans to initiate any positions within the next 72 hours.
I wrote this article myself, and it expresses my own opinions. I am not receiving compensation for it (other than from Seeking Alpha). I have no business relationship with any company whose stock is mentioned in this article.