By Tony Termini
In this article, I will discuss the reasons why investors looking for a combination of both income and capital appreciation should consider buying Energy Transfer Partners, L.P. (NYSE:ETP). Before I do, I want to discuss recent news about the potential merger of ETP's general partner, Energy Transfer Equity, L.P. (NYSE:ETE) with Williams Companies, Inc. (NYSE:WMB).
The planned merger between ETE and WMB has gotten messy and the two companies are headed to court on June 27th. It is my opinion that there are only two possible outcomes here, whether they actually make it into the courthouse or not. Either they'll merge or they won't. The bigger issue boils down to how much money one or the other party is going to be out of pocket if the deal falls through.
So, for purposes of this article, I want to focus all the attention on ETP. When I write the next article in this series about ETE, I'll go into more detail about the merger, if it isn't already resolved by then. So, now I'll get to why ETP makes sense for total return investors.
Partnerships are different than corporations. Their earnings aren't taxable to the entity; they pass through and are taxable to the limited partners. And, publicly-traded Master Limited Partnerships (MLPs) like ETP are structured to distribute out to those limited partners all available cash not needed to keep the business running. So, valuing an MLP is different than valuing a public corporation.
To determine the relative value of a stock, we look at things like dividend yield and P/E ratio. MLPs don't pay dividends, so looking at its yield isn't telling us the same thing about the business as it would for a corporation. And, since MLPs are structured to distribute all their available cash, EPS isn't relevant either, since it includes all manner of non-cash accounting deductions. Just like a corporation, however, an MLP's EBITDA is a relevant metric since it tells us how well the enterprise is managed. Another measure to determine the relative value of an MLP is to look at its price to distributable cash flow. So, let's look at ETP through those lenses.

(Source: Company earnings announcements)
As the table above points out, ETP's cash earnings have been improving during a very difficult pricing environment for energy companies. And, right along with EBITDA, ETP's distributable cash flow has been rising. But, you wouldn't know that from looking at the units' trading value.
Between the fourth quarter of 2014 and the first quarter of 2016, ETP's units had been in a nearly constant freefall, slipping from a high close to $60.00 down to the current price of about $39.00. In my opinion, ETP's price to distributable cash flow (on a trailing 12 month basis) is a bargain at less than 10 times.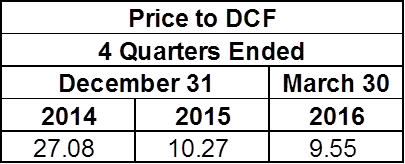 (Source: Company earnings announcements/ Capital IQ)
The trend, as seen from a rearview mirror is positive. And, as I'll explain later, I think the view ahead is truly promising. Before I do, let's look at the structure of ETP in the context of the whole family.
ETP owns 40% of Lake Charles LNG Export Company (LCL), which is in the process of developing liquefied natural gas for Royal Dutch Shell (NYSE:RDS.A) (NYSE:RDS.B). When the facility is fully online, it'll be capable of both importing and exporting natural gas. LCL is not yet publicly traded, but at some point could be spun off to provide further funding options for ETP.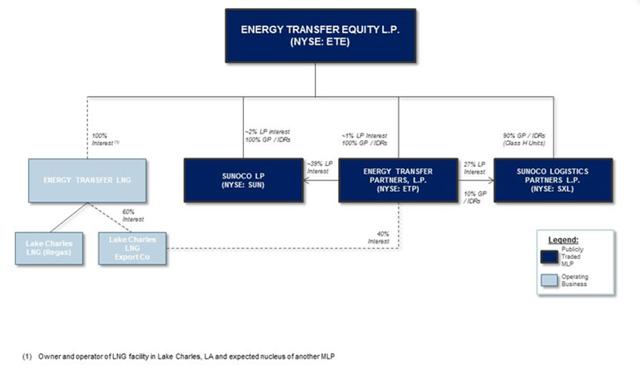 (Source: Company filings)
Then, there's Sunoco Logistics Partners (NYSE:SXL). This one is a separate publicly traded pipeline company and is also 40% owned by ETP. That 40% ownership comes to about 67 million MLP units that generate cash flow in excess of $131 million annually.
ETP also owns retail gas stations and a wholesale fuel distribution business through its 46% ownership of Sunoco, LP (NYSE:SUN), yet another separate publicly traded MLP. Earlier in the year, ETP sold assets to SUN in exchange for about $2.2 billion in cash and 5.7 million units. For the time being, ETP's investment in SUN will be breakeven in terms of distributable cash flow, but it went a long way to help fund ETP's 2016 capital spending program and eliminated the need for ETP to go to the market for current funding. In the long run, I expect the SUN investment to enhance ETP's balance sheet and cash flow statement.
Other smaller operating companies owned by ETP include Regency Energy Partners LP and Panhandle Eastern Pipe Line Company LP. Regency is a growing natural gas pipeline company whose operations include fractionation and storage. Panhandle operates a large natural gas pipeline network. In my opinion, both of these properties can be spun off in the future to provide more funding options to ETP.
Okay, so there's the family. There's a lot going on and there are a lot of moving parts. ETP and its subsidiaries are moving and storing both natural gas and petroleum. But, the big value is the natural gas play, and it is my opinion that ETP is perfectly situated to take advantage of increasing demand.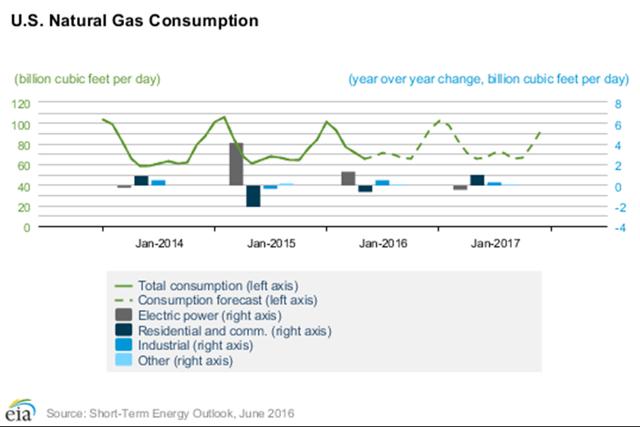 (Source: US Energy Information Administration)
While that demand is going to come from several different places - one example is that natural gas is used to make nitrogen-based fertilizers, which the USDA's Agricultural Projections to 2023 suggest will rise - in my opinion the big driver will come from electric utilities.
Currently in America about a third of the electricity generated comes from gas-fired plants. Another third comes from coal-fired plants. And, just about every single one of those plants is either currently in the process of being converted to natural gas or is scheduled for future conversion.
According to the Institute for Energy Research more than 72 gigawatts of generating capacity are about to convert to natural gas. To put that into perspective, Lawrence Berkeley National Laboratory says that's the amount of energy required to power 54 million homes. That's enormous capacity and represents a long-term income steam for ETP. And, this is just the power generation side of the equation. Bear in mind that roughly 24% of all the homes in America are heated with natural gas.
And, while this one may be a wild guess, according to the National Oceanic and Atmospheric Administration (NOAA), the long-term weather forecast (out to August 2017) predicts above normal temperatures for the majority of the United States. To me, that translates to above normal air conditioner use, which means more electricity use. I'm liking the potential this offers to ETP.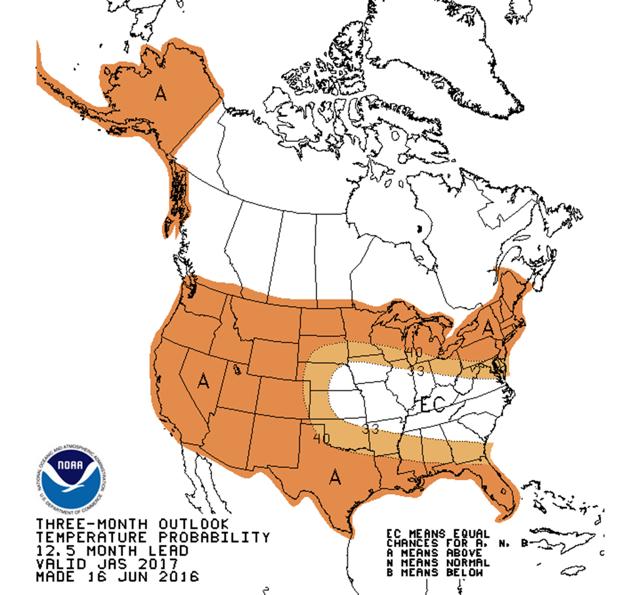 (Source: NOAA)
And, to meet future demand, ETP has five new projects scheduled to come online within the next 18 months.

(Source: Company filings)
Finally, there is ETP's cash distribution. The current payout of $4.22 per unit translates into a cash yield of nearly 11%. The fact that you don't have to pay tax on that "return of capital" until you sell the units makes the tax-effective yield even higher. The only caveats here are that you're gonna get a K-1 every year showing your portion of ETP's income that will be taxable to you, and you really can't hold an MLP in an IRA. But, with that said, I think ETP is a great hold for total return investors looking for both growth and income.
Conclusion
ETP is an energy business that has been growing earnings while others in the sector have not. Its distributable cash flow has also been increasing for the last two years. The fact that the units have fallen in value makes it very attractive with the price to distributable cash flow currently about 10 times DCF. The ETP family of subsidiaries makes it well diversified and brings lots of potential future funding sources. The fundamentals for its industry look solid and ETP has plans in place to build out capacity to meet growing demand. ETP is a buy.
Disclosure: I/we have no positions in any stocks mentioned, and no plans to initiate any positions within the next 72 hours.
I wrote this article myself, and it expresses my own opinions. I am not receiving compensation for it (other than from Seeking Alpha). I have no business relationship with any company whose stock is mentioned in this article.