Golden State Warriors forward, Harrison Barnes, had a series to forget against the newly crowned NBA Champions, the Cleveland Cavaliers. In the same token, the Biondo Focus Fund No Load (MUTF:BFONX) is having a brutal year. The fund's YTD Return is -15.35% while the fund's S&P 500 is 3.31% and its Large Growth Category is -1.79%.
When one looks at the fund's recent annual performances, one can see that the fund was near the bottom of the Large Growth Category in 2011, 2015, and the present year. The chart can be seen below.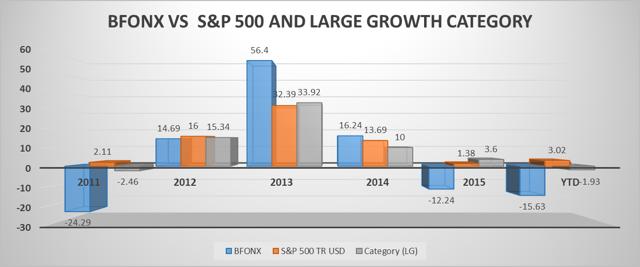 Additionally, the fund has lagged behind in monthly and yearly ratios vs. its benchmarks. Here is the graph below: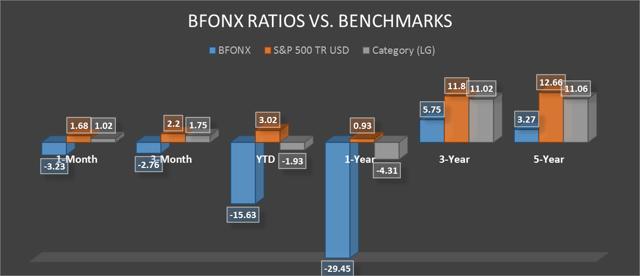 When one look at the sector fund weightings, one can see that the fund has a significant portfolio weight advantage in two poor-performing sectors: Healthcare and Financial Services. Here are the sector weightings of the Healthcare and Financial Services for the Biondo Focus Fund No Load.
| | | | |
| --- | --- | --- | --- |
| Sector | BFONX Stocks | Benchmark | Category Average |
| Financial Services | 31.08 | 5.31 | 10.17 |
| Healthcare | 34.53 | 16.87 | 17.68 |
These two sectors are the poorest performing sectors among U.S. Sector and U.S. Small-Cap Sector ETFS. As far as U.S. Sector ETFS, the Healthcare Select Sect SPDR ETF (NYSEARCA:XLV) has a YTD Return of -1.4% while the Financial Select Sector SPDR ETF (NYSEARCA:XLF) has a -3.5% YTD Return. In the U.S. Small-Cap Sector ETF category, the PowerShares S&P SmallCap Financials Portfolio ETF (NASDAQ:PSCF) has increased to 4.9% while the PowerShares S&P SmallCap Healthcare Portfolio ETF (NASDAQ:PSCH) has a -2.0% YTD Return.
The repercussions of the fund's significant advantage in the healthcare sector can be seen in the negative performance of its healthcare holdings.
As you can see below, six of the fund's seven healthcare holdings are in the red. It is clear that Intuitive Surgical (NASDAQ:ISRG) is the main outlier on this list. Given the portfolio weight of some of these holdings, it is clear that some performances are weighing down their fund.
| | | |
| --- | --- | --- |
| BFONX HEALTH CARE HOLDING | PORTFOLIO WEIGHT | YTD RETURN |
| Intuitive Surgical Inc. | 11.48% | 18.66% |
| Celgene Corporation (NASDAQ:CELG) | 8.29% | -17.09% |
| Gilead Sciences, Inc. (NASDAQ:GILD) | 7.07% | -17.10% |
| Pacira Pharmaceuticals Inc. (NASDAQ:PCRX) | 5.64% | -50.05% |
| Illumina, Inc. (NASDAQ:ILMN) | 3.90% | -27.01% |
| Intrexon Corp (NYSE:XON) | 0.61% | -16.68% |
| Pacific Biosciences of California Inc. (NASDAQ:PACB) | 0.44% | -31.91% |
It does not help that the fund has no holdings in the basic materials or industrials sectors. After all, the Materials Select Sector SPDR ETF (NYSEARCA:XLB) has a 10.3% YTD Return. The Industrial Select Sector SPFR ETF (NYSEARCA:XLI) has a 7.2% YTD return.
The fund's vulnerability in terms of its holdings can be seen in its price multiple totals. As you can see in the following chart, every price multiple is overvalued. This metric illustrates that there may be further declines ahead for the holdings in the Biondo Fund Investor Class.
| | | | |
| --- | --- | --- | --- |
| Price Multiple | BFONX Stock Portfolio | Benchmark | Category Average |
| Price/Prospective Earnings* | 22.53 | 19.92 | 24.13 |
| Price/Book* | 5.62 | 4.86 | 3.42 |
| Price/Sales* | 3.97 | 1.95 | 2.68 |
| Price/Cash Flow* | 11.80 | 11.21 | 12.98 |
This fund is not a one-star fund by accident. The fund's 3-year and 5-year risk and rating statistics show that the fund has low return and high risk.
On top of the fund's brutal performance, the fund is absolutely expensive. The expense ratio of the Biondo Fund Investor Class is 2.36% as of the fund's prospectus on 05/01/2016. This expense ratio is nearly two times the expense ratio of the Morningstar Category Average. It is more than two times the expense ratio of the fee group comparison median. As you can see by the chart, the fund has a much higher expense ratio than its benchmarks for the past few years.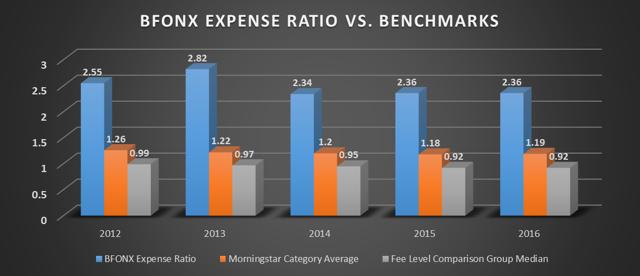 CONCLUSION
Therefore, I would not recommend this fund as an investment. The fund is overly exposed to the poor-performing healthcare sector. As you can see in the chart, the fund's healthcare holdings are dragging the performance of this fund down. In addition, the fund's performance suffers from having no holdings in solid-performing sectors such as basic materials and industrials.
Finally, investors would not be thrilled with having to pay an exorbitant price for a fund that has underperformed tremendously.
Disclosure: I/we have no positions in any stocks mentioned, and no plans to initiate any positions within the next 72 hours.
I wrote this article myself, and it expresses my own opinions. I am not receiving compensation for it (other than from Seeking Alpha). I have no business relationship with any company whose stock is mentioned in this article.