Advanced Micro Devices (NASDAQ:AMD) did right not to challenge the flagship Pascal GPUs of Nvidia (NASDAQ:NVDA). I disagree that AMD's decision to sell the sub-$200 Polaris GPUs is a sign of weakness. The sidestepping act of AMD is just a prudent business move. By initially selling a $199 Radeon RX 480 against the $449 GTX 1070 and $849 GTX 1080, AMD avoided a head-on collision with Nvidia's flagship 16-nanometer Pascal GPUs.
AMD is obviously weaker and smaller than Nvidia. Challenging the flagship Nvidia GTX 1080 immediately would have resulted in a sure-lose fight, like what happened when Conor McGregor fought the bigger/stronger Nate Diaz. At the moment, debt-laden AMD is not yet ready to challenge the high-end discrete GPU leadership of Nvidia. Selling sub-$200 discrete GPUs is an easy way for AMD to regain the discrete GPU market share it lost to Nvidia.
Regaining market share is the emerging priority of AMD, not competing with the best GPUs of Nvidia. Since they are the duopoly in the discrete GPU market, AMD is not in a hurry to challenge Nvidia's lead in high-end video cards. The chart below revealed that AMD's stock plummeted in 2014/2015. This was because Nvidia trounced it in the discrete GPU market.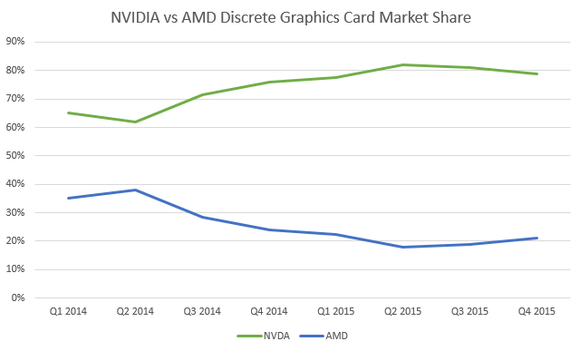 (Source: Motley Fool/Jon Peddie Research)
Letting Nvidia get 80% share in discrete GPU meant that AMD benefited little from the 50 million AIBs (Add in boards/video cards) sold last year. This was a double-digit improvement over the 44 million AIBs sold in 2014.
Valuing the discrete video card business is easy. We can guesstimate that 50 million AIBs had an average dealer price of $60.
50 million x $60 = $3 billion.
As per the WCCFTECH article, the Enthusiast market (video cards that sells for $299++) also saw substantial growth last year. From 2.9 million Enthusiast AIBs sold in 2014, it went up to 5.9 million in 2019. My audience here at Seeking Alpha therefore deserve to read how AMD is trying to improve its position in the multi-billion discrete GPU business.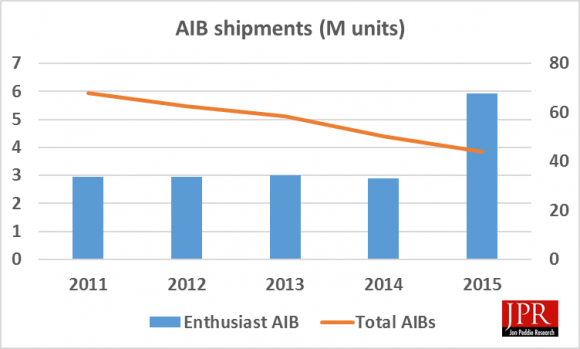 (Source: Jon Peddie Research)
Why Investors Should Care About AMD's Focus On Cheaper GPUs
AMD's decision to go after the midrange/entry-level discrete GPU market is a flanking maneuver that could eventually help it regain a 40-50% market share in discrete GPUs. Selling lower-priced 28-nm GPUs has helped AMD take market share away from Nvidia over the past two quarters.

(Source: Jon Peddie Research)
Please study the chart below from Jon Peddie Research. The discrete GPU business is not exclusive to high-end, $500+++ video cards. The entry-level or mainstream sector is actually collectively bigger than the combined Workstation/Enthusiast market for high-end video cards.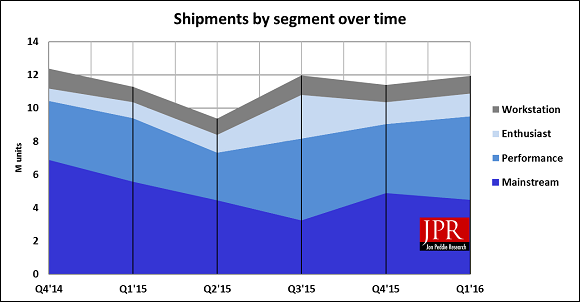 (Source: Jon Peddie Research)
Nvidia can continue dominating the high-end GPU market, while AMD's new sub-$200 Polaris GPUs will flourish in the mainstream/performance segment. The volume-based advantage in selling cheap video cards will allow AMD to make a decent gross margin on entry-level/mid-range GPUs.
Unless Nvidia comes up with a sub-$200 Pascal GPU soon, AMD will really persuade a lot of gamers/graphic artists to choose the Radeon RX 480/470/460. The more people that buy affordable Polaris GPUs, the faster it will be for AMD to regain market share.
More often than not, a bigger market share means larger revenue for AMD's Radeon division. More revenue from Radeon video cards means there is more money that AMD can use to pay interest or retire some of its $2 billion long-term debt. The lower debt load that AMD has, the better it will be perceived in Wall Street.
I reiterate that Radeon, not its x86 processor business, is AMD's stronger growth catalyst. Intel (NASDAQ:INTC) will always find ways to limit the growth of AMD's x86 processor segment. Growing the revenue stream of Radeon through a focus on mid-range/entry-level GPUs is therefore a commendable business strategy.
A Cheaper New-Gen GPU Is A Boon To PC Vendors And Buyers
No matter how little profit there is in selling $199 discrete Polaris GPUs, AMD will still have long-term benefits from them. A cheap discrete GPU that could perform almost as good as the twice-more expensive Nvidia video card is attractive to PC manufacturers. In this age of declining PC sales, marketing a $2000 desktop PC with a $500 video is a tough sell.
I already explained that AMD's willingness to sell cheaper GPUs is why Apple (NASDAQ:AAPL) will again use Polaris GPUs inside its next Mac OS computers. The Apple and AMD GPU partnership is a template that other PC vendors will eventually adopt. Most OEM computers shipped out today do not come with $500+++ discrete video cards. This is because most people do not buy laptops or desktop PCs with $500 video cards.
AMD's strategy of selling affordable Polaris GPUs is to attract wider OEM support. It is the PC OEMs, not PC buyers, which ultimately determine the commercial success of new discrete video cards. By offering a cheaper alternative to Nvidia's Pascal GPUs, Polaris GPUs could get more design wins from struggling desktop and laptop manufacturers.
Conclusion
Selling affordable 14-nm Polaris GPUs is not a sign of weakness. It is a display of business savvy. AMD did not prioritize beating the league-leading benchmark scores of Nvidia's GTX 1080. AMD simply wants to sell more Radeon GPUs.
AMD's stock rallied recently due to investors' strong approval on how AMD is marketing Polaris GPUs. Business 101 has taught us all that lower-priced products like sub-$200 Polaris GPUs have a bigger total addressable market than $500 flagship discrete GPUs.
I am again endorsing AMD as a BUY. Lisa Su is shrewd. She is applying the usual Chinese tactic of flooding the market with cheaper alternatives towards beating (the more expensive) rival brand.
AMD has outperformed NVDA this year.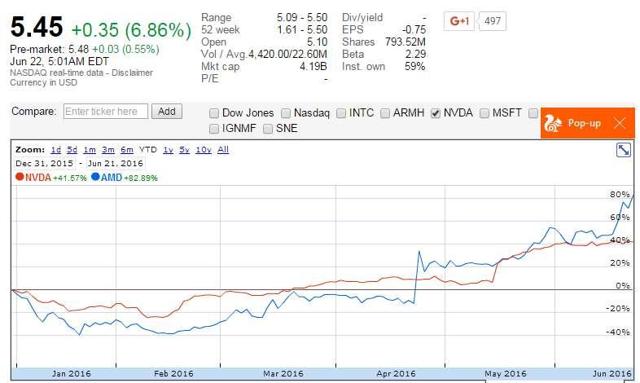 Disclosure: I am/we are long AMD, NVDA, INTC, AAPL.
I wrote this article myself, and it expresses my own opinions. I am not receiving compensation for it (other than from Seeking Alpha). I have no business relationship with any company whose stock is mentioned in this article.