Yield hungry investors are often drawn to BDCs such as Main Street Capital (NYSE:MAIN), Ares Capital Corporation (NASDAQ:ARCC), and Prospect Capital (NASDAQ:PSEC), because of their sky-high dividend yields. However, income investors need to understand that earning solid total returns with BDCs can be challenging. For example, since 2008, investors in Prospect Capital, despite its double-digit yield, have woefully underperformed the S&P 500, even when dividend reinvestment is taken into account. In contrast, Main Street Capital has absolutely crushed both the market and most of its competitors.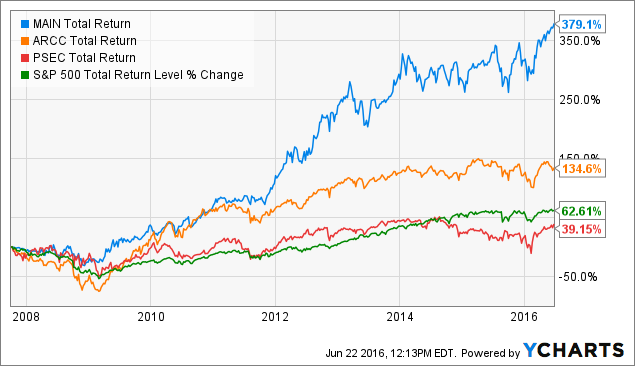 MAIN Total Return Price data by YCharts
While such amazing returns might make you think that Main Street is now overvalued and likely to underperform in the future, there are 3 reasons why I believe it's, hands down, still the best BDC you can buy today. Read on to find out why Main Street is your best bet to generate both high, growing income, and continuing market beating returns over the next few years.
Superior dividend profile
Sources: Yahoo Finance, earnings releases, Fastgraphs
| | | | | | |
| --- | --- | --- | --- | --- | --- |
| BDC | Yield | Q1 2016 NII Payout Ratio | 8-Year Dividend Growth Record | 10-year Analyst Dividend Growth Projections | 10-Year Projected Total Return |
| Main Street Capital | 6.6% (8.3% including special dividends) | 94.7% | 5.5% | 5.1% | 11.7% to 13.4% |
| Ares Capital | 10.7% | 105.6% | 2.5% | 3.6% | 14.3% |
| Prospect Capital | 12.8% | 100.0% | -0.6% | 0% | 12.8% |
BDCs are required by the IRS to pay out 90% of investment income as dividends, which is why all BDCs have high payout ratios. That being said, as you can see, Main Street's dividend is far more secure than those of Ares Capital or Prospect. In fact, Main Street's impressive track record of NII growth is what has allowed it to not only sustain its generous dividend, but also grow it at impressive rates, and even consistently pay special dividends.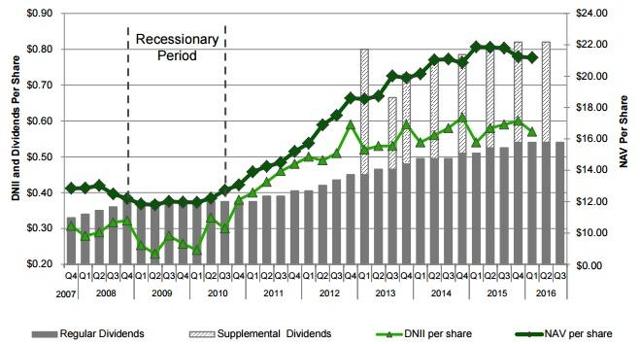 Source: Main Street Capital Investor Presentation
This explains why analysts expect Main Street to continue recording far better dividend growth than its peers over the next decade. While all analyst estimates need to be taken with a huge grain of salt (they are educated guesstimates at best), there are three reasons why I think those payout growth forecasts are reasonable.
Better business model than its peers
Main Street's ability to generate such great net interest income or NII (what pays the dividend) is due to its multi-pronged approach that is far more profitable than most of its competitors.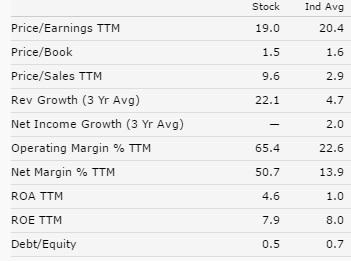 Source: Morningstar
First, Main Street Capital is internally managed, meaning it doesn't have to pay fees to an external advisor. This greatly lowers its operating costs to just 1.4% of assets vs. 3.2% for the average externally managed BDC. Not only does that mean 31% higher NII per share (compared to if it were externally managed), it also allows the BDC to make profitable loans at interest rates below that of its competitors, potentially greatly expanding its market share.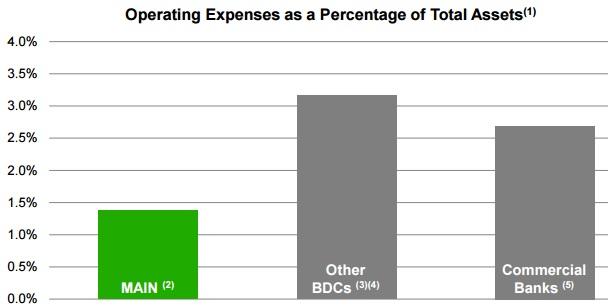 Source: Main Street Capital investor presentation
In addition to its primary business of managing its own loan portfolio, Main Street also manages $900 million for the HMS Income fund. The beauty of this arrangement is that it doesn't significantly increase operating costs because Main Street invests the assets as if it were its own capital. However, in return, Main Street gets three kinds of fees: 1% of assets, 10% of net investment income above a hurdle rate, and 10% of capital gains from equity stakes.
In fact, 16.3% of Main Street's portfolio consists of equity stakes in the companies it loans to. Because its management team has over 100 years of combined experience in investing in the loan and equity markets, Main Street is able to take an ownership stake in its quality clients, (just 0.5% of its loans are in non-accrual status), and prosper when they do. Which explains why, whereas most BDCs can't even maintain their book values over time, Main Street Capital is able to grow its, and with it generate significant investor wealth creation.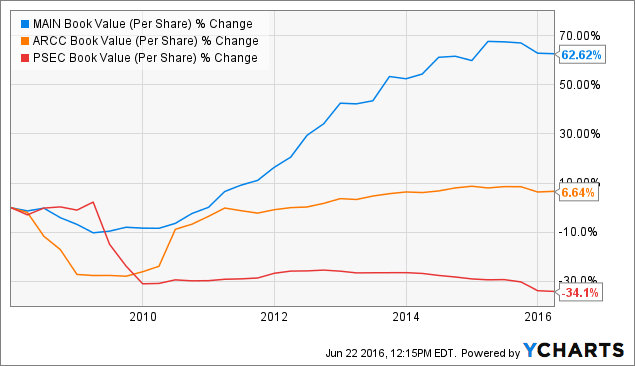 MAIN Book Value (Per Share) data by YCharts
Diversified, high quality portfolio is the secret sauce to growing book value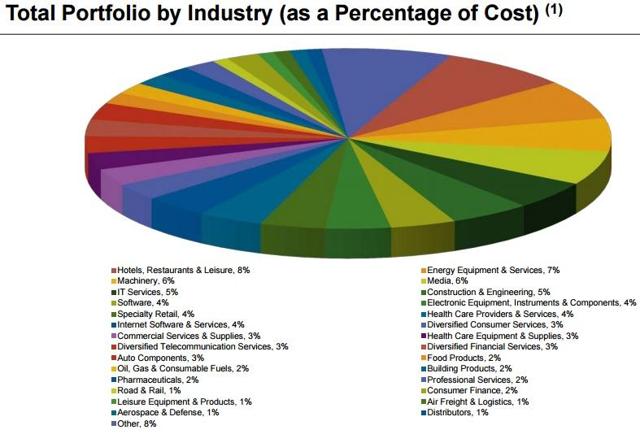 Source: Main Street Capital investor presentation
Main Street's diversified portfolio represents 209 companies involved in over 28 industries spread out across America. More importantly, almost 90% of the loans it originates are first lien, meaning in the event of bankruptcy, Main Street is the first one in line to recoup its investment from any asset liquidations.
Source: Main Street Capital Q1 earnings release
| | | | | |
| --- | --- | --- | --- | --- |
| Metric | Lower Mid Market Loans | Mid Market Loans | Private Loans | Total Portfolio |
| Portfolio Value | $860.7 Million | $579.5 Million | $271.3 Million | $1.711 Billion |
| % in Equity | 29.1% | 2.0% | 6.3% | 16.3% |
| Average Yield | 12.4% | 8.1% | 9.6% | 10.5% |
| % First Lien Debt | 91.7% | 85.4% | 86.7% | 88.8% |
And since Main Street mostly borrows at fixed costs to lend out loans of which 61% are at floating interest rates, Main Street will actually benefit when interest rates inevitably rise. In fact, if interest rates ever return to their historic norm of 5%, Main Street's NII per share would benefit enough to grow the dividend by almost 20%. Add in continual growth of the portfolio, and capital gains from its equity investments, and you can see why I'm confident that Main Street will keep growing its payout at a healthy clip for many years to come.
High valuation can actually be an asset
Sources: Yahoo Finance, Ycharts
| | | | | | |
| --- | --- | --- | --- | --- | --- |
| BDC | Yield | 5-Year Average Yield | Price/Book Value | 7-Year Median Price/Book Value | Historical Discount |
| Main Street Capital | 6.6% (8.3% including special dividends) | 6.6% | 1.55 | 1.46 | -6.2% |
| Ares Capital | 10.7% | NA | 0.86 | 1.05 | 19.1% |
| Prospect Capital | 12.8% | 12.9% | 0.81 | 1.0% | 19.0% |
But what about the valuation? Main Street currently trades at 1.55 times book value while BDCs such as Prospect Capital and Ares Capital are trading at a discount significant discount to theirs. I would make two points about this. First, on a yield versus historic yield basis, Main Street is not overvalued. In fact, if you include the special dividends, it's actually trading at a historical discount.
Second, the fact that Main Street is so successful in growing its book value means it deserves a premium. Not to mention the fact that since Main Street's shares are trading at such a premium, it can raise equity far more cheaply than its competitors, a significant growth advantage.
The higher the price to book value, the more accretive each additional equity issuance becomes. In other words, thanks to its share price premium, Main Street is able to raise growth capital while keeping dilution to a minimum (which helps long-term dividend growth), AND actually increase its book value. As we've seen, a growing book value drives long-term share price appreciation and is the biggest reason that Main Street has been able to outperform its rivals over the years.
Risks to consider
While I'm bullish on Main Street's long-term prospects, investors should be aware of a major risk that could result in temporarily poor short-term returns.
The US economy is overdue for a recession and recent economic indicators (as well as 5 straight quarters of declining corporate earnings) mean that one may start soon.
Because Main Street primarily lends to smaller companies, an economic downturn could result in more of its loans defaulting. As seen in 2009, that would likely mean a decrease in DNII and might push its payout ratio above 100%. Unless the downturn lasted several years, I don't think Main Street would have to cut its payout in such a scenario. However, its dividend growth would likely stop for a few years.
In addition, Main Street's premium valuation is entirely at the mercy of fickle investors. Thus, during a recession induced bear market Main Street's price/book ratio could contract substantially, especially without ongoing dividend growth. That could result in a significant share price decline, as well as cut it off from access to cheap equity markets to continue growing its portfolio as quickly as it has in recent years.
Bottom line: Main Street is the highest quality BDC and still worth buying today
Warren Buffett once said, "It's far better to buy a wonderful company at a fair price then a fair company at a wonderful price." With its low cost business model, highly secure and growing dividend, and proven track record of consistent and impressive book value growth, it's clear that Main Street Capital is indeed a wonderful BDC; one deserving of its premium price. That's why I recommend that all dividend investors at least consider Main Street Capital for a spot in their diversified dividend portfolios.
Disclosure: I/we have no positions in any stocks mentioned, and no plans to initiate any positions within the next 72 hours.
I wrote this article myself, and it expresses my own opinions. I am not receiving compensation for it (other than from Seeking Alpha). I have no business relationship with any company whose stock is mentioned in this article.