Today, shares of Energy Transfer Equity (NYSE:ETE) are surging. Last I checked, shares were up over 20% on news of a Delaware judge's comments. To make a long story short, it's looking increasingly likely that Energy Transfer will be able to terminate its merger with Williams Companies (NYSE:WMB) if the judge rules that the former acted "in good faith."
Perhaps even more interesting is that it was revealed, under oath, that top management at Energy Transfer were looking for ways to get out of the acquisition, largely because the deal no longer made sense with crude oil and natural gas prices where they are.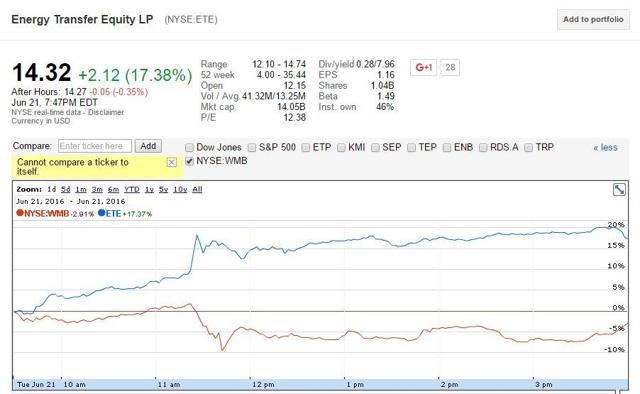 Courtesy of Google Finance.
The market obviously agrees, and investors in Energy Transfer would obviously rather see this acquisition end. Personally, I've never been a fan of this acquisition. As a unit holder in Williams Partners (NYSE:WPZ), the MLP affiliate of Williams companies, I thought the acquisition never made strategic sense because it would leave Williams Partners out in the cold and unlikely to get further drop down assets.
I'm not too terribly familiar with Energy Transfer Equity, so this article instead focuses on what a potential termination of this acquisition would mean to Williams Companies and Williams Partners.
Don't be Discouraged
Management at Energy Transfer has a good reason to want to find a way out of this deal, and so, if the acquisition falls apart, it would be a positive for Energy Transfer, and a negative for Williams Companies, at least in the short term.
However, I think this might end up being for the best for Williams Companies as well. While I don't doubt the meaningful synergies from this acquisition, Williams has a uniquely strong set of assets focused on the fastest-growing energy source; natural gas. Being acquired by a diversified pipeline giant, Williams Companies could be giving up this unique asset base which is primed for a lot of growth in the coming years.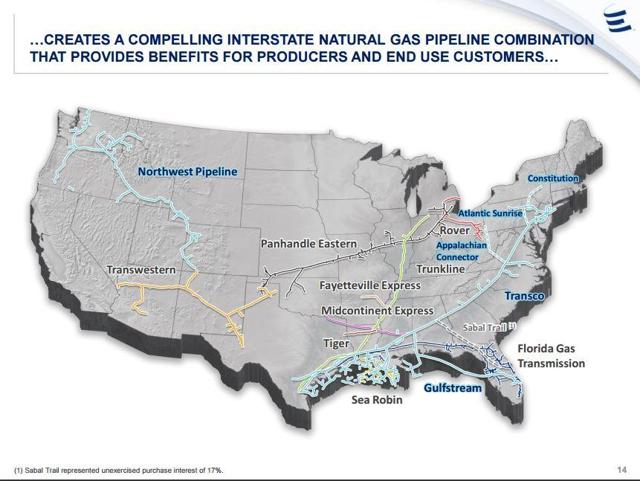 Courtesy of Williams Companies Investor Relations.
The above map would represent the combined company. Williams Companies assets are the ones in light blue. On its own, Williams Companies is anchored by the Transco Pipeline, the only bi-directional pipeline between the Gulf Coast and New England. As the Gulf Coast develops new petrochemical facilities, and as companies hook up the Marcellus to other regions, Transco will play an increasingly important role, giving Williams Companies and Williams Partners a unique position in the continuing energy revolution in North America.
I believe Williams Companies was a bit too quick in giving up that unique position, and I don't believe Williams Companies will be worse off if it ends up staying as it is.
Before the Energy Transfer-Williams Companies announcement, Williams Companies was originally supposed to acquire its MLP affiliate, Williams Partners. The acquisition was called off when Energy Transfer entered the picture. Could Williams Companies turn around and acquire Williams Partners?
I wouldn't count on it, but both Williamses have interests in the exact same assets, and so at the very least they are best paired together. If the Energy Transfer deal is terminated, Williams Partners and Williams Companies should go back to having a close relationship, which I think will be a good thing for both companies.
Is Williams Companies a Buy?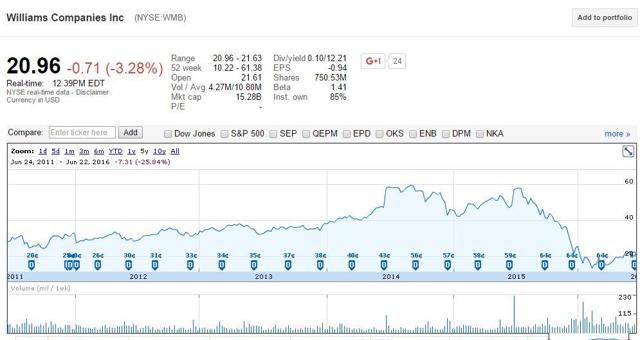 Courtesy of Williams Companies.
Like many midstream names, Williams Companies is beaten up and well undervalued. In fact, shares yield a whopping 12.2%. That should be a red flag, and in my mind it is.
Last quarter, distributable cash flow was only 89% of the dividend. Debt sits at 5.9 times EBITDA (annualized based on last quarter's EBITDA). Even more so, Williams Companies is already one rating into junk bond status, and is on long-term watch for yet another downgrade from Moody's.
In my opinion, those couple reasons alone are enough to stay away right now. If you like these assets, Williams Partners may be a slightly better option because of its better credit rating and coverage rating for the quarter.
But apart from that, if the Energy Transfer acquisition doesn't pan out, I believe things will end up benefiting Williams Companies' shareholders in the long run.
If you're interested in Williams Partners or Williams Companies, feel free to follow me on Seeking Alpha. I am personally long the former, and will provide update articles on both names when it is material and relevant.
Disclosure: I am/we are long WPZ.
I wrote this article myself, and it expresses my own opinions. I am not receiving compensation for it (other than from Seeking Alpha). I have no business relationship with any company whose stock is mentioned in this article.