A world leading digital security company
Gemalto (OTCPK:GTOFF, OTCPK:GTOMY) the "world leader in digital security", is a company formed as recently as June 2006, when Axalto Holding N.V. and Gemplus International S.A. merged in this new corporation. The merger of these two world-leading microprocessor card producers was forgiven with the objective of becoming one of the leading companies in the digital security sector.
Although this company is not a household name, it does work with some of the world's biggest governments and businesses providing them with:
Easy to use technologies and services to businesses and governments, authenticating identities and protecting data so they stay safe and enable services in personal devices, connected objects, the cloud and in between.
They do just that by developing a vast range of secure services, based on two core technologies: authentication and protection. These securities are then embedded in devices and objects in order to authenticate people and things, even on the platforms where the data is found.
Two main business groups
Last year, Gemalto generated a revenue of €3,122M, which is split roughly 60/40% between its two major business units.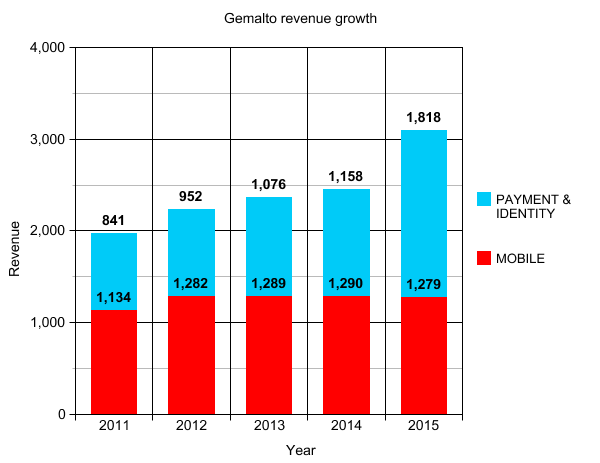 The largest of the business units is Payment & Identity, this unit clocked in a revenue of €1,818M in 2015 which translates in a CAGR (Compound Annual Growth Rate) of 21%.
With the value of remote transactions expected to be €4.4 trillion in 2020, more than €700 million exposed data records in 2015 and the amount of e-documents more than doubling in 2020, this unit is clearly the big growth engine of the company.
Being the growth engine, however, is not without risks as the identity and access management sector is prone to a lot of competition, even involving the big players like Microsoft (MSFT), IBM (IBM), and Oracle (ORCL). Gemalto's strong and proven position in the eID market, for example, should make it tough to beat.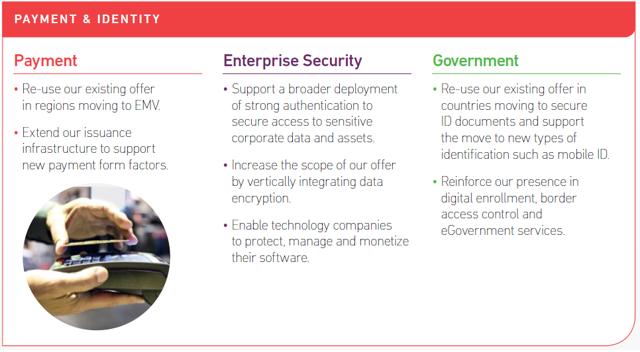 Image source: Gemalto
The second business unit is Mobile. This slower growing segment recorded a revenue in 2015 of €1,279M which translates into a CAGR of 3%. This business unit, which was relatively stable in the past years, can potentially chance in a second growth engine if it manages to benefit from the IOT evolution and the increasing amount of mobile devices consumers carry.
As the world's biggest producer of SIM cards and a provider of eID programs worldwide, Gemalto is placed in a unique position to benefit from the IOT evolution, although competition is fierce from the likes of ARM (ARMH), Infineon (OTCQX:IFNNF), and IBM. Being active on both the hardware and the software side gives Gemalto an important edge.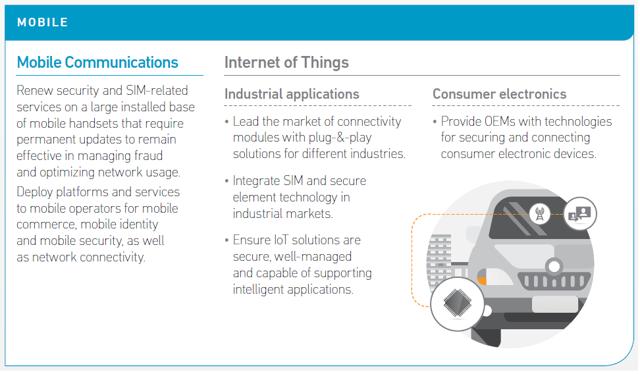 Image source: Gemalto
A truly international company
The most recent annual report split Gemalto's operating segments in three:
1. Europe, CIS, Middle East and Africa
This region is the biggest region of Gemalto, supplying a grand total of 44.15% of the total revenue. This translates into a revenue of €1128M, an increase of 22.16% compared to 2014.
2. North and South America
The America region also took a big leap in 2014, growing its revenue 42.22% to €1,189M in 2015. Thus providing 38.10% of the total revenue.
3. Asia-Pacific
Asia-Pacific is both the smallest and the slowest growing region, but still growing its revenue an impressive 10.50% to €554M in 2015.
(click to enlarge)

Image source: Gemalto
Gemalto's dividend policy
Gemalto's official policy about their dividend is unclear, they did, however, show a taste for a dividend growth policy growing their annual dividend 11.10% y.o.y. since they started paying dividends in 2010. Gemalto currently yields a dividend of 1%, with a payout ratio of around 30%.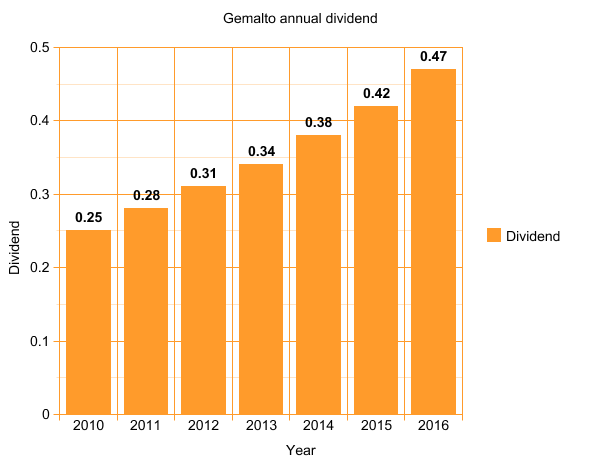 Solid operating earning growth
Although Gemalto's IFRS profit is unstable, Gemalto did show it is capable of increasing its profit from operations 14% y.o.y. and thus managed to keep this in line with the revenue and dividend growth from the past years.
Attention is needed however, as both profit margin and the return on capital invested decreased 2% and 5% last year respectively.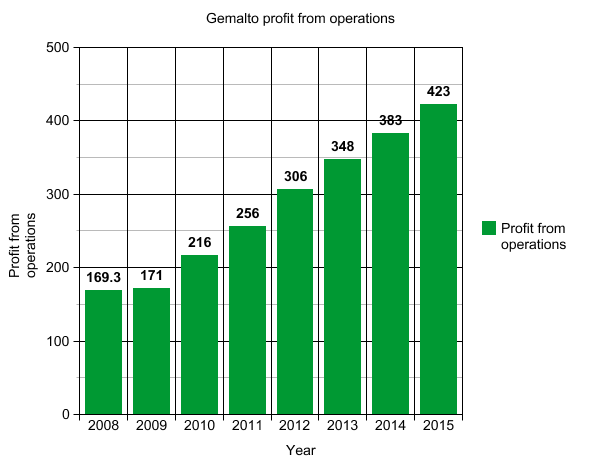 Corporate governance
In my view, an experienced and solid board is essential for a company to thrive in the long run.
The management of Gemalto made my work easy by providing the following picture. I am pleased to see that Gemalto's board consists of both longer and shorter serving members and that their terms end at different dates thus ensuring stability in the coming years.
An important note is that the current longest serving board member, the CEO, is leaving the company in September. He will be followed by Philippe Vallée, the current COO of the company.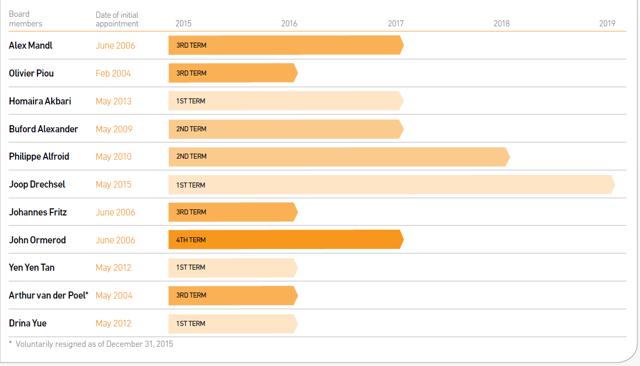 Image source: Gemalto
Recent stock performance
The current stock price is €53.16, which translates into a market cap of €4.732B and sky-high PE ratio of 34.70. If they however, achieve the last quarter confirmed projected earnings of €600 million in 2017, the valuation would substantially improve to a forecasted PE of 8.22.
The all-time high of the stock is €87, which they reached in 2014.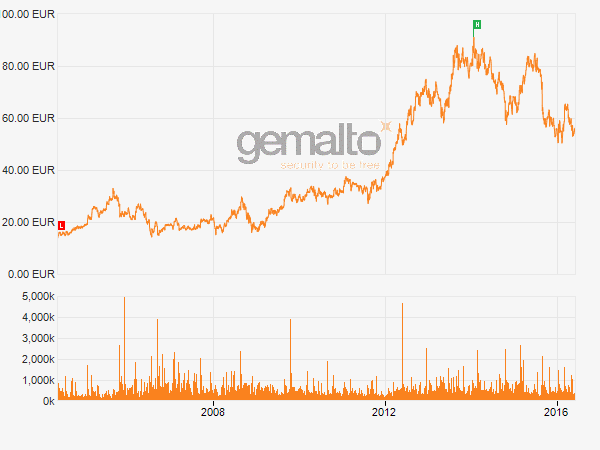 Image source: Gemalto
Conclusion
Gemalto is a hidden gem under the stocks. It is a high growing stock in a sector with great potential in the coming decades. Although it has a high valuation, if it manages to fulfill its financial expectations, you can buy this stock at a great price and it can be a valuable addition to your portfolio.
If you enjoyed this article, please click the "Follow" button next to my username to keep up to date about my latest articles. What are your thoughts about Gemalto? Is it a good long-term value play, or are you waiting for a better entry point?
Note: Gemalto is a thinly traded OTC stock which is something to consider before purchasing. This stock is also listed on the Dutch Euronext Index in bigger volumes.
Disclosure: I/we have no positions in any stocks mentioned, but may initiate a long position in GTOFF over the next 72 hours.
I wrote this article myself, and it expresses my own opinions. I am not receiving compensation for it (other than from Seeking Alpha). I have no business relationship with any company whose stock is mentioned in this article.
Editor's Note: This article discusses one or more securities that do not trade on a major U.S. exchange. Please be aware of the risks associated with these stocks.