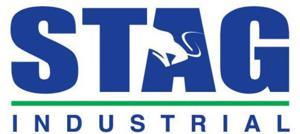 There is nothing wrong with a company that pays investors a six percent dividend yield, especially if it pays the dividend on a monthly basis. But though a six percent yield is enticing, the price investors pay must also be considered. What company am I writing about? Monthly dividend powerhouse and industrial real estate investment trust Stag Industrial, Inc. (NYSE:STAG).
Stag Industrial makes for an interesting case study. You know, at the beginning of the year, when stock markets went into a tailspin and equity valuations crashed to new 52-week lows on concerns of widespread defaults in the energy sector thanks to slumping crude prices, few investors wanted to buy Stag Industrial.
For instance, in January, I penned a piece on the industrial REIT, titled "Stag Industrial: Weird Market Meltdown Has Boosted Dividend Yield To More Than 8%", in which I recommended the company for income investors based on its low valuation on a run-rate core FFO basis. Stag Industrial's shares were selling for less than $17 at the time this article was published; the REIT was only valued at ~10.9x run-rate core FFO at the time, and had a dividend yield in excess of eight percent.
Yet, interest in Stag Industrial was low, as was interest in income vehicles in general, but things have started to turn around. Now that the REIT is getting expensive, investors don't seem to be able to stop buying.
Strong Rebound, But Getting Expensive
Fast-forward five months, and the REIT has recovered nicely. Shares are sitting at ~$23 at the time of writing, and have climbed to a new 52-week high of $23.25 just yesterday. Since my January piece on Stag Industrial was published, the REIT's shares have advanced ~36 percent... nice capital gains for income investors who had the nerves to buy back then.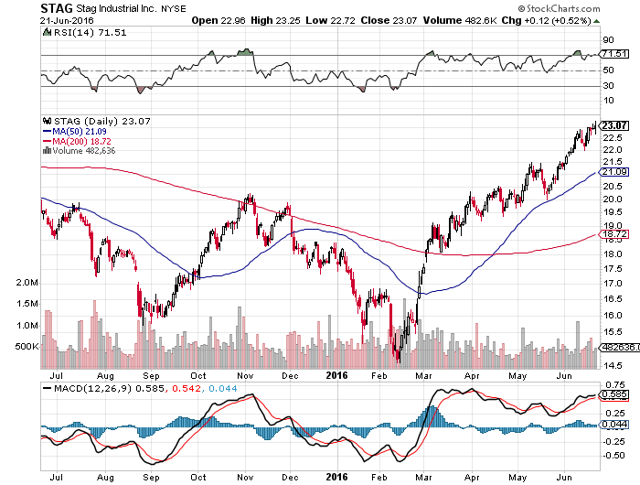 A higher share price obviously translates into a higher valuation. But though Stag Industrial is not yet prohibitively expensive, the REIT's valuation is becoming stretched considering the industrial property portfolio is exposed to cyclical ups and downs.
Stag Industrial pulled in core FFO of $0.39/share in the first quarter. This means the REIT is selling for ~14.8x annualized core FFO compared to ~10.9x at the beginning of the year. At the same time, Stag Industrial's dividend yield has compressed from eight percent (again, based on the publication date of the January piece) to six percent.
Your Takeaway
REIT valuations have rebounded strongly, and Stag Industrial is not the only real estate investment trust riding high on renewed investor interest. STAG is up 25 percent year to date. That being said, though, investors may want to wait for a drop in Stag Industrial's valuation before buying. Paying ~15x annualized core FFO is rather expensive, even though a six percent dividend yield looks good on first glance. Wait for a drop towards $20, then buy for income.
Disclosure: I/we have no positions in any stocks mentioned, and no plans to initiate any positions within the next 72 hours.
I wrote this article myself, and it expresses my own opinions. I am not receiving compensation for it (other than from Seeking Alpha). I have no business relationship with any company whose stock is mentioned in this article.