Investors are always looking to get more for less, and there is no need to settle. Intense competition among brokerages resulted in a small handful of excellent dividend ETFs for investors to choose from. There are thirteen that I identified as solid choices for the investor seeking a solid yield and growth in the dividends paid.
Of course, using a dividend ETF is less compelling if it comes with a high expense ratio so there was a strong bias towards picking ETFs with lower expense ratios. These are some of the best dividend ETFs for the investor that wants to protect themselves from high expense ratios without giving up a strong yield or a diversified portfolio. I see these as several of the strongest contenders for the top dividend ETFs for 2016.
| | | |
| --- | --- | --- |
| Ticker | Name | Index |
| | Schwab U.S. Dividend Equity ETF | Dow Jones U.S. Dividend 100™ Index |
| | Vanguard High Dividend Yield ETF | FTSE High Dividend Yield Index |
| | Vanguard Dividend Appreciation ETF | NASDAQ US Dividend Achievers Select Index |
| | iShares Core Dividend Growth ETF | Morningstar® U.S. Dividend Growth Index |
| | iShares Core High Dividend ETF | Morningstar® Dividend Yield Focus Index |
| | WisdomTree LargeCap Dividend ETF | WisdomTree LargeCap Dividend Index |
| | WisdomTree U.S. Dividend Growth ETF | WisdomTree U.S. Quality Dividend Growth Index |
| | PowerShares S&P 500 High Dividend Portfolio ETF | S&P 500® Low Volatility High Dividend Index |
| | SDPR Dividend ETF | S&P High Yield Dividend Aristocrats Index |
| | ProShares S&P 500 Dividend Aristocrats ETF | S&P 500® Dividend Aristocrats® Index |
| | Utilities Select Sector SPDR ETF | Utilities Select Sector Index |
| | Vanguard Consumer Staples ETF | MSCI US Investable Market Consumer Staples 25/50 Index |
| | iShares MSCI USA Minimum Volatility ETF | MSCI USA Minimum Volatility (NYSEARCA:USD) Index |
| | ALPS Sector Dividend Dogs ETF | S-Network® Sector Dividend Dogs Index |
How Cheap Are They?
The expense ratios start as low as .07% and run up to .40%.

There is a case for limiting expense ratios to .15% since most sectors have some option for diversified exposure at .15% or below, but I wanted to include a couple more options here for investors.
Dividend Yields
You wouldn't be here if you didn't like dividends from your ETFs, so the next step needs to be comparing the dividend yields:

Disclaimer: The yields were observed from Yahoo finance rather than calculating them all myself.
The winner for highest dividend goes to the iShares Core High Dividend ETF with a 3.54% yield.
The indexes may have been reconstituted over the last several months which could result in a stronger allocation for many ETFs to the highest yielding companies or cutting out companies that slashed their dividends.
How Does HDV Do It?
That exceptionally strong yield in a period of low treasury rates and after the market rallied substantially over the last couple of months should bring investors to a more careful examination of the fund to determine if that yield can be grown safely over the coming years.
The holdings of HDV from the middle of April are demonstrated below: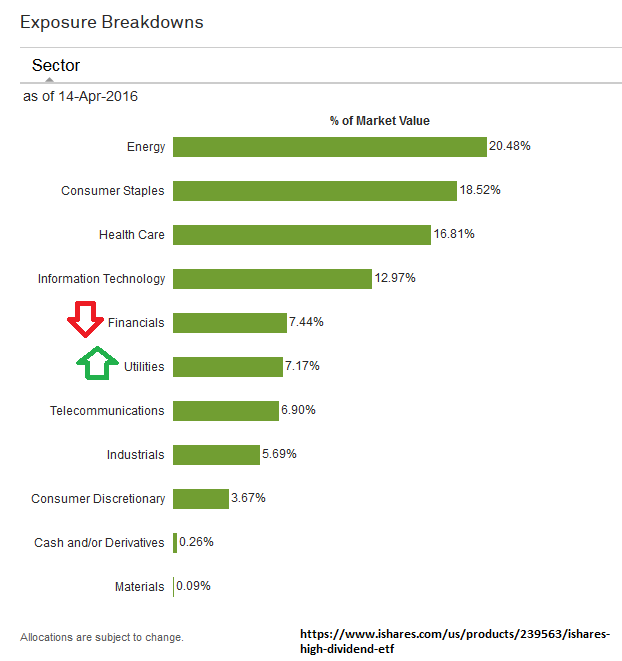 The red arrow next to financials indicates that the allocation to that sector fell after the middle of April. The green indicates that utilities exposure grew. The next chart demonstrates the holdings as of around the middle of June: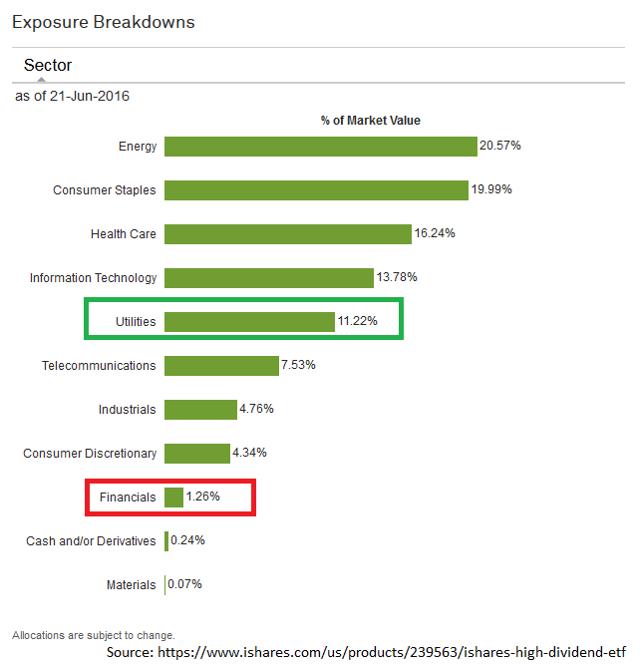 The rest of the sectors stayed roughly flat, but financials were dumped in favor of utilities.
Investors using HDV as the core of their dividend portfolio may want to consider looking for any exposure to the materials or financials sector from another source.
Previously I would've suggested that HDV would benefit from being paired with a utility ETF such as XLU to boost the allocation to that part of the portfolio, but doesn't seem as important now that the allocation moved up from 7.17% to 11.22%. It still wouldn't hurt, but it isn't as important.
SCHD
SCHD is the dividend ETF in my portfolio, so I'd like to highlight it as well. The sector allocations for SCHD are demonstrated below: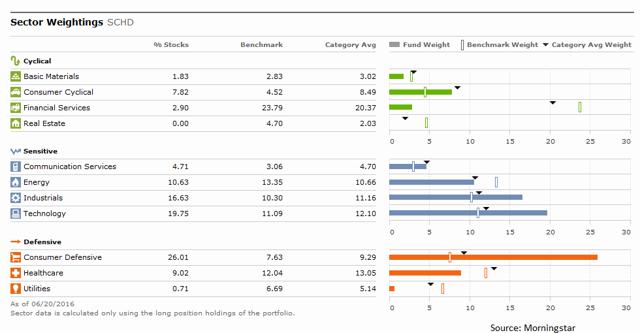 SCHD is exceptionally high on the "consumer defensive" allocations. That sounds great given the high prices on stocks and weak growth in the economy. However, the exceptionally light allocation towards utilities is reminding me that it would be wise to consider either allocating part of my portfolio to XLU or allocating some of my time to researching individual utility companies for allocations.
My preference for defensive allocations has been so strong that the individual allocations in my portfolio are overwhelmingly focused on companies that operate in the "consumer staples" space and in preferred shares.
My Portfolio
Investors can take a look inside my portfolio. It's a great way to know if your investment priorities are similar to mine.
High Prices Everywhere
The major problem with finding investments this summer is that share prices seem to be fairly high almost everywhere I look. The current index levels appear to offer more risk than reward, so I'm maintaining a fairly defensive allocation.
If you want to see more about my view on the economy, check out:
"We're Rich! We're Rich! Are Inflated Asset Prices Like Real Wealth?"
Conclusion
These are several of the best ETFs for the dividend investor that wants to automatically diversify their portfolio. Several offer low expenses ratios to go along with respectable dividend yields and they could be combined with investments in preferred shares (please do your due diligence before buying any preferred security) to generate higher levels of income.
My Most Actionable Ideas
I recently launched a new exclusive research platform. The first 100 subscribers will be able to lock in their subscription rates at only $240/year. My investment ideas emphasize finding undervalued mortgage REITs, triple net lease REITs, and preferred shares. With the market at relatively high levels, there is also significant work on finding which securities are overvalued to protect investors from losing a chunk of their portfolio.
Disclosure: I am/we are long SCHD.
I wrote this article myself, and it expresses my own opinions. I am not receiving compensation for it (other than from Seeking Alpha). I have no business relationship with any company whose stock is mentioned in this article.
Additional disclosure: Information in this article represents the opinion of the analyst. All statements are represented as opinions, rather than facts, and should not be construed as advice to buy or sell a security. This article is prepared solely for publication on Seeking Alpha and any reproduction of it on other sites is unauthorized. Ratings of "outperform" and "underperform" reflect the analyst's estimation of a divergence between the market value for a security and the price that would be appropriate given the potential for risks and returns relative to other securities. The analyst does not know your particular objectives for returns or constraints upon investing. All investors are encouraged to do their own research before making any investment decision. Information is regularly obtained from Yahoo Finance, Google Finance, and SEC Database. If Yahoo, Google, or the SEC database contained faulty or old information it could be incorporated into my analysis.