Mohammed bin Salman (MbS) unveiled his plan to transform Saudi Arabia, Vision 2030, in April, making his television debut (video). The 30-year-old grandson of Ibn Saud got a standing ovation when he visited a gathering of Saudi youth to present the plan.
According to Reuters' reporters in Riyadh, MbS's goal of modernizing the kingdom's economy is the subject of animated debate on social media, in office buildings, and at coffee shops there.
"I'm so excited! I want him to be our king now. I mean he's open-minded, has a great plan and maybe a little handsome," said Najla, 20, who did not wish to give her family name.
"He is very popular with the youth. He works hard, he has a plan for economic reform and he is open to them. He understands them," enthused one businessman. That's important because 70 percent of the Saudi population is under 30, and youth unemployment is running high, with some estimates putting it at between 20 and 25 percent.
Moving at Warp Speed
On May 7th, King Salman issued a series of decrees aimed at implementing the transformation plan. The biggest headline was the replacement of former oil minister Ali Al-Naimi by Khalid A. Al-Falih, chairman of Saudi Arabian Oil Co. (Aramco). At the heart of the transformation plan is the IPO of Aramco and subsequent sales to diversify KSA's investments and income through its Public Investment Fund (PIF).
As defense minister, MbS recognizes the vulnerability of KSA's wealth in the ground. He also recognizes the importance of Saudi Arabia being of strategic value to the U.S. I previously wrote:
"Saudi Arabia wants to keep oil prices low for now. It's not about market share, as initially claimed by Saudi oil minister Al-Naimi. Saudi Arabia needs to remain of strategic importance to the United States - for its own protection and survival."
American Tour
MbS has been on an American tour over the past 10 days. Various purposes have been ascribed for the visit. It could be, as mentioned above, to ensure that the U.S. continues to see its relationship with Saudi Arabia as "strategic."
An informed Saudi source told Middle East Eye that Salman's trip to the U.S. was "designed to make him U.S.'s number one Saudi ally and to push [bin Nayef] out of the scene." Furthermore, an unidentified Bahraini source said that bin Salman's trip to the U.S. was likely part of a long-term plan to bolster the young prince's international reputation.
An American source says MbS was invited by the U.S. government because U.S. leaders now need to familiarize themselves with a man who may be king soon.
Officials in the national security establishment believe Saudi Arabia is at a crossroads. "It's him or it's ISIS," said one Saudi expert who asked that his name not be used. The U.S. fears that if the Saudi military fails and its economy crumbles, the jihadis will take over. "[Bin Salman] has to win," said one U.S. intelligence source. "It's that simple."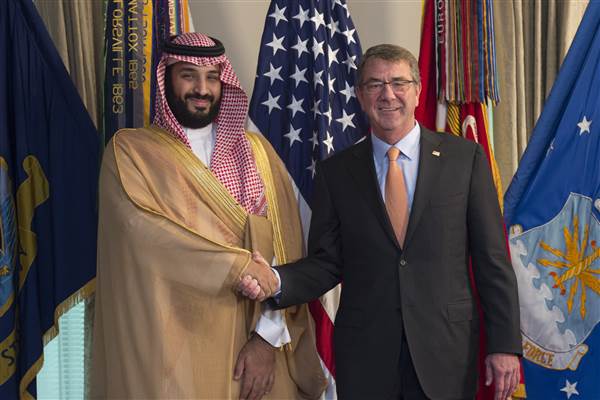 Secretary of Defense Ash Carter poses for a photo with Saudi Arabia's Deputy Crown Prince and Minister of Defense Mohammed bin Salman as he arrives at the Pentagon June 16. Senior Master Sgt. Adrian Cadiz / Dept. of Defense.
Besides his meetings at the Pentagon, MbS met with Secretary of State Kerry.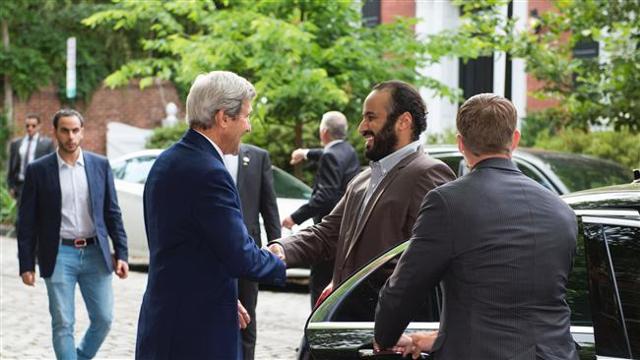 The "readout" of the meeting stated:
"The two reviewed the strong and enduring relationship between the United States and Saudi Arabia and discussed a broad range of regional issues, including Yemen, Syria, Libya, and countering terrorism. They also discussed the Kingdom's plans to transform its economy through its National Transformation Program."
In addition to meeting with CIA Director Brennan and Gen. James Clapper, director of national intelligence, he met with House Speaker Paul Ryan, and Minority Leader Nancy Pelosi, as well as U.S. Secretary of Commerce Penny Pritzker. Last Friday, he had a meeting with President Obama in the Oval Office.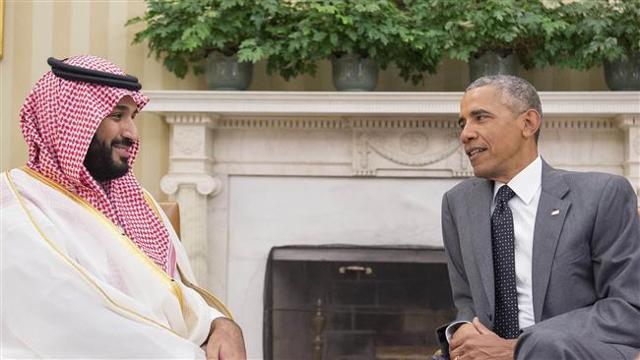 The "readout" stated:
"The President commended the Deputy Crown Prince's commitment to reform Saudi Arabia's economy and underscored strong U.S. support for achieving the recently-announced Vision 2030 goals. The Deputy Crown Prince underscored Saudi Arabia's strong support for the Paris Agreement and welcomed cooperation with the United States on clean energy issues. The President and Deputy Crown Prince reaffirmed the strategic partnership between the United States and Saudi Arabia."
President Obama had said the younger Prince Mohammed "struck us as extremely knowledgeable, very smart."
"I think wise beyond his years," Mr. Obama added in an interview with the Saudi-owned Al Arabiya network.
Business Meetings
One goal of Vision 2030 is to increase the manufacturing of equipment for its military infrastructure. To that end, MbS met with a number of CEOs representing companies specialized in the production of military equipment, such as Boeing (NYSE:BA), Raytheon (NYSE:RTN) and Lockheed Martin (NYSE:LMT). The meetings tackled means of nationalizing the Saudi military productions and enhancing partnerships between both parties.
In Silicon Valley, Salman met Microsoft (NASDAQ:MSFT) CEO Satya Nadella and signed a memorandum of understanding to train Saudis in tech and make digital a key part of Saudi Vision 2030 to "boost the Decision Making Support Center at the Royal Court by setting up systems and operational programs with the help of a team of experts from Microsoft."
"Microsoft will come out with technology to translate the Vision 2030 into a reality, with a focus on human capital and innovation, and we aspire to achieve it as early as possible," Nadella said.
Prince Salman also met Cisco (NASDAQ:CSCO) Chairman John Chambers to sign a memorandum of understanding for the networking gear giant to help build Saudi Arabia's digital infrastructure.
KSA's PIF very recently made an investment in the car-hailing service, Uber (Private:UBER). Uber's CEO, Travis Kalanick, said in a recent video interview with Al Arabiya after meeting with MbS that the company didn't pick Saudi Arabia as a shareholder, but rather "we picked each other." Kalanick noted Uber's role in helping drivers become entrepreneurs while providing much-needed transportation needs to Saudi citizens, and primarily women.
Today, MbS is in New York. No doubt he will be meeting to discuss the IPO of Aramco. In early March, the Saudi bourse asked banks to pitch for roles advising on its initial share sale. It was announced that JPMorgan Chase & Co. (NYSE:JPM) and Michael Klein, the former Citigroup, Inc. (NYSE:C) investment banker who runs his own boutique, have been selected to advise on state-owned Saudi Arabian Oil Co.'s initial public offering.
While accompanying the Saudi Deputy Crown Prince in the U.S., Energy Minister Khalid al-Falih stated:
"Despite the surplus in global oil production and lower prices, the focus of attention remains on countries such as Saudi Arabia which, due to its strategic importance, will be expected to balance supply and demand once market conditions recover. The Kingdom's oil policies are rooted in responsibility, and Saudi Arabia is seeking to maintain that balance while also giving heed to moderate prices for producers and consumers."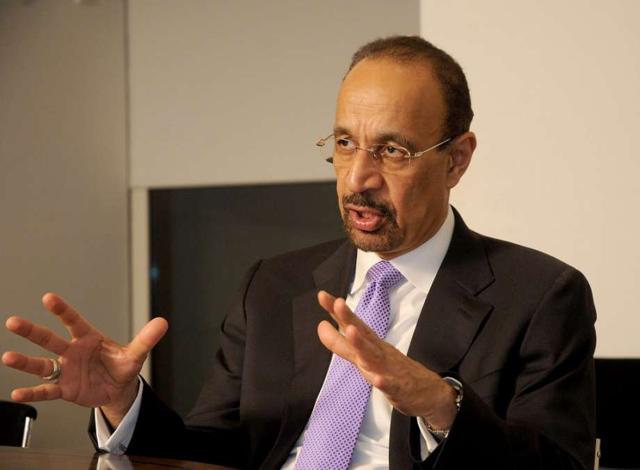 Khalid Al-Falih, the Minister of Energy, Industry and Mineral Resources for Saudi Arabia, speaks to the Chronicle's Colin Eaton at the Museum of Fine Arts Tuesday June 21, 2016. (Dave Rossman Photo)
Conclusions
It seems clear that MbS has made the U.S. government acknowledge the strategic importance of Saudi Arabia. With that, KSA buys time to sell its oil wealth while diversifying its investments and income.
I still remain skeptical that KSA can convert its oil reserves into $2 trillion for reinvestment, the primary goal of Vision 2030. I view the assets as too risky for internal and external political reasons to command such a value. But MbS will certainly try.
KSA's importance to the U.S. is largely based on America's dependence on foreign oil. Therefore, KSA favors "moderate" oil prices to ensure that dependence.
Disclosure: I/we have no positions in any stocks mentioned, and no plans to initiate any positions within the next 72 hours.
I wrote this article myself, and it expresses my own opinions. I am not receiving compensation for it (other than from Seeking Alpha). I have no business relationship with any company whose stock is mentioned in this article.