Hmmm... a TIPS auction on a Wednesday? I have to admit, I didn't see that coming. I have been covering TIPS auctions for 4 1/2 years, and every single one was on a Thursday, unless the Thursday was a federal holiday. I searched for a reason for the one-day leap forward, but couldn't find one. Maybe the Treasury has summer vacation plans.
At any rate, the Treasury's auction today of a reopening of CUSIP 912810RR1 - creating a 29-year, 8-month TIPS - resulted in a real yield to maturity of 0.905%. (Real yield is the yield above inflation.)
Because this TIPS has an already established coupon rate of 1.000%, buyers paid a premium at today's auction: an adjusted price of about $103.45 for $100.96 of value, when you figure in accrued inflation since the original auction in February.
The TIPS market had been surging in recent weeks, reacting to the Federal Reserve's restraint in raising short-term interest rates. But that turned around in the last week, when the TIP ETF lost more than 1.25% of its value. So today's yield was about 11 basis points higher than looked likely a week ago.
Last week, I called this auction "particularly ugly" because of the TIPS' long term, high volatility and very low yield. It ended up just being homely - the yield was the lowest in a year for this term. But I suspect buyers aren't unhappy with that yield.
Inflation breakeven rate. A full-term 30-year nominal Treasury closed today at 2.50%, which sets up an inflation breakeven rate of about 1.595% for this TIPS, which is extremely low. A low number indicates that TIPS are "cheap" against nominal Treasurys. When inflation expectations are low, TIPS are a good buy, as reflected in this chart: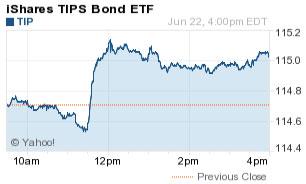 Reaction to the auction. This chart showing the day's trading in the TIP ETF is pretty much the classic "positive" reaction to an auction, with the ETF price surging right after the auction's close at 11:30 am. Higher prices indicate lower yields.
From a Bloomberg report:
Indirect bidders that include fund managers and foreign central banks on Wednesday purchased their biggest ever share at an auction of U.S. 30-year Treasury Inflation Protected Securities, Treasury data showed.

This group of bidders bought 77.02 percent of the $5 billion 30-year TIPS offered, surpassing the prior record of 70.82 percent at a 30-year TIPS sale held a year ago.
This is curious, and has me thinking that Thursday's Brexit vote in Great Britain could have driven up foreign demand, even if domestic demand was tepid.
Then again, the auction size at $5 billion was pretty insignificant. My conclusion: Let's not have any more auctions on a Wednesday.
Disclosure: I/we have no positions in any stocks mentioned, and no plans to initiate any positions within the next 72 hours.
I wrote this article myself, and it expresses my own opinions. I am not receiving compensation for it (other than from Seeking Alpha). I have no business relationship with any company whose stock is mentioned in this article.