3M Company (NYSE:MMM) is a great company, but currently not a good investment. The stock is trading at a 52-week high, with a trailing P/E almost 25% above its five-year average, a forward P/E of 21, a P/S of 3.6, and a P/B of 8.9. This type of valuation may be warranted during a period of robust global economic growth, but not during today's reality of widespread malaise. Sales declined 5% last year (although FX did have an impact), and there are little signs of improvement in many of 3M's end markets. But the stock continues to climb higher regardless (Figure 1), thanks to heavy share repurchases. Many investors are attracted to 3M because of its wide moat and history of returning cash to shareholders. Despite cyclicality, the company has consistently grown its dividend over time, with relatively little volatility. At current prices, the dividend yield is 2.5%, and investors who get in now are banking on a continuation in dividend growth and share repurchases. With end market fundamentals weak, we do not think this is enough to justify an investment. The stock is due for a correction, after which it will be a much better time to buy.
Figure 1: 1-Year Price Performance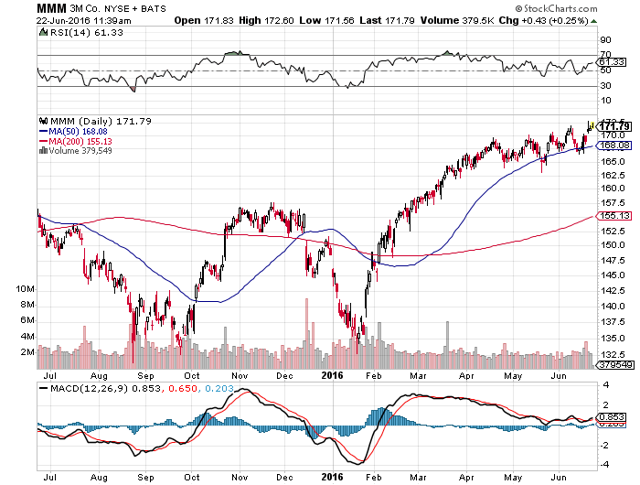 Source: StockCharts.com
3M is a great company with strong competitive advantages. It has built a reputation for innovation, and is constantly at the forefront of industrial technology. The company's intellectual property and brand recognition give it pricing power, even in segments with little product differentiation. Customers who value performance are less willing to risk using the products of a less-known and less-trusted rival, which raises switch costs. 3M also benefits from economies of scale: the company's high-volume global manufacturing and distribution network commands favorable input prices and allows for greater leverage of fixed costs. The combination of pricing power and cost efficiencies allows it to consistently generate high margins and returns. 3M's 5-year median operating margin of 21.7% is significantly higher than that of its peers, and the firm generates returns on invested capital in the low 20s, far in excess of the cost of capital. Superior profitability allows the company to return cash to shareholders, despite heavy expenditures on R&D and acquisitions.
To generate future growth, 3M will continue to rely on a mix of acquisitions and R&D spending, targeting emerging markets where penetration levels are lower. With global growth in a rut, more investment is required to generate growth. To maintain buybacks and dividends, the company needed to increase leverage significantly. As of the latest quarter, the firm had a D/E ratio of 0.76, compared to a long-term average in the 0.25-0.30 range. Higher leverage heightens the risks associated with a protracted slowdown in the global economy. We believe this weakness will persist over the next two years or so, limiting the potential for margin upside. Given that 3M can only be expected to grow sales at roughly the same pace as global GDP, it is too expensive at current prices.
We love 3M as a business. The firm has a wide moat and shareholder-friendly capital allocation policies. But we don't love it as an investment right now. The stock is priced as if the global economy were in an expansionary phase, but we think the exact opposite is more likely. The high price is a result of share repurchases, and we don't think the expectation of future buybacks warrants an investment at these levels, especially with underlying fundamentals in many end markets as weak as they are.
Disclosure: I/we have no positions in any stocks mentioned, and no plans to initiate any positions within the next 72 hours.
I wrote this article myself, and it expresses my own opinions. I am not receiving compensation for it (other than from Seeking Alpha). I have no business relationship with any company whose stock is mentioned in this article.