Fortuna Silver Mines to Buy Goldrock Mines Corp.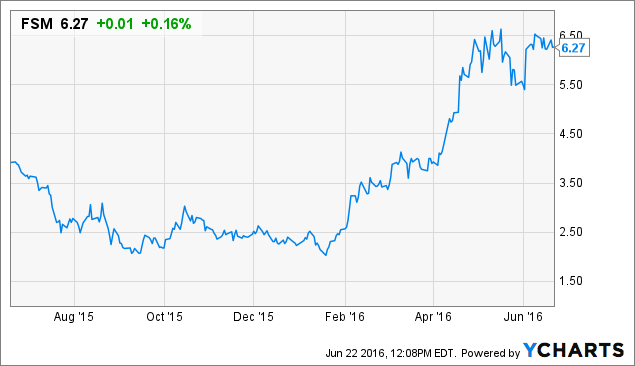 FSM data by YCharts
Fortuna Silver Mines (NYSE:FSM) made the news recently when it announced it has agreed to acquire all of the outstanding shares of Goldrock mines, which owns 100% of the Lindero project in Argentina -- an open pit, heap leach gold project that recently had a feasibility study completed on it, with initial production expected as early as 2018.
Readers may remember that I previously listed Fortuna as one of my top silver stocks to own in 2015. I was a little disappointed in the stock's performance that year and I left the stock off my updated list in 2016 as I felt there were better opportunities in the silver market. I admit, this could have been a big mistake on my part as the stock has been a top performer this year.
Still, as I mentioned in an article back in August of 2015, I thought Fortuna was an attractive silver miner to own as the company is growing its low-cost silver production and has a solid balance sheet to help it weather through any prolonged period of lower metals prices.
Since that article, shares have more than doubled in price, but following the company's latest acquisition, I think shares have much further room to run in the future as the deal has the potential to nearly double Fortuna's total silver equivalent production by 2019, which could result in a share price re-rating.
Fortuna: It's a Growth Story
This year, Fortuna aims to produce 7 million silver ounces and 42,800 gold ounces at all-in sustaining costs of $11 per ounce.
That represents outstanding growth from just a few years ago: in 2013, production finished at 4.6 million silver ounces and 21,200 gold ounces, and back in 2011, production was just 2.5 million silver ounces and 7,000 gold ounces.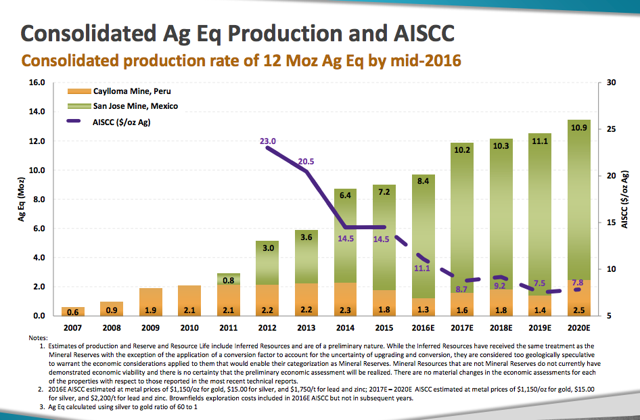 (Credit: Fortuna Silver Mines Presentation)
The growth is being led by the company's San Jose silver/gold mine in Mexico, as silver equivalent production has risen from 3 million ounces in 2012, and is expected to break the 10 million ounce mark by 2017 and 11 million ounces by 2019. Total production should eclipse the 12 million ounce mark by 2018.
Meanwhile, the company expects a corresponding drop in all-in sustaining costs while production ramps up. It's important to note that through this amazing growth period, Fortuna has remained profitable and expects close to $50 million in operating cash flow this year (with silver at $15 and gold at $1,150, however, which means cash flow should actually be higher given current metals prices).
Of course, this growth does not take into account any new production from the newly acquired Lindero project in Argentina.
What the Lindero Acquisition Adds to Fortuna
Fortuna will buy Goldrock Mines Corp. for its 100% owned Lindero gold project in Argentina. The asset contains over 10 years of gold reserve mine life and offers a significant production growth opportunity for Fortuna.
Under the terms of the agreement, each Goldrock common share will be exchanged for .1331 of a Fortuna common share, the equivalent of C$1.08 per Goldrock share -- a 58.2% premium based on the June 6, 2016 closing price of Goldrock shares. The deal values Goldrock at C$129 million.
According to a feasibility study released by Goldrock, the mine will produce an average of 108,000 ounces of gold annually at $715 all-in sustaining costs per ounce, with production peaking in the second year at 139,000 ounces; the project carries an after-tax rate of return of 26% and a net present value (5% discount) of $152 million, however, this is based on $1,200 gold, so the value is slightly higher now given current gold prices.
This deal increases Fortuna's reserve base by over 200%, with gold now weighing more heavily than silver (76% gold in reserves compared to 24% silver).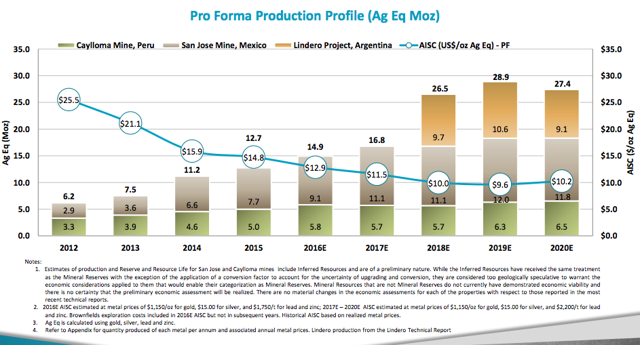 (Credit: FSM Presentation)
You'll see below that this mine will transform Fortuna into a true gold/silver producer, increasing its annual gold production to 192,000 ounces by 2019, compared to 9.3 million ounces of silver.
Going back to 2007 and looking ahead to 2018, Fortuna's silver production would have grown at a pace of 33%, while its gold production would have increased at 44%.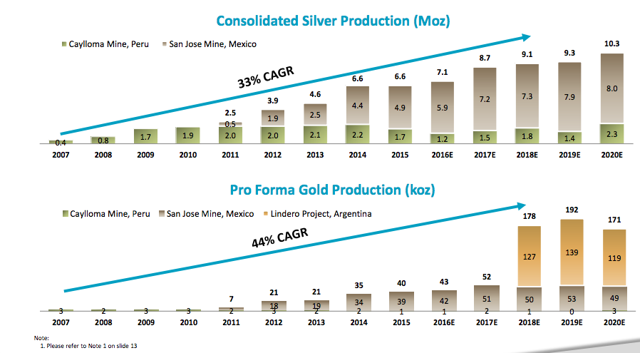 (Credit: FSM Presentation)
For 2018, the combined company has an annual pro-forma, silver equivalent production rate of 26.5 million ounces, which would put the company ahead of peer First Majestic Silver (NYSE:AG) and right below Silver Standard Resources (NASDAQ:SSRI).
This is important to note, because First Majestic carries a market cap of $1.93 billion compared to Fortuna's pro-forma market cap of $1.19 billion, and Fortuna should be producing more silver/gold in 2018 based on these estimates.
The pro forma company will have 148.4 million fully diluted shares outstanding and a market cap of $1.19 billion, with $114 million in cash and $43 million total debt.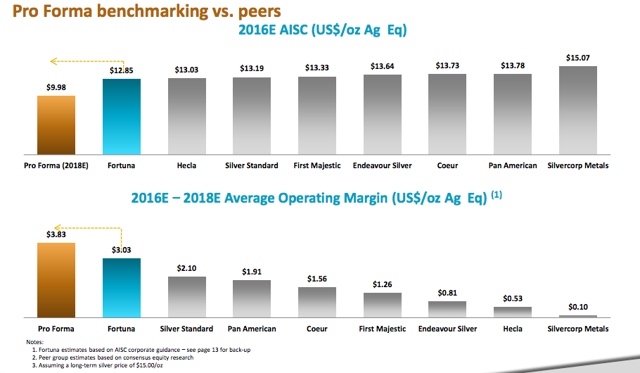 (Credit: FSM Presentation)
The deal should also help reduce Fortuna's costs. Its pro-forma 2018 all-in sustaining costs per ounce is just $9.98 compared to the previous estimate of $12.85, while its average operating margin for 2016-18 has risen from $3.03 to $3.83, according to the company.
Conclusion
The acquisition of Goldrock Mines should help Fortuna increase its silver equivalent production from 14.9 million ounces in 2016 to 26.5 million ounces by 2018, while also increasing the company's silver equivalent reserve base by nearly 100 million ounces to 150.7 million ounces -- and also lowering the company's all-in sustaining cost per ounce.
Between the expansion ramp up at the San Jose mine, steady production at Caylloma and new production from Lindero expected in a few years, Fortuna should be one the fastest growing gold/silver producers following this acquisition. The stock makes for a compelling long-term buy here in my opinion.
Disclosure: I/we have no positions in any stocks mentioned, and no plans to initiate any positions within the next 72 hours.
I wrote this article myself, and it expresses my own opinions. I am not receiving compensation for it (other than from Seeking Alpha). I have no business relationship with any company whose stock is mentioned in this article.