WhiteWave Foods (NYSE:WWAV) is benefiting from secular tailwinds in health-conscious eating. The newest and fastest-growing of these trends, a shift towards "plant-based" eating, provides WWAV with a particularly interesting growth opportunity that management places at $3 billion in size. I agree the market opportunity is significant, but the valuation still confuses me. At these levels, I think the stock has marked downside.
The trend towards healthy eating habits is not new. Whole Foods Markets (WFM), Sprouts (NASDAQ:SFM), and The Fresh Market (NASDAQ:TFM) have only gained in popularity over the past 10 years. An article in Forbes cites polls stating that 88% of people would be willing to pay more for healthier foods. Moreover, it has been shown that one in three American households grows food at home. Clearly, Americans are health-conscious about what they consume, and are willing to commit both extra dollars and extra time to eat healthy.
The newest of these health-conscious trends, plant-based eating, is perhaps the most comprehensive as well. Within the plant-based diet, there are many different options for eating. A snippet of the diet and its benefits can be seen below.
Seeds - High in fiber and protein
Probiotic foods - Help protect stomach bacteria and prevent disease
Whole Grains - Provide energy and are full of B vitamins
Full-fat food - Healthier skin and improved brain function
No more calorie counting
A plant-based diet is one that incorporates all the recent trends in healthy food consumption, including a shift away from GMO foods, artificial flavors, counting calories, and drinking milk. The growing trend aims for people to eat balanced meals, while reducing the risk of serious health issues or even death.
According to the CDC, "each year in the United States, at least two million people become infected with bacteria resistant to antibiotics; and at least 23,000 people die each year as a direct result of these infections."
Scientific support for the theory that artificially generated food is actually causing people to die can be seen as a strong driving force of the trend towards healthier, more balanced diets. Plant-based eating seems to find a happy medium for those not wanting to go "all-in". Because of this, I believe in WhiteWave and its ability to grow with this market.
WWAV sees the market opportunity here as adding another $3B in annual sales. The math is pretty simple. At a 32% household penetration, the company generated $920 million in plant-based revenue. A 100% household penetration, then, implies sales just short of $3B, assuming per-household spend remains constant. While 100% seems unachievable, I do think the company can grow this penetration rate dramatically over the next several years. Studies suggest lactose intolerance is a big deal in America, affecting over 25% of the population (non-dairy diets are particularly attractive to this demographic). Other studies suggest milk isn't as hearty as once believed, and that it is actually "unnatural" for humans to consume it. Moreover, as people grow older, the body's ability to produce lactose, the enzyme that helps digest milk, deteriorates.
While WWAV's growth story looks strong, its valuation looks too rich. At 47x earnings and 124x free cash flow, I don't see much upside for this growth stock. Management is calling for 12% sales growth this year, a deceleration from last year's 12.5% sales growth. The trend is clear that top line growth is decelerating. I think it's reasonable to assume a 9% revenue CAGR into 2020, implying an additional $2B in revenue by 2020. Margins should continue to expand as the company leverages SG&A, and this should lead to earnings growing at a mid-to-high teens rate. I model for a 17.5% earnings CAGR over the next 5 years. All of these figures are GAAP as reported.

My model implies that the stock is trading at 30x FY17E earnings on 14.2% GAAP EPS growth. Historically, the stock trades at a forward PEG ratio between 0.45 and 0.95. As growth decelerates, naturally the PEG ratio will likely come closer towards 1. At a PEG of 1, that implies a forward P/E of 14.2x by next year. A 14.2x multiple on FY17E EPS of $1.53 implies a $22 stock in a year.
My growth rates aren't that different from analysts' non-GAAP estimates. The Street is calling for 15.7% non-GAAP earnings growth next year. A 15.7x multiple on non-GAAP FY17E EPS of $1.62 implies a $25 stock in a year.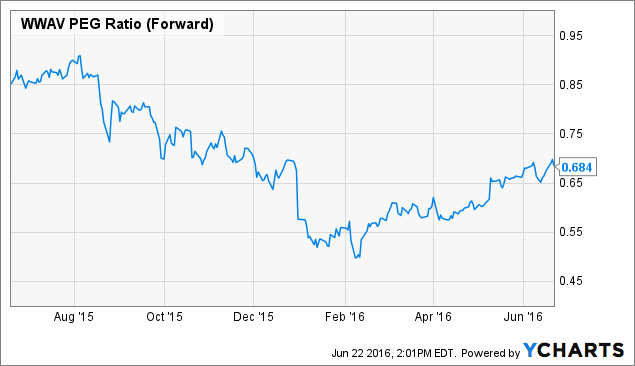 WWAV PEG Ratio (Forward) data by YCharts
In order to support upside to $50 by next year, then, the stock would need to trade at a ridiculous premium to what is slowing earnings growth. I think the bottom line is that, although the company has solid growth prospects, the stock is overstretched from a valuation standpoint. I see the multiple compressing more quickly than earnings grow, and that means downside in the near future.
Disclosure: I/we have no positions in any stocks mentioned, and no plans to initiate any positions within the next 72 hours.
I wrote this article myself, and it expresses my own opinions. I am not receiving compensation for it (other than from Seeking Alpha). I have no business relationship with any company whose stock is mentioned in this article.