The entire universe of pharmaceutical and biotechnology stocks has been in a funk recently. One obvious reason is drug pricing and the resultant ease at which companies can be rendered political punching bags. This is not to say that they all have great prospects or vibrant, defensible base businesses. In fact, while continuing to enjoy following the currently out-of-favor industry, it can be challenging to find companies that are not overly dependent on one product, highly speculative, or trading at uncomfortably high valuations. In consideration of all mentioned criteria, Eli Lilly (NYSE:LLY), down about 13% in 2016, could offer a worthwhile investment opportunity. However, with the imminent British vote on independence from Europe, it is probably best to hold off on the situation until Friday.
Yet, through a partnership with Boehringer Ingelheim, Eli Lilly's new diabetes medication Jardiance might be described as a breakthrough were it not for the US FDA program that uses the term. It has been shown to improve cardiovascular and renal outcomes of patients (I, II). It is also shown to be effective at lower blood glucose levels. Per all available information, including a discussion with an endocrinologist, it represents a substantial advancement in the treatment of Type 2 diabetes.
Beyond that, the company's pipeline contains not one, but two experimental oncology products that are categorized as an FDA breakthrough.
Olaratumab is a human IgG1 monoclonal antibody that is designed to disrupt the PDGF Receptor-a (platelet-derived growth factor receptor a) pathway on tumor cells and on cells in the tumor microenvironment. This means it may cause anticancer activity by targeting tumor cells directly, as well as cells that surround and support tumor growth (recruiting for Phase 3). It is intended for advanced soft tissue sarcoma.
Abemaciclib is a cyclin-dependent kinase (CDK) 4 and 6 inhibitor, for patients with refractory hormone-receptor-positive (HR+) advanced or metastatic breast cancer. Information has been made available from the breast cancer cohort expansion of the company's Phase I trial, JPBA, which studied the efficacy and safety of abemaciclib in women with advanced or metastatic breast cancer. Patients had received a median of seven prior systemic treatments. Further encouraging data has recently been made available that pertains to this product.
The company also continues to investigate multiple treatments for Alzheimer's disease. Hope might be excessively high for solanezumab, which has recently had its endpoints changed in mid-trial. My own opinion or impression is that the company is acting appropriately to carry on its research (not because the disease is a Clinton campaign issue). However, lofty expectations can lead to some market disappointment in the future. Alzheimer's, and other central nervous system illnesses, have proven exceptionally challenging, and success from one of its other product candidates could be staggering.
Credit Suisse (NYSE:CS) not only assigns an Outperform rating and $91 price target to LLY, but has the stock on its Focus List of top picks. The Swiss banking firm observes:
Many internal assets are first-in-class, including their TGFbeta (galunisertib) and CXCR4 (LY2510924) targeting agents that seem to have good preclinical rationale…
Also,
While we do see TEVA and ALDR's anti-CGRPs as potentially better assets, LLY's galcanezumab could be the first anti-CGRP on the market with potential submission in 2017 for cluster headache, providing them with a small first mover's advantage in reaching out to the same neurologists that would also see patients with migraines.
Deutsche Bank (NYSE:DB) has a Buy rating and $98 price target on LLY. Here is a graphic showing how the German bank models the company's products through the year 2020, when abemaciclib could pass $1 billion in sales: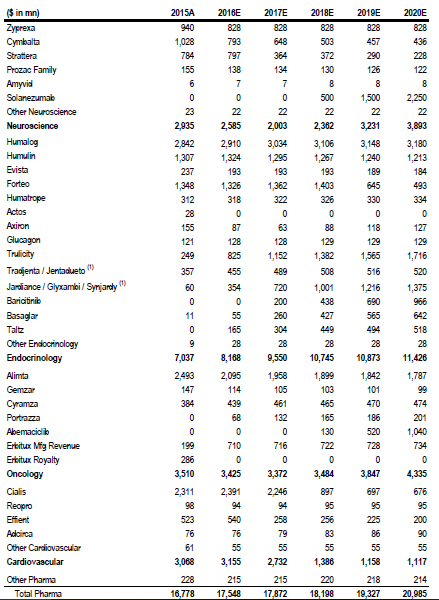 The stock even presents a deal when using a PEGY methodology and comparing it to peers: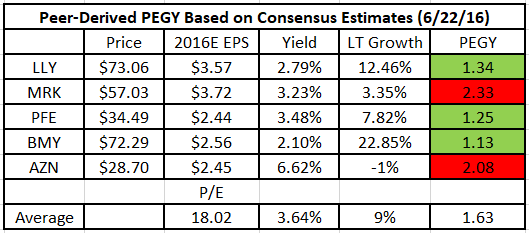 Not only does Eli Lilly probably have a huge success in Jardiance to steadily grow its revenues and earnings, but a marquee pipeline containing two FDA breakthroughs! In spite of this, it is shown to trade at a discount to other pharmaceutical companies. Eli Lilly can reward shareholders over the long term - but may be substantially cheaper if there is a market upheaval before the week's end.
Disclosure: I am/we are long LLY.
I wrote this article myself, and it expresses my own opinions. I am not receiving compensation for it (other than from Seeking Alpha). I have no business relationship with any company whose stock is mentioned in this article.
Additional disclosure: I may hedge, trade out of, or otherwise modify my LLY position over the next 72 hours.