By Rupert Hargreaves
The UK referendum on the EU, which is set to take place on June 23, has already created plenty of volatility and uncertainty for investors. It's fair to say that almost every stock, sector, and index in developed markets has been affected by movements in the polls.
Long-term investors generally ignore these short-term market fluctuations, but this time around, long-term investors are paying attention to the market's movements as a Brexit will likely result in several years of uncertainty for equity investors, not just in the UK, but also in Europe and the US.
Some sectors will be more exposed to the turmoil than others and analysts at Jefferies have put together a list of those companies and sectors that are most likely to be affected.
Brexit stocks: The most affected
Under the EU's passporting laws, a bank incorporated in any one member state can sell its products and services in all 28 other member states, creating a $19 trillion integrated economy with more than 500 million citizens. This agreement would have to be negotiated if the UK decides to leave. Jefferies believes the banks could also be faced with higher capital requirements, and insurers will come under pressure due to the market volatility following a 'leave' outcome. The investment bank believes the downside could be as much as 10% for the UK's banks and insurance sector in the worst case.
House prices in London are already coming under pressure due to the uncertainty surrounding the EU referendum, and this trend is almost certain to continue in the event of Brexit.
The average price of a London home dropped by £971 (0.2%) to £643,117 in the past month. Prices in the borough of Richmond have plunged by more than 10% according to Rightmove's monthly house price index. Jefferies expects this trend to broaden to the commercial sector, and a demand shock in the London office market would hit the REITs with the greatest exposure to the capital.
Similarly, Jefferies is avoiding UK homebuilders and builders merchants. A 20% decline in net asset values for homebuilders coupled with a return to 1x P/B implies an average decline of 44% for the sector.
Retail impact
UK retail sales have surpassed expectations so far this year. After a bumpy performance in April, retail sales growth picked up speed during May as consumers snapped up bargain clothes.
According to Reuters, which cites the Office of National Statistics, inmate clothing sales jumped by 4.3% the biggest rise in over two years. Overall, retail sales volumes grew by 6% in May, up from the revised 5.2% for April. Clearly, consumers aren't showing any signs of being concerned about Brexit risks just yet, although only time will tell if this will continue to be the case. A lot hinges on the UK's economic performance after the vote. Jefferies points out that in the past, operating leverage has meant that a 1% fall in like-for-like sales for general retailers has driven a 5% to 7% profit hit. So keep an eye on the headline UK retail sales figures for any indication of an earnings slowdown.
Brexit stocks: The sector that's set to benefit
Overall, Jefferies' analysts believe that the stocks in most sectors will suffer following a 'leave' boat and subsequent Brexit. One industry that could benefit, however, is consumers staples. Analysts at the investment bank point out that after Lehman, UK consumer staple stocks traded 84% premium on a P/E basis to the FTSE 100. Further, in August 2012 (GREXIT), the premium was 50%. Right now, the premium is 25%. Simply put, as a safe haven trade, UK consumer staple stocks could be the best bet according to Jefferies.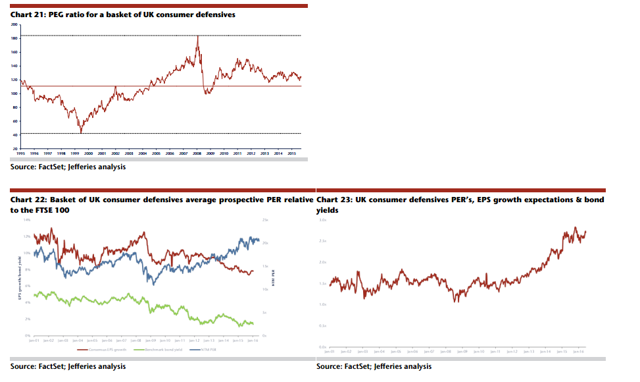 Brexit stocks: Consumer staples are set to benefit
Disclosure: Rupert may hold positions in one or more of the companies mentioned in this article. You can find a full list of Rupert's positions on his blog.
Disclaimer: This should not be interpreted as investment advice, or a recommendation to buy or sell securities. You should make your own decisions and seek independent professional advice before doing so. Past performance is not a guide to future performance.