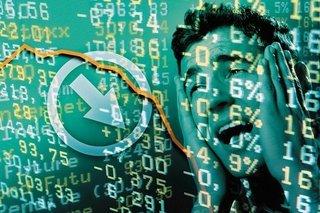 If we go by media reports, there is a very fine line between ho-hum and major fear in the U.S. stock market as it considers the potential outcome of the United Kingdom's popular referendum today on "Brexit", in which the British people will state their preference to either remain part of the European Union or will declare that they no longer wish to remain part of Europe's dominant economic and monetary union.
Here is a case in point from yesterday's headlines, courtesy of Reuters:
Wall Street flat, all eyes on Brexit vote
From that headline, you would expect that Wall Street isn't very emotional at all on the topic of Brexit. If you looked at how U.S. stock prices traded on that day, you would find that they fell by 3.45 points, or 0.165%, on the day before the U.K.'s historic vote.
If you want to use an adjective to describe that level of change from the previous day's close in the market, flat is a pretty good one to choose.
Now, compare that headline with the following one that Reuters produced just over a week ago:
Wall Street falls as Brexit vote becomes major fear
From that headline, you would reasonably expect there to have been major market carnage on Wall Street that day, wouldn't you?
There certainly was, if your threshold for major market carnage in the U.S. stock market involves the S&P 500 plunging downward by 3.74 points, or by 0.180%, from its previous day's closing value.
Clearly, where the the most mainstream of media is concerned, there is a very fine line between ho-hum flatness and outright fear in the markets. It just happens to fall somewhere within the 0.29 point gap between a market index that falls by 0.165% on a day defined by what might be described as mildly watchful apprehension and one that falls by 0.180% from the previous day on a day filled with "major fear"!