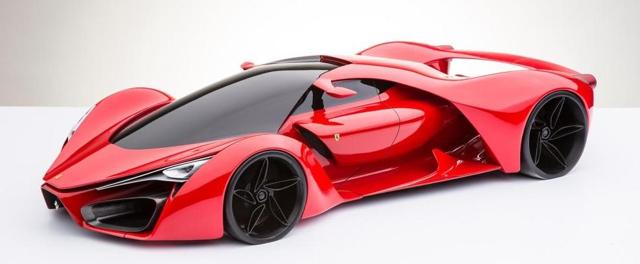 Important note: This article is not an investment recommendation and should not be relied upon when making investment decisions - investors should conduct their own comprehensive research. Please read the disclaimer at the end of this article.
QEP Resources (NYSE:QEP) has a track record of acquiring top-quality assets by paying top prices. In the company's previous two acquisitions, the strategy proved highly successful. As a reminder, in 2012, QEP acquired ~27,600 net acres in the South Antelope area in the Bakken for $1.4 billion from privately-held Helis Oil & Gas. Based on my estimate at the time of the acquisition, QEP paid an implied price of ~$30,000 per undeveloped acre, setting a new record for the Williston Basin. A year later, QEP paid $950 million to acquire ~26,500 net acres in the core northern Midland Basin. Based on my estimate, the acquisition equated to ~$21,000 per undeveloped acre. In both cases, the assets exceeded performance expectations and substantially increased in value.
This time, QEP is set to beat its own - and possibly the industry's - acquisition price record on a per acre basis, raising the bar for well performance much higher.
Acquisition Metrics
QEP has agreed to acquire ~9,400 net acres located in Martin County, Texas, for $600 million from a group of sellers. The acquisition properties are located 10 miles east of existing QEP operations (the company has not provided a map). 98% of the acreage is held by production to base of Wolfcamp or deeper and has 96% average working interest subject to a 23% royalty burden.
Current net production from the existing 96 vertical wells on the properties is ~1,400 Boe/d, of which approximately 83% is crude oil.
Assuming, for illustrative purposes, that the existing production has a market value of $30-$50 million, QEP is paying $550-$570 million for the development potential, all of which is essentially HBP. This implies a price of ~$60,000 per undeveloped acre, which is one of the highest prices paid for shale acreage in an asset transaction.
QEP estimates that the properties have potential for over 430 horizontal drilling locations over four horizons - Wolfcamp A, Wolfcamp B, Middle Spraberry and Spraberry Shale (additional potential exists in deeper and shallower horizons). Assuming average lateral length of 7,500 feet and two benches in the Lower Spraberry, QEP's estimate implies development with an average of ~8 wells per section in each horizon. The acquired acreage appears to differ from the company's existing block in that the Wolfcamp A is identified among primary targets.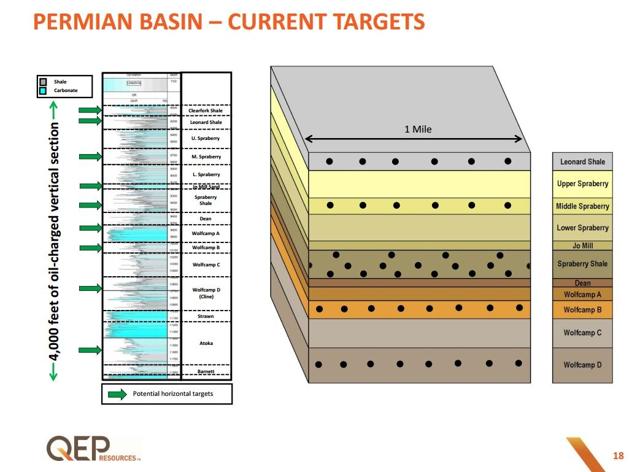 (Source: QEP Resources, May 2016)
QEP estimates that total net recoverable resources, based on internal estimates, are ~275 MMBoe. The implied average EUR per location is ~830 Mboe. The high percentage of oil in the existing production gives reasons to expect that the horizontal development program will also yield oil production.
Implications For The Stock
Let's make no mistake, the price QEP is paying in this acquisition is exceptionally high. However, the company deserves credit for having been successful in identifying and acquiring top-performing assets on at least two recent occasions. This track record gives reasons to hope that the current acquisition is well researched from a geologic perspective and represents an outstanding asset in terms of well performance potential.
The benefit of acquiring "Ferrari type assets for Ferrari type prices" is the high level of confidence that the asset will perform strongly and remain competitive even in a low-price commodity environment. The disadvantage is the high cost per location paid upfront. In this specific case, assuming a development with 2 rigs and drilling productivity of 20 wells per rig-year, QEP would need approximately 10 years to fully develop the acquired primary target locations. The inventory's extensive shelf life creates significant "carry" cost, which adds to the effective cost. Using QEP's estimate of 430 drilling locations and assuming the average shelf life of 5 years, with a 10% cost of carry per annum, the effective acquisition cost per location, including the cost of carrying the inventory, comes out at ~$2.1 million.
It is important to note, however, that the location acquisition cost represents the smaller portion of the well's total cost. By comparison, QEP's cost of drilling and completing a well in the Permian is currently ~$5.2 million, with an additional $0.7 million for facilities and artificial lift.
In Conclusion…
QEP is paying a high price for the acreage and is issuing over $400 million in common stock (assuming the green shoe is exercised in full) to fund a portion of the acquisition. As a result, full-cycle drilling returns will suffer from a significant haircut. That said, the acquisition can be value creating, despite the sky-high price, assuming the wells live up to the high expectation and oil prices recover above $60 per barrel in the long run.
For in-depth data and analysis of commodity fundamentals, please consider subscribing to Zeits OIL ANALYTICS that provides analysis of the crude oil and natural markets.
Disclaimer: Opinions expressed herein by the author are not an investment recommendation and are not meant to be relied upon in investment decisions. The author is not acting in an investment, tax, legal or any other advisory capacity. This is not an investment research report. The author's opinions expressed herein address only select aspects of potential investment in securities of the companies mentioned and cannot be a substitute for comprehensive investment analysis. Any analysis presented herein is illustrative in nature, limited in scope, based on an incomplete set of information, and has limitations to its accuracy. The author recommends that potential and existing investors conduct thorough investment research of their own, including detailed review of the companies' SEC filings, and consult a qualified investment advisor. The information upon which this material is based was obtained from sources believed to be reliable, but has not been independently verified. Therefore, the author cannot guarantee its accuracy. Any opinions or estimates constitute the author's best judgment as of the date of publication, and are subject to change without notice. The author explicitly disclaims any liability that may arise from the use of this material.
Disclosure: I/we have no positions in any stocks mentioned, and no plans to initiate any positions within the next 72 hours.
I wrote this article myself, and it expresses my own opinions. I am not receiving compensation for it (other than from Seeking Alpha). I have no business relationship with any company whose stock is mentioned in this article.