In my upcoming newsletter (Forbes Real Estate Investor), I plan to provide subscribers with a detailed REIT ETF overview. I consider this a timely research report since we're winding down the first six months of the year in which REITs have performed very well.
Now that interest rate fears have died down, most REIT sectors are beginning to normalize, allowing shares to trade inline with earnings expectations. Hopefully, you took advantage of the dips in mid-2013 and again in 2015 when markets overreacted to the much discussed taper pullback.
When we started building the Durable Income Portfolio over three years ago, we were somewhat eager to build a track record. However, we knew that we needed to aggregate stocks that were trading at or below intrinsic value. Consequently, we didn't jump in simply to prove that we had a basket of REITs that looked good on paper.
We opted to forge a more disciplined plan in which we could tactically purchase REITs when the financial markets failed to fully incorporate fundamental values into prices of the security. We often refer to the "rhino principle" in which we methodically analyze each individual company and when we see a high margin of safety, we simply "take charge."
That's precisely what we did in 2013 when Digital Realty (NYSE:DLR) shares were getting squeezed. Our initial research suggested that the data sector had tremendous upside and DLR's dividend growth record provided us with a terrific forward-looking lens to forecast future growth. With hardy demand from cloud-based users, we knew that DLR had not only the first mover advantage but also the low-cost provider advantage that we were seeking.
We took a small position in August 2013 and then as DLR's share price took a hit, we began to dollar cost average until we had invested over 6% of our REIT funds. We "almost" literally "backed up the truck" in December 2013 when DLR shares were trading around $44.50 per share with a yield of 7%.
Now DLR represents around 4.5% of our Durable Income Portfolio and needless to say, it's one of our best picks over the last three years.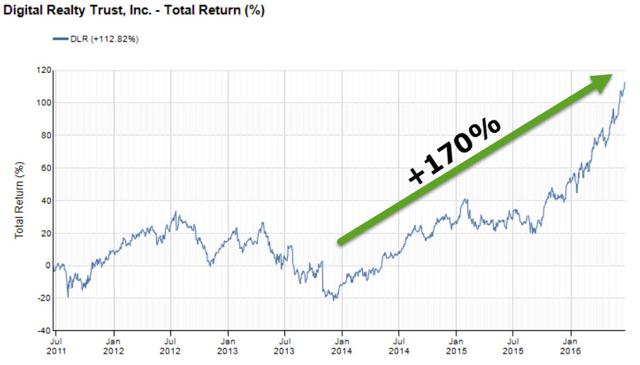 Another one of our well-timed picks was Realty Income (NYSE:O).
We also locked into this stalwart when Mr. Market began overreacting to the taper back in 2013. We didn't jump in until August 2013 and then we doubled down in January 2014, when shares were trading at $37.40. The going-in yield then was just under 6% - a far cry from the current yield of 3.7%
The secret: We recognized that O was not going to be impacted by rising rates. While the scared money ran out the front door, we opted to enter through the back door and wait patiently for the market to rationalize.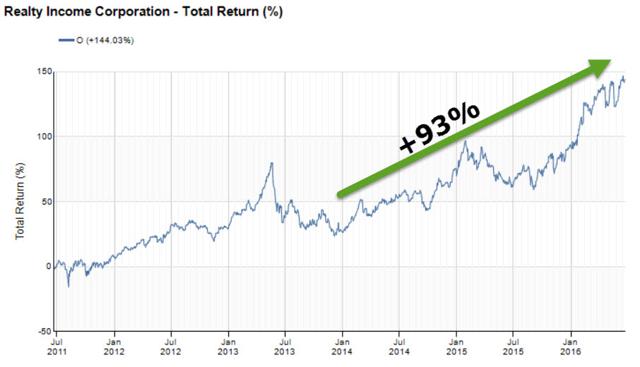 The point that I am trying to make here is that investors should wait patiently for a margin of safety. We generally like to nibble on shares until we are comfortable with our pricing. Again, using the Rhino example, we enjoy basking in the sun waiting patiently for the right opportunity - the most beneficial time to be a value investor is when the market is falling.
If the security were truly a bargain when it was purchased, the rationale course of action would be to take advantage of this even better bargain and buy more, so like the Rhino, we take charge!
Now that we have a track record for managing risk (over three years), we can begin to compare our Durable Income Portfolio (and the others we provide) and compare them to Mutual Funds and other passive REIT ETFs. The goal is to obviously prove that we pick good REITs but more importantly to demonstrate that investors should focus on the margin of safety without requiring elaborate forecasts of future price movements.
Our Durable Income Portfolio Clobbered VNQ
In my Seeking Alpha article yesterday, one person commented,
Just buy VNQ and be done with it.
I decided I would respond to this comment by first illustrating the year-to-date (through June 21st) performance for all of the REIT ETFs we cover:

As you can see (far right side in blue), the top 3 REIT EFS so far in 2016 are the PowerShares KBW Premium Yld Eq REIT ETF (NYSEARCA:KBWY), the iShares Mortgage Real Estate Capped ETF (NYSEARCA:REM), and the Vectors Mortgage REIT Income ETF (NYSEARCA:MORT). They have all returned double digits year-to-date, and barely beating the SNL US Equity REIT Index of 9.23%.
Let's now compare the top 3 ETFs based on their REIT holdings. As you can see below, MORT is a mortgage REIT ETF and the top holding, Annaly Capital Management (NYSE:NLY), represents 13.65% of MORT's concentration. With 63.8% concentration in the Top 10 holdings, we can see that MORT is not as diversified as many of the other REIT ETFs.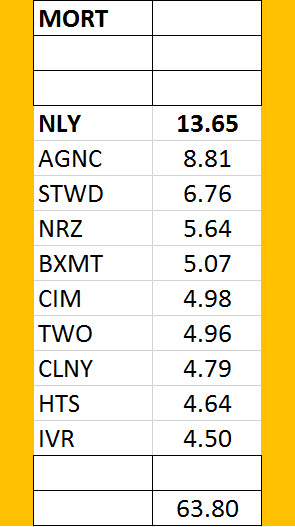 Now let's take a look at REM, the second-best performing REIT ETF. As you can see below, REM is also a mortgage REIT ETF and the holdings include both residential mortgage REITs like NLY, American Capital Agency (NASDAQ:AGNC), and Two Harbors Investment (NYSE:TWO), in addition to commercial mortgage REITs like Starwood Property (NYSE:STWD) and Blackstone Mortgage (NYSE:BXMT).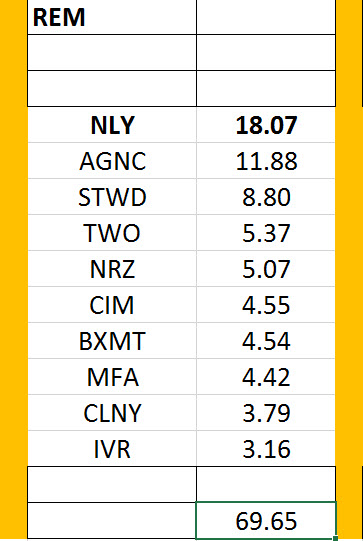 The top performing REIT ETF is KBWY, a more specialized fund that owns many higher risk REITs such as Washington Prime (NYSE:WPG), Whitestone REIT (NYSE:WSR), and New Senior (NYSE:SNR) - all companies that I have written on in the last week or so.
Many of the REITs in the KBWY ETF are externally-managed (in bold below) and it will be interesting to see how KBWY performs the rest of 2016. Also, as you can see below, KBWY's top 10 REIT holdings represent 43.71% of the portfolio so that means there is considerably more diversification than the above-mentioned mortgage REIT ETFs.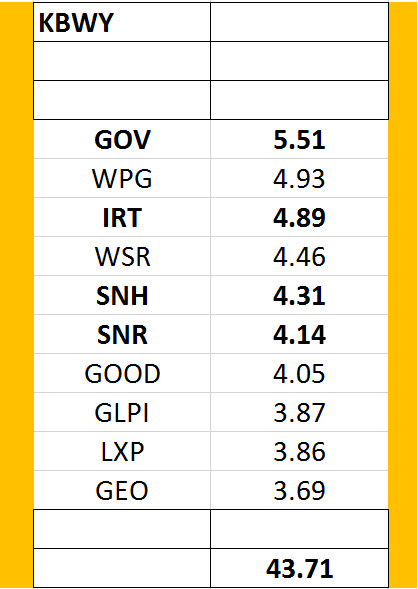 Now let's reply to the reader's comments from my article yesterday, as he suggested, "Just buy VNQ and be done with it."
That sounds good. ETFs are so simple and they limit the amount of career risk for advisors who can blame the movements of broad indices, not their own stock-picking ability.
Simple also means that the ETF portfolio will perform in line with the indices, and the advisor can charge fees in addition to the underlying ETF fees. The ability to mimic the indices, without the risk of deviating far from them, has been a boon for financial advisors. I can hear the advisor now, "we'll just put you in a REIT ETF like VNQ and be done with it."
It is worth noting that there is a difference between index underperformance and underperformance from asset allocation. An ETF portfolio can underperform due to misallocation between sectors or asset classes on the part of financial advisors. Since there will typically not be noticeable index underperformance in an ETF portfolio, the chances of the advisor being fired are minimized.
Most importantly, we all know that when you buy an ETF, you are likely going to get "average" results, simply because the ETF is going to buy the good, the bad, and even the ugly.
It is a beautiful thing: Gaining market exposure without the risk of significant underperformance, without the necessity to understand company specific fundamentals, and without having to pay for active management.
Remember though, an ETF stands for Exchange-Trading Fund and that means that there is no research team to filter the good from the bad. If you want to "buy VNQ and be done with it," here is what you get: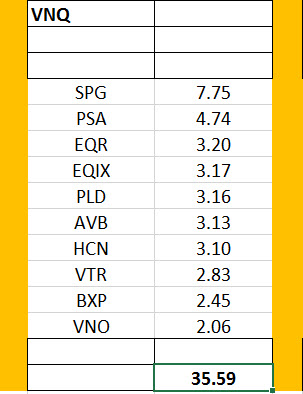 As you can see below, VNQ's top 10 holdings represent many of the large cap equity REITs like Simon Property (NYSE:SPG), Public Storage (NYSE:PSA), and Equity Residential (NYSE:EQR). In addition, VNQ's top 10 holdings represent 35.59% of the fund, is that diversification or di-worsification?
VNQ returned 6.13% YTD, worse than the SNL US Equity REIT Index of 9.23% and doubling the S&P 500 performance by around two times (S&P 500 returned 3.14% YTD).

So Why Not Just Buy VNQ and be Done with It?

Finally, and to illustrate the power of active management, here's our top 10 REIT holdings in the Durable Income Portfolio. If you truly want to succeed as an investor, you must take the time to understand the securities that you are buying. We have no interest in telling readers that REIT ETFs are for everybody, we understand their purpose. However, we also don't believe that "just buying the VNQ and be done with it" is an investment strategy.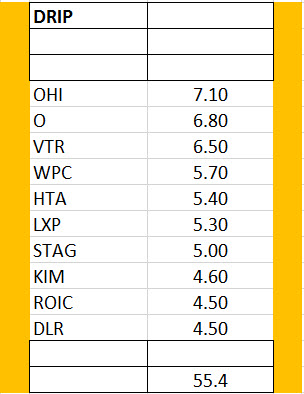 Author's Note: Brad Thomas is a Wall Street writer and that means that he is not always right with his predictions or recommendations. That also applies to his grammar. Please excuse any typos, and I assure you that he will do his best to correct any errors if they are overlooked.
Source: Yahoo Finance, S&P Global, and The Intelligent REIT Investor.
Disclaimer: This article is intended to provide information to interested parties. As I have no knowledge of individual investor circumstances, goals, and/or portfolio concentration or diversification, readers are expected to complete their own due diligence before purchasing any stocks mentioned or recommended.
Disclosure: I am/we are long O, DLR, VTR, HTA , STAG, GPT, ROIC, HCN, OHI, LXP, KIM, WPC, DOC, EXR, MYCC, TCO, SKT, UBA, STWD, CONE, BRX, CLDT, HST, APTS, FPI, CORR, NHI, CCP, CTRE, WPG, KRG, SNR, LADR, PEB, BXMT, IRM, CIO.
I wrote this article myself, and it expresses my own opinions. I am not receiving compensation for it (other than from Seeking Alpha). I have no business relationship with any company whose stock is mentioned in this article.