(Source: Forbes)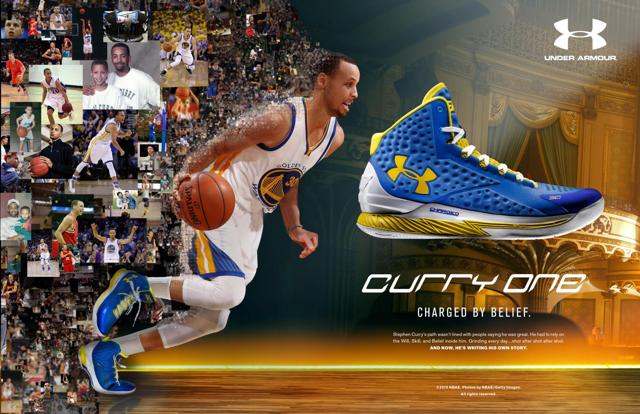 The valuation misconception: Historical P/E, relative EV/EBITDA, forward P/E and forward PEG
Why surface data imply UA is overvalued - TTM P/E, EV/EBITDA & P/S ratios
If you look on the surface, Under Armour or UA (NYSE:UA) appears to be overvalued. Its historical P/E and EV/EBITDA ratios are significantly higher than its peers. For example, Under Armour trades at a Trailing Twelve Month ("TTM") P/E ratio of 71.37, ~65% higher than Nike's TTM P/E ratio of 25.17 and ~77% higher than the industry TTM P/E ratio of 16.12.
Table 1 - (Source: Yahoo! Finance - Under Armour Competitors)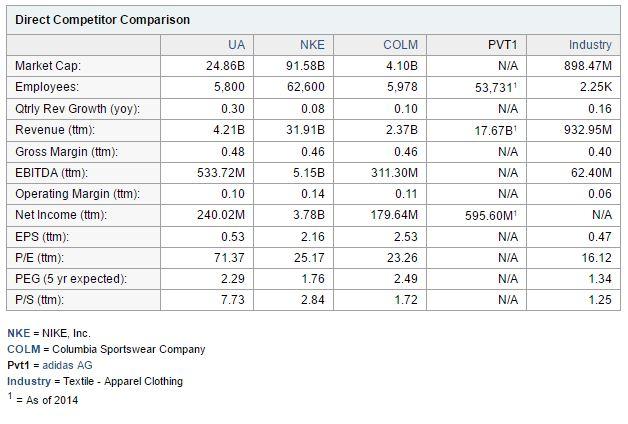 Other valuation ratios such as its TTM P/S ratio seem to confirm the overvaluation story. For example, the table above shows that UA's price to sales ratio is 7.73 or ~63% and ~84% higher than Nike and the industry price to sales ratios respectively.
Generally, higher P/E and P/S ratios suggest that a stock is trading at a premium to its peers. That can signify a more expensive stock or a stock with too high future growth expectations built into the stock.
Why UA's stock price is undervalued - digging deeper into UA's forward P/E ratio
But UA's expected high future growth rate is justified.
Neither a standalone P/E ratio nor a standalone P/S is conclusive. Hence the need for other ratios. Because UA's shareholders invest for the future, an embedded growth rate can be derived from UA's forward P/E and PEG ratios.
Table 2: (Source: Yahoo! Finance - Under Armour key statistics)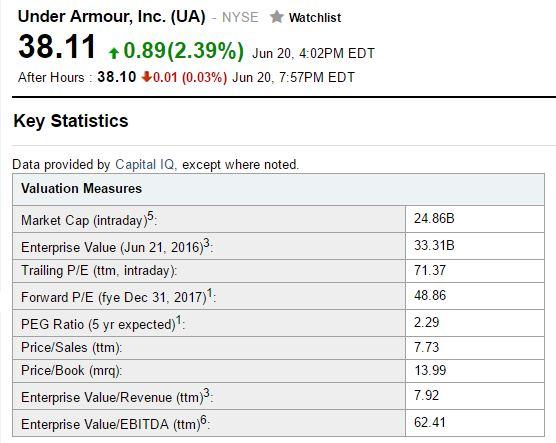 From the valuation measures above, notice that UA has an expected PEG ratio of 2.29 and a forward P/E (fye Dec 31, 2017) ratio of 48.86.
Implying that its expected implied growth rate is ~21% (48.86/2.29). 21% might look like an overestimation until you notice that UA's 5-year average revenue growth rate is ~28%. Meaning that the 21% implied 2017 growth rate embedded in UA's forward P/E & PEG ratios is 5% below Under Armour's 5-year average revenue growth rate. Thus, justifying current valuation.
Graph 1: (Source: Authors analysis with data taken from Morningstar)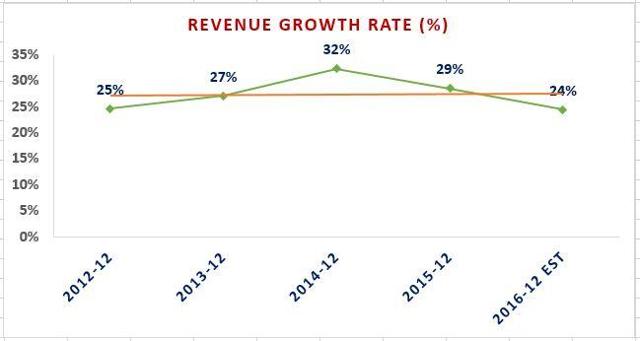 These high growth rates explain why UA's P/E ratio is higher than its peers. They have sustained revenue growth rates of more than 20% for 21 consecutive quarters. Achieving 20% plus annual revenue growth rate is an extremely impressive growth rate for UA given that the expected average EPS growth rate within UA's industry is only 12% (16.12/1.34 from the table 1 above)
(Source: Under Armour investor day 2015 presentation)

UA's high revenue growth rate suggests that the company is gaining market share and reaching new markets.
The high revenue growth rate supports elevated earnings growth rates which can lead to capital appreciation, higher returns to shareholders and can justify a higher price multiple.
Growth Catalysts - Attainable guidance, entering new & lucrative markets and brand enhancement
The demand for UA's products is evident from its high revenue growth rate. It took UA 15-years to reach the $1 billion milestone, three years to get its second $1 billion and one more year to cross their third $1 billion. This have achieved this through a strong brand recognition, aggressive market expansion, accretive acquisitions and continuous innovation.
Attainable guidance due to lower FY2016 revenue growth expectations
UA estimates to have $7.5 billion in sales by FY2018. Its revised FY2016 revenue guidance puts projected sales at $4.93 billion. I believe $7.5 billion in sales by FY2018 is achievable because it implies 23% y/y revenue growth rate when UA's 5-year revenue growth rate is 28%. Put another way, UA's lowest 5-year annual revenue growth rate was 25% in 2012. Also, even after the revised guidance, annual revenue growth rates for FY2016 will be 24%. Meaning that the implied 23% in FY2017 and FY2018 is attainable. This growth will be fueled by UA's expansion into new markets.
(Source: September 16, 2015 - Under Armour Inc Investor Day Meeting)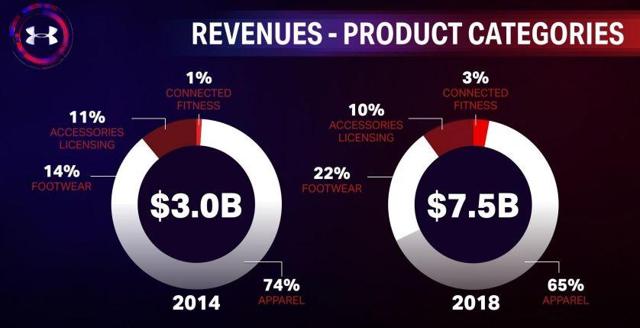 I think UA's aggressive expansion into new markets will be a great growth driver. Currently, 91% or $2.73 billion of all UA's sales come from North America. International sales only account for 9% or $270 million. But there is a huge and lucrative market outside of North America.
(Source: September 16, 2015 - Under Armour Inc Investor Day Meeting)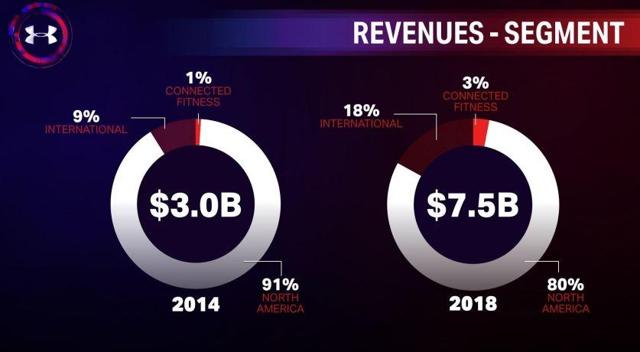 As UA becomes a global brand, UA's sales potential are likely going to exceed the $7.5 billion in projected 2018 total revenues.
New and lucrative markets: $250 billion sports apparel, $2 trillion food & nutrition, $8 trillion health & fitness and the $50 billion sportswear markets
UA is in the $250 billion sports apparel market. Given that UA only projects to have $7.5 billion by 2018, they have a long way and a lot of growth opportunities before they can fully optimize revenues in the sports apparel market alone.
(Source: September 16, 2015 - Under Armour Inc Investor Day Meeting )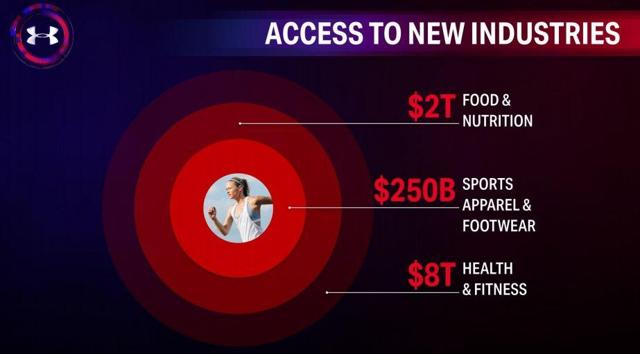 In addition to the sports apparel market, UA has the potential to benefit from the $2 trillion food and nutrition and the $8 trillion healthcare and fitness markets.
UA is a very young company - only 20 years old. The opportunities ahead of it are numerous: it has ample room for growth in the $250 billion sports apparel market, has barely started to benefit from the $2 trillion and $8 trillion food & nutrition and health & fitness markets, respectively.
Furthermore, there are untapped opportunities for UA in the $50 billion sportswear market. Kevin Plank stated that UA's two largest competitors have "about $12.5 billion combined revenues" from sportswear and UA has zero.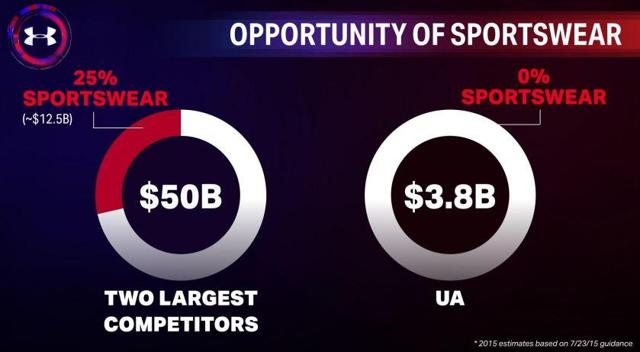 Meaning that the sportswear market is yet another lucrative growth category for UA to explore moving forward.
I think the opportunities for margin expansions surrounding UA are numerous.
The footwear advantage and brand enhancement
UA has been more successive in apparel and there is a lot of opportunities ahead for the company in other categories. Its product mix as of FY2015 was 71%, 17%, 9% and 3% comprised of apparel, footwear, accessories and Connected Fitness business, respectively.
One imminent high growth area for UA is footwear. UA has the potential to accelerate footwear revenues over time. One major catalyst fueling this growth is UA's partnership with the NBA star Stephen Curry. UA is expanding into new markets. For example, UA's "Curry Roadshow" last year in Shanghai allowed the company to generate more than 3 billion impressions in 5 days on both tradition and social media.
This was a great brand builder. UA is slowly getting to be viewed as a footwear giant outside the U.S. For example, 20%-23% of UA's product mix is footwear in the U.S., but in Asia it's 30%-35%. Footwear is even more successful in the Shanghai store that was recently launched as footwear accounts for more than 75% of total sales.
This is good for UA's brand penetration. Once established, UA will be able to easily and successfully introduce other products such as apparel and accessories in these new markets.
Risk: Excess inventory amidst the Sports Authority bankruptcy
Although UA has enough growth momentum moving forward, it also faces (1) falling consumer discretionary, (2) rising excess inventory, (3) and lost revenues from the Sports Authority liquidation.
Margin compression from pricing pressure due to high inventory
There is a threat of margin contractions. For example, in the Most Recent Quarter ("MRQ"), Under Armour saw gross margins decline by "100 basis points to 45.9% compared to 46.9% in the prior year's period."
There were two main catalysts to the margin contractions: (1) Under Armour experienced higher liquidations due to excess inventory (2) foreign currency exchange rates negatively impacted gross margin by 70 basis points. The impact was made worse by a 27% y/y surge in SG&A costs, a 14% y/y increment in marketing expenses.
The excess inventory problem might get worse with the Sports Authority bankruptcy.
Sports Authority liquidation & the $70 million revenue gap
Sports Authority has struggled with the debt associated with its LBO 10-years ago. But with increased competition from other brick-and-mortar stores, and increased online retailers and failure to reach an agreement with creditors, Sports Authority was forced to file for bankruptcy and close all its 450 stores.
The liquidation of Sports Authority leaves a $70 million revenue gap relative to prior expectations (forecast of $5 billion reduced to $4.93 billion). This is challenging for UA because it might not be able to recapture the $70 million in lost revenues from the Sports Authority bankruptcy in its other channels.
Conclusion: The 26% upside potential in 6-months
UA's FY2015 basic EPS was $0.54. And after taking into account the Sports Authority bankruptcy, UA revised their FY2016 revenue guidance from $5 billion to $4.93 billion. The revised revenue guidance implies 24.4% y/y revenue growth rate. Assuming that the cost structure remains relative the same and EPS growth rate mimic revenue growth rate (24.4% growth), FY2016 EPS will equal $0.67. Capitalized at the current TTM P/E ratio of 71.37X, it generates ~$48/share, 26% above UA's current stock price.
The 26% upside is for FY2016 (since I used FY2016 guidance). Meaning that UA is likely going to touch or exceed $48/share in the next 6-months.
The major catalyst that will drive near-term growth is seasonality. In its FY2015 annual report, UA acknowledged that "historically, we have recognized a majority of our net revenues and a significant portion of our income from operations in the last two quarters of the year, driven primarily by increased sales volume of our products during the fall selling season, including our higher priced cold weather products, along with a larger proportion of higher margin direct to consumer sales."
This year is not going to be different. As we heard into Q3 and Q4, I believe UA's stock price will surge. Meaning that this might be a good time to be long UA.
Disclosure: I/we have no positions in any stocks mentioned, and no plans to initiate any positions within the next 72 hours.
I wrote this article myself, and it expresses my own opinions. I am not receiving compensation for it (other than from Seeking Alpha). I have no business relationship with any company whose stock is mentioned in this article.