After approximately a decade of massive volatility and turmoil, the solar industry is still experiencing major growth pains. Some of the world's largest solar companies like SunEdison (OTCPK:SUNEQ) and Yingli (NYSE:YGE) have experienced major difficulties in recent times. While the solar industry is still far from fully healthy, many companies have established themselves as long-term winners. First Solar (NASDAQ:FSLR), in particular, appears to have built a highly sustainable solar company.
First Solar's recent success in the solar industry is no small feat considering how competitive the industry is. Despite the massive solar demand growth over the past decade or so, cutthroat competition has made it incredibly hard for solar companies to make consistent profits. As such, First Solar's financial success over the past few years is incredibly impressive. First Solar is poised to continue its success moving forward given its rapid technological advancements and the growing demand for utility-scale solar.
Cost Competitiveness
First Solar's utility-scale solar projects are some of the most cost-effective in the world. Not only is First Solar incredibly competitive in the solar landscape, but the company is also starting to reach grid parity with cheap fossil fuels like coal and natural gas. In fact, the company expects to be under $1 per watt on a fully installed basis by 2017. This would be a huge milestone for First Solar, especially considering the fact that such a low cost structure would make the company even more competitive with dominant forms of energy.
First Solar's impressive cadmium telluride innovations and first-rate project business has driven the company's dominance in utility-scale solar. Cadmium telluride is starting to catch up to silicon on the module efficiency front largely thanks to First Solar's R&D efforts. With First Solar recently hitting a cadmium telluride conversion efficiency of 22.1%, the company clearly still has a bright future in panel manufacturing. While First Solar has spent a massive $600 million over the past half-decade on cadmium telluride R&D, this investment has clearly paid off and will likely continue to pay off moving forward.
Utility-Scale Solar Is Not Going Anywhere
While distributed solar has grown tremendously over the past few years, utility-scale solar still reign supreme. In fact, it utility-scale solar is expected to account for 74% of US solar installations in 2016. This is especially impressive considering the fact that the solar industry is forecasted to install 16 GW during the year, which represents a stunning 119% growth rate over 2015 installations. Given First Solar's dominance of the US utility-scale solar industry, the company should benefit enormously.
What's more, one of First Solar's main competitor SunEdison is undergoing a massive Chapter 11 bankruptcy restructuring. This means that First Solar will have less competition on the utility-scale solar front, making it even better equipped to take advantage of utility-scale solar's growth. First Solar's extremely strong balance sheet should also allow the company to more effectively capitalize on the growing utility-scale opportunity. In fact, First Solar had $1.9 billion in cash and marketable securities by the end of its latest quarter.
Despite the rise of distributed solar, utility-scale solar should still play a dominant role in the solar industry for the foreseeable future. The recent troubles plaguing the residential solar industry indicate that utility-scale solar's dominance may stretch on longer than expected. This will obviously play to First Solar's favor given its large presence in utility-scale solar and limited presence in distributed solar.
First Solar currently has one of the most dominant utility-scale solar businesses in the world.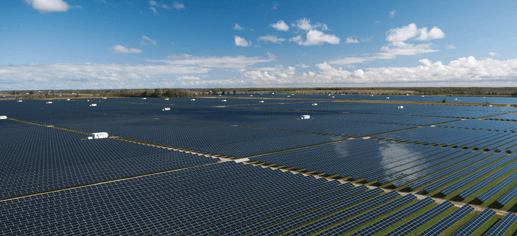 Source: pv-magazine
Competition Will Increase
First Solar will have to work hard to maintain its current grip on the utility-scale solar industry. While First Solar has likely cemented a long-lasting foothold in utility-scale solar markets, competition continues to flood the market. First Solar's own conservative growth plans may contribute to market share loss, especially considering the growth rates of some of its main competitors. On the other hand, First Solar's more conservative growth should allow the company to further strengthen its financial health, which could continue to take precedence over growth.
While the Chapter 11 bankruptcy of SunEdison should help reduce competition in the near-term, other competitors should quickly fill in the void left by SunEdison. In addition, the slowdown in the residential solar lease/PPA markets will likely motivate large distributed solar companies to enter the utility-scale solar arena. In fact, SolarCity (SCTY) recently made its utility-scale ambitions known, which is surprising given the company's previous near-exclusive focus on distributed solar. Although First Solar currently has a technological and cost advantage in utility-scale solar, this advantage could rapidly vanish if the company is not careful.
Conclusion
Given First Solar's superior technology, strong balance sheet, and dominance in utility-scale solar, the company is undervalued at its market capitalization of $5 billion. Despite First Solar's growing foothold in a hugely promising industry, the company only has a forward P/E ratio of 15. First Solar is doing a great job of improving all facets of its business, making it one of the strongest solar companies in the industry.
Disclosure: I am/we are long SCTY.
I wrote this article myself, and it expresses my own opinions. I am not receiving compensation for it (other than from Seeking Alpha). I have no business relationship with any company whose stock is mentioned in this article.