I had suggested that investors should buy Cliffs Natural Resources (NYSE:CLF) at the end of last year. My thesis was based on Cliffs' low-cost operations and its initiatives to reduce the debt, while a recovery in iron ore prices was also looking likely at that point. Now, with almost six months of 2016 in the rear view mirror, Cliffs' shares have outperformed the market by a huge margin, gaining more than 200%.
However, I think that this rally is not going to last forever and investors should start booking profits in Cliffs Natural Resources. I'm saying this because even though iron ore imports in key markets such as China are increasing, there are certain pointers that indicate that the iron ore price could take a beating and drag down Cliffs as well. In this article, we will take a look at those factors that investors should be wary of.
China's iron ore stockpiling is a concern
Iron ore prices have recovered impressively in 2016. In fact, at the end of 2015, the price was hovering at $40 per ton, but this went up to $70 per ton a couple of months ago. However, at present, iron ore trades at $50 per ton and it looks like it has settled at this price point. Thus, if we look at iron ore prices in a different manner, we can see that the commodity has lost almost 29% of its value in the past two months.
Iron ore miners believe that the current price point is quite realistic and might inch up to $55 a ton going forward. However, in my opinion, investors should not miss out the downside probability in iron ore as there are signs of further oversupply emerging in China, which is the largest importer of iron ore in the world since it consumes 48% of the world's steel production.
But, despite a slowdown in the country's economy and a weak housing sector last year, China continued to import more of iron ore. In fact, China's iron ore imports last year were 84% of the country's consumption even as the country's steel output dropped 2.3%, making for the first drop in 34 years.
This year as well, China has continued to import more iron ore. For the first five months of 2016, China's iron ore imports have increased 9.1% to 412.5 million, with May itself posting a rise of 22.4% on a year-over-year basis. But, as a result of such high imports and low steel production, stockpiles of iron ore at China's ports have also increased remarkably.
As compared to inventory of 75 million tons in the year-ago period, current iron ore stockpiles in China stand at more than 100 million tons. Looking ahead, I believe that the country's iron ore stockpiles will continue to rise as half of the steel plants in the country are currently running in losses, driven by 400 million tons of surplus capacity annually.
As China intends to cut steel production by 150 million tons in the next five years, the consumption of iron ore in the country will decline. This will create more oversupply in the end-market and lead to further weakness in iron ore pricing. As the iron ore price starts to weaken, Cliffs will see a negative impact on its financial results and stock price. In fact, the company's rally was halted last month after the iron ore price rally hit a speed bump.
Why Cliffs Natural Resources investors should be worrying
Cliffs Natural Resources' rally on the stock market has moved more or less in tandem with the iron ore price. This is shown in the chart below: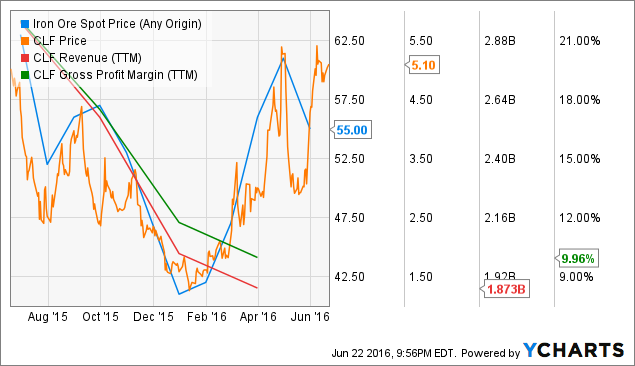 As seen above, a decline in iron ore prices in the month of May brought about a steep decline in Cliffs Natural Resources' share price. Also, the chart above indicates that Cliffs has been able to slightly improve its revenue and gross margin in recent months due to better iron ore pricing. However, as the discussion in the earlier part of the article indicates, this improvement might not last going forward due to possible weakness in iron ore prices as Chinese consumption declines.
Moreover, the recent strength in the Chinese housing market is not going to last in the long run as it is being driven by the availability of loose credit. The following chart clearly shows that lending in China has spiked this year, and this has led to strong growth in home sales and housing starts: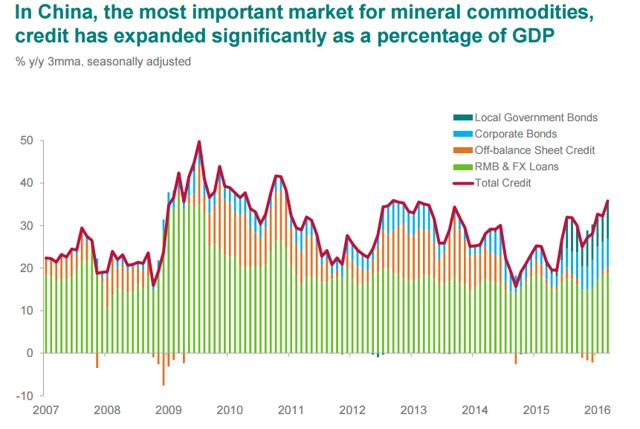 Source: Vale
However, the underlying factors in China do not support an increase in housing demand. This is because the country's income growth and employment are not moving in the right direction. In fact, wage growth in China is anticipated to slow down to 7% this year after growing 7.2% in 2015. This will impact the country's disposable income growth, which will slow down to a range of 6.5% to 6.9% this year from last year's growth of 7.4%.
The decline in China's wage growth and disposable income is a result of the fact that the country's manufacturing industry is losing sheen due to a drop in cost competitiveness. Workers are complaining against the low wages and adverse working conditions, which is leading to labor strife and is disrupting work. According to Bloomberg:
"Cash-pressed companies in construction, manufacturing, mining, and services are delaying paying their workers, which is the No. 1 cause of labor strife and a likely precursor to staff reductions, says Crothall. "Companies have been delaying wages and cutting the workweek. They have tried these different measures to keep people employed. But now we expect greater outright layoffs," says Beijing-based Andrew Polk, senior economist at the Conference Board's China Center."
Therefore, China's housing market will start waning as the fundamentals are not in place, and since the construction segment consumes half of the steel produced, demand for iron ore will drop going forward. This will create more headwinds for Cliffs Natural Resources when reality strikes in China.
Conclusion
Cliffs Natural Resources' performance has been outstanding on the stock market this year, but I think that the company does not have any more room to run higher. China's economy is not in the best of health, while a decline in wages and steel production will continue to act as headwinds for the iron ore industry.
So, in my opinion, it will be a good idea to book profits in Cliffs Natural Resources as the long-term does not look bright.
Disclosure: I/we have no positions in any stocks mentioned, and no plans to initiate any positions within the next 72 hours.
I wrote this article myself, and it expresses my own opinions. I am not receiving compensation for it (other than from Seeking Alpha). I have no business relationship with any company whose stock is mentioned in this article.