Phillips 66 (NYSE:PSX) had had a mixed time on the stock market over the past two months as its shares have dropped close to 10%. This drop in Phillips 66 shares is mainly a result of negativity around the refining sector and concerns expressed by analysts over the performance of refiners. For instance, last month, UBS said that oil refiners do not present a strong opportunity anymore as it expects headwinds to outnumber tailwinds.
Then, just last week, Phillips 66 was downgraded by Morgan Stanley and its price target was also cut down to $90 from the prior $105. The investment bank cited weak crack spreads and lower light crude oil differentials this year as the reason behind its bearishness. However, Phillips 66's largest shareholder, Warren Buffett, seems oblivious to the negatives surrounding the stock.
Warren Buffett owns slightly more than 76 million shares of Phillips 66, and added to his position late last month by buying 643,000 shares worth $64 million. Thus, it is evident that Buffett is taking advantage of the weakness in Phillips 66 shares by buying more of them, and this looks like a smart move. So, we will take a look at the reasons why Warren Buffett is right in adding to his Phillips 66 position as compared to Wall Street analysts who are predicting weaker times for the company going forward.
Refining margins have improved
Phillips 66 had struggled late last year and in the earlier part of 2016 as refining margins were declining in light of the mild winter in the U.S. last year that led to lower demand for diesel and heating oil. Moreover, the winter kept vehicles off the roads, as a result of which gasoline consumption weakened.
This had hurt Phillips 66's refining segment last quarter, leading to a sharp decline in the company's overall earnings performance. In fact, Phillips 66 saw its market crack spreads fall to $10.64 per barrel, representing a drop of 17% on a sequential quarter basis, while distillate crack spreads fell to six-year lows.
But, the good thing is that refining margins have made a really strong comeback as the year has progressed. This is shown in the following chart: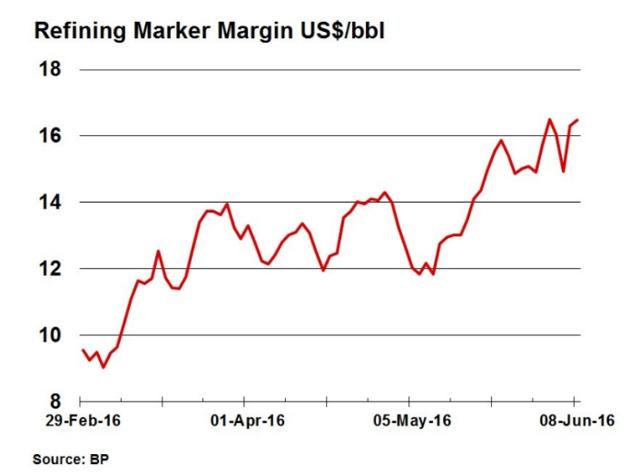 Source: BP
As seen above, from lows of less than $10 per barrel back at the end of February, the refining spreads have improved impressively to almost $17 a barrel earlier in June. This is a rise of around 70% in the refining margins, which will prove to be a tailwind for Phillips 66 going forward and help the company improve its upcoming results.
More importantly, the strength in refining margins is expected to continue in the long run as well and this will aid Phillips 66's growth. Let's see how.
Refining margins will continue improving
Refinery utilization is expected to pick up pace going forward once maintenance activity is completed in the ongoing quarter. The maintenance activity being carried out by refiners in the current quarter is leading to outages in output and this has resulted in a flat throughput. However, in the next quarter, refinery runs will hit a record with output rising to the tune of 2.3 million barrels/day in the current quarter.
This higher refinery utilization is required so that refiners can meet an expected surge in demand for refined products such as gasoline. In fact, gasoline consumption in the U.S. is already surging, with consumption in March rising by 350,000 bpd as compared to last year. Overall gasoline consumption clocked 9.4 million bpd in March as more motorists took to the road. Looking ahead, an increase of 2.5% in highway travel this year will lead to consistently strong gasoline consumption and keep up the rate of growth seen so far this year.
As gasoline consumption rises in the U.S., the refining margins will also start picking up pace due to favorable demand-supply dynamics. This is because the production of crude oil in the U.S. will slide by 800,000 barrels per day in 2016, and by another 400,000 barrels per day next year. This decline in crude oil production will lead to lower feedstock availability for refined products, which could lead to a shortfall in supply.
As a result, Phillips 66 will witness higher refining margins going forward due to higher demand and lower supply of refined products. Moreover, investors can expect the strength in refining margins in North America to continue in the long run on the back of higher demand. This is shown in the chart given below: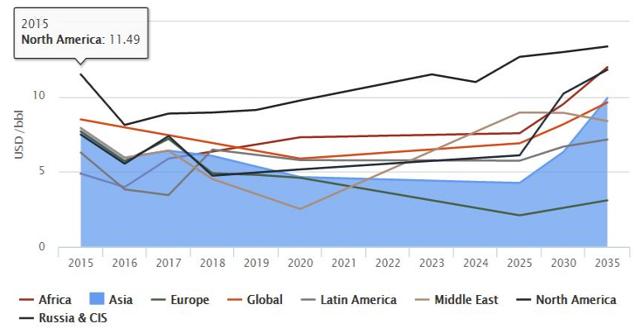 Hence, as seen above, after a brief period of decline in 2016, refining margins are anticipated to get better in the long run and continue rising. This is great news for Phillips 66 since higher refining margins will drive its performance in the long run.
Conclusion
The dynamics of the refining segment are anticipated to improve in the long run due to favorable fundamentals. As such, it will be a good idea for investors to be bullish on Phillips 66 and not get carried away by recent analyst comments, and stay invested for the long run just like Warren Buffett.
Disclosure: I/we have no positions in any stocks mentioned, and no plans to initiate any positions within the next 72 hours.
I wrote this article myself, and it expresses my own opinions. I am not receiving compensation for it (other than from Seeking Alpha). I have no business relationship with any company whose stock is mentioned in this article.