Portugal is one of Europe's most beaten down stock markets
Portuguese public debt, corporate debt and stock market were severely punished in 2010, 2011 and 2012, forcing Portugal into an Economic and Financial Assistance Program from the European Union and the IMF worth €78 billion (41% of 2015's nominal GDP) in May 2011 that lasted until June 2014.
On the one side, public and corporate debt markets have recovered since 2012. Mostly due to the ECB PSPP (public sector purchase programme) and CSPP (corporate sector purchase programme) rather than fiscal consolidation efforts, the Government debt currently yields even less than before the crisis. As I pointed out in a previous article, this shows how much Central Banks have distorted the bond markets. And as I also mentioned in another article, Portugal economic, financial and political situation remains fragile but unlike 2011 and 2012, the return offered by its public debt doesn't pay for the risks involved. So stay away from the debt!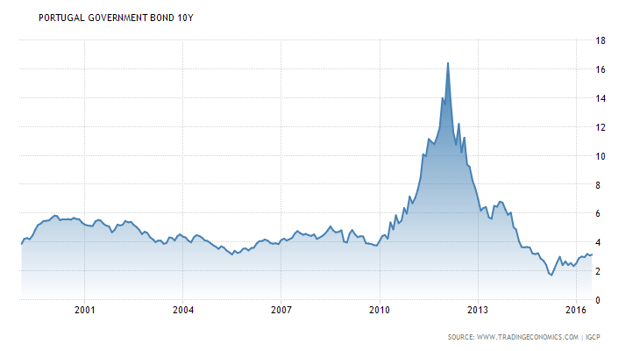 Source: Trading Economics
On the other side, the stock market (NYSEARCA:PGAL) is at historical lows. I don't recommend buying a PSI-20 ETF as there are still a few zombies in the index, namely in the banking, construction and telecom sectors. Instead, I suggest having a closer look at some of the companies in the index that were also hurt by the selling frenzy (without reason) and now offer very attractive valuations. There's no doubt it is still a very risky market, but the potential return is worth the "cherry picking."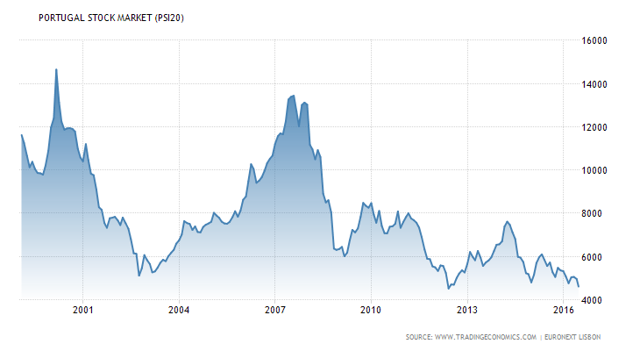 Source: Trading Economics
Sonae is mostly a Portuguese retail company
One of these companies worth a closer look is Sonae SGPS (OTC:SGPMY) (OTC:SOSSF). The company has a market cap of €1.5 billion, a book value of €3.6 billion and trades an average daily volume of around 3.5 million shares (or €3 million) on Euronext Lisbon.
Sonae is a holding company with several different businesses but it is mostly focused in the Portuguese retail sector. In fact, it controls 100% of Portugal's largest supermarket chain (Sonae MC) and 100% of some of Portugal's biggest specialized retail chains in electronic equipment, sportswear and fashion (Sonae SR). Separately, it owns 100% of the real estate company where its food retail business operates (Sonae RP) and 100% of the financial services company that offers consumer credit to its retail clients (Sonae FS).
It also owns 16% to 89.9% of other companies operating in the software, technology and insurance sectors most of which were created to provide services to the retail businesses but now have a diversified client base (Sonae IM). As we can see below, Sonae MC is the main business and accounted for 70% of the revenue and 65% of the EBITDA in 2015.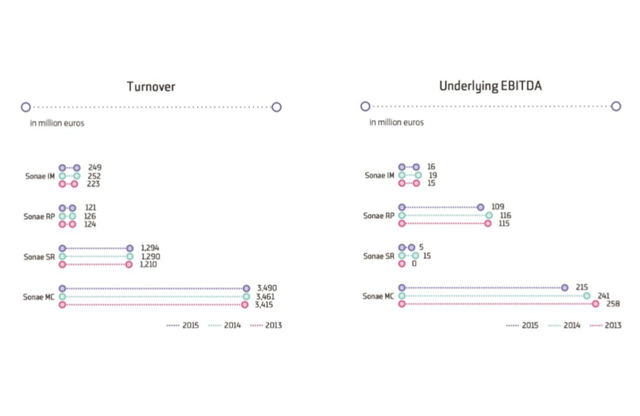 Source: Sonae Investor Presentation
A 50% stake in the shopping center developer and manager (Sonae Sierra) and a 23.4% share in one of Portugal's biggest telecom companies (NOS) are also part of the portfolio. As we can see below, these 2 stakes contributed with 28% of the bottom line in 2015 but that was due to extraordinary non-cash movements in Sonae Sierra assets (their normal contribution is 13% of total net income).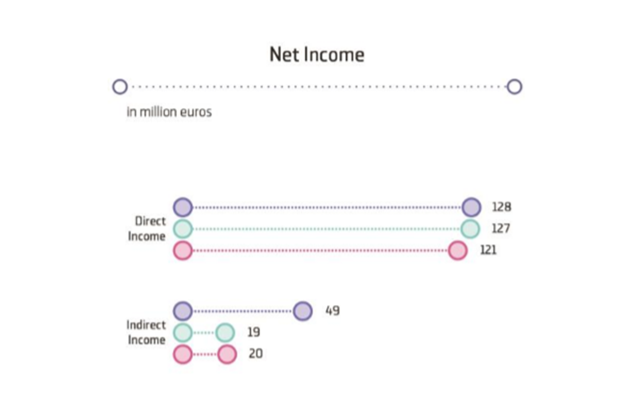 Source: Sonae Investor Presentation
Sonae is present in 72 countries but Portugal is by far the main market. Furthermore, in contrary to Portugal, where it runs the retail business alone, the international expansion of its brands has been made mostly through franchising and partnerships (following a light capital strategy).
Finally, it has benefited from a stable ownership structure over the years and institutional shareholders hold 2/3 of the company: Efanor controls 52.6% (this is the founder's private holding company), BPI owns 8.9% (one of Portugal's main banks), Fundação Berardo has 2.5% and Bestinver holds 2%.
Sonae is trading at a significant discount to the retail sector
Sonae SGPS is currently trading at an estimated P/E of 8.5, an estimated 1.1 PEG ratio, an estimated 0.3 PS and it offers a 4.4% dividend yield. This is very attractive given its diversified business portfolio and its stable revenues, EBITDA and net income.
As we saw before, Sonae MC is the main business: In 2015, it accounted for 70% of the revenue, 65% of the EBITDA and 63% of the workforce. So the obvious comparison to be made is with other food retail companies.
The French retailer Carrefour (OTCPK:CRERF) (OTCPK:CRRFY) offers a 14.0 estimated P/E, a 1.3 PEG ratio, a 0.2 P/S and a 3.0% dividend yield.
German Metro (OTCPK:MTAGF) (OTCPK:MTTRY) trades at a 15.7 estimated P/E, a 1.2 PEG ratio, an estimated 0.2 P/S and offers a 3.5% dividend yield.
In the UK, Tesco (OTCPK:TSCDF) (OTCPK:TSCDY) is trading at a 26.3 estimated P/E, a 1.0 estimated PEG ratio, a 0.3 estimated P/S and pays no dividends.
Wal-Mart (NYSE:WMT) trades at 16.7 times the estimated earnings, at a 5.8 estimated PEG ratio, at 0.5 times the estimated sales and offers a 2.8% dividend yield.
Even in Portugal, Sonae's main competitor Jerónimo Martins (OTCPK:JRONF) (OTCPK:JRONY) (which also operates in Poland) is trading at a 22.9 P/E, a 1.8 PEG ratio, a P/S of 0.6 and has a 1.9% dividend yield.
Of course, this is a very high level comparison and there are several indicators worth a deeper analysis (such as leverage, regional diversification or business models), but my point here is that Sonae's current valuation is very appealing (both in absolute and relative terms). In fact, it has by far the lowest estimated P/E, one of the lowest estimated PEG ratio, it trades at the industry average P/S and it offers the highest dividend yield.
Is such a big discount justified?
Probably the main reason for such a big discount is that it is a Portuguese company that drives most of its revenue in its home market and many investors just want to stay away from the euro area periphery.
Also, its inability (or lack of willingness) to grow the business internationally may have pushed some investors away, that look for high growth rather than a "cash cow."
Finally, this is a holding company with several different businesses besides retail, such as telecom or commercial real estate and diversified holding companies usually trade at a discount.
Be patient and wait for the negative trend to reverse
The stock is quite volatile (it has traded between €2.61 in 2000 and €0.38 in 2012), and historically, it is worth following the trend.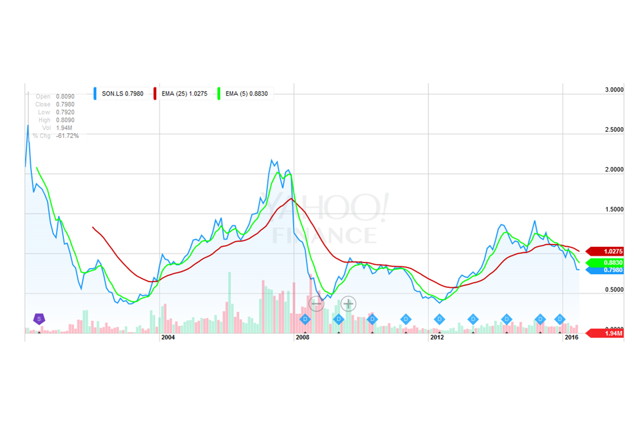 Source: Yahoo Finance
As the trend is currently negative, be patient. As we saw in the previous chapters, there are good fundamental reasons to keep an eye on the stock, but timing is also important and technically the share price is showing some weakness.
In Summary
I love bargains and Sonae is starting to look like one.
The stock has been beaten down due to the "Portuguese stamp," but business (top and bottom line) kept on growing slowly but steadily over the years. Also, the investment metrics are starting to look too cheap to ignore (both in absolute and relative terms).
Still, as the trend remains negative, it is better to wait for a reversal before getting in.
Disclosure: I/we have no positions in any stocks mentioned, and no plans to initiate any positions within the next 72 hours.
I wrote this article myself, and it expresses my own opinions. I am not receiving compensation for it (other than from Seeking Alpha). I have no business relationship with any company whose stock is mentioned in this article.
Editor's Note: This article discusses one or more securities that do not trade on a major U.S. exchange. Please be aware of the risks associated with these stocks.