When faced with an anomaly, do you think that the market (SPY, DIA, QQQ) is wrong or are you just missing something? Today I want to talk about the curious case of oil (NYSEARCA:USO).
We read about how oil is creating and destroying jobs every day, but the energy sector itself isn't that big. It accounts for $3.3 trillion out of S&P 500's total market cap of $19.8 trillion. This makes it the fifth smallest out of the ten GICS sectors. Despite its size, fluctuating oil prices had a tremendous impact on the market.
Oil's collapse in 2015 wreaked havoc in the energy sector, but where did the money go? Value didn't just evaporate. Because oil is being consumed on a daily basis, pain for producers means gain for users. If we really think about it, lower crude prices should have benefited almost everyone except for the energy sector. For example, consumers had more money in their pockets (on average) and airlines saved a ton on fuel. Theoretically, the energy sector should be moving in the opposite direction of retail and airline companies.
Here's what actually happened: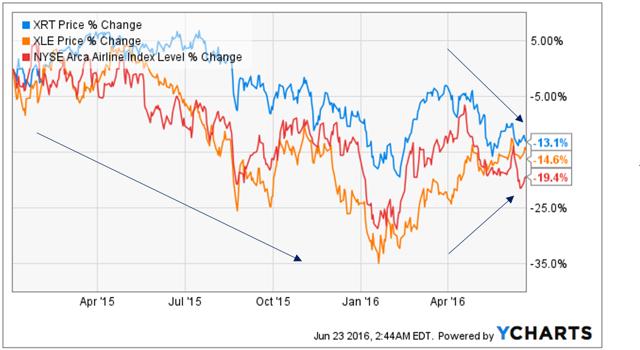 (NYSEARCA:XRT), (NYSEARCA:XLE)
As you can see, the three industries essentially moved in tandem for much of 2015 and through Q1 2016. Since April however, what should've happened finally happened. As oil climbed from $37/bbl to $49/bbl, XLE rallied by 10% while XRT and the airline index (XAL) lost 10.3% and 8.1%, respectively. The decline in XRT reflects consumers' lowering purchasing power as gasoline has gotten more expensive. Similarly, fuel costs will rise for airlines. Why didn't the market apply this logic in 2015?
We know for a fact that consumer discretionaries (includes retail) and airlines did benefit from lower oil. Data from Fidelity shows that consumer discretionaries' TTM EPS grew 11.2% year over year and revenue also increased by 8.8%. Airlines' improvement was much more pronounced, having increased EPS by 260% and revenue by 3.37%.
Economic indicators also support the growth of these macro-sensitive industries.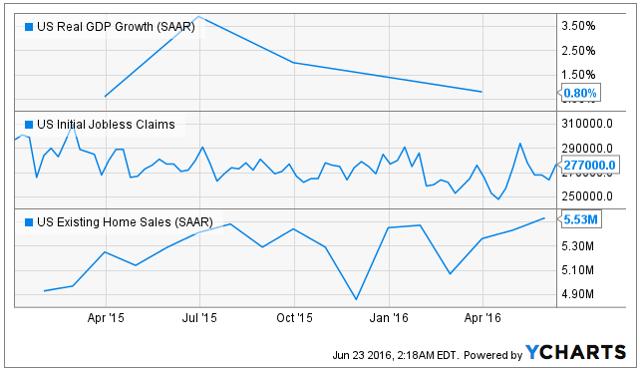 Real GDP was still growing, initial jobless claims trended downwards, and existing home sales were rising quickly. All of these factors point to a healthy and growing economy, so there was no reason for people to avoid retailers and airlines. These indicators also corroborate the Fed's decision to raise rates. Had the economy been in disarray, the December rate hike would not have happened.
The Verdict
Given the above, I am inclined to say that the market was wrong. Though I'm sure that I missed many other contributing factors (is it possible to take everything into account?), I believe that the fundamental improvement of retail and airline companies speaks volume about what should have happened. The market should have realized that lower oil prices allowed those companies to become much more profitable, hence deserving an increase in their stock price.
But why was the market misguided? I cannot give an exact reason as I too am confused by the market's reaction. My opinion is that in a risk-off environment, fundamentals are thrown out of the window and "theme-based" investing takes over. What I mean is that if the market perceives an impending crisis, market participants sell off risky assets (such as retail and airline stocks, both susceptible to economic slowdowns) regardless of whether the perception is correct in reality.
What is your theory?
Click the "Follow" button beside my name on the top of the page to be updated with my latest insights. To learn more about the V20 Portfolio, whose goal is to compound capital at 20% over the long term, I encourage you to read the introduction to my investment process. Premium subscribers get full access to the V20 Portfolio. Track the portfolio through the latest update, here.
Disclosure: I/we have no positions in any stocks mentioned, and no plans to initiate any positions within the next 72 hours.
I wrote this article myself, and it expresses my own opinions. I am not receiving compensation for it (other than from Seeking Alpha). I have no business relationship with any company whose stock is mentioned in this article.