Support.com (NASDAQ:SPRT) provides software based customer support solutions for large enterprises. Their services allow companies like Comcast (NASDAQ:CMCSA) and Office Depot (NYSE:ODP) (their two largest customers) to outsource their customer service functions. The company has been profitable on an operating profit basis only one year out of the past ten (2013). Support.com's big initiative to regain profitability and grow revenue is a cloud based solution they call "Nexus", but it has been slow to ramp up, with a big guidance miss at the end of last year. Management's current guidance is that they will regain profitability in full year 2018. Revenue has been declining and gross margin was only 15.77% in Q1 2016, but as I'll explain later there's light at the end of the tunnel.

You can probably guess from the preceding that stock performance has been terrible... and it has! Over the last 10 years the stock price has done nothing but go "down and to the right."

So why should investors be interested? Given the current poor business performance, there are three reasons this is an interesting idea:
The first is that the company's cash, short term investments, and accounts receivable substantially exceed its market cap. The market cap currently stands at $43.24M (54,959,716 share with a 6/22/16 closing price of $0.7863 a share) with $9.93M in total liabilities. Against this the company as of Q1 2016 had $61.28M in cash and short term investments, along with accounts receivable of $10.46M. This comes out to a ~43% discount to net current asset value (NCAV), which qualifies Support.com as a net net.
The second item that piqued my interest is that VIEX, an activist hedge fund, is involved. VIEX and its affiliates own ~14.9% of the company and have presented a slate of six board of director (BOD) nominees for this Friday's (6/24/16) annual shareholder meeting. Support.com's management announced on Monday (6/20/16) that they are dropping two of their BOD nominees (including current Chairman of the Board Jim Stephens), and so will only have four nominees total. As there are only six total BOD seats -- and they are all up for election -- this means that a minimum of two of VIEX's nominees are all but guaranteed to end up on the BOD.
VIEX has been quiet about what ideas they have to unlock shareholder value, but if their track record is any indication they likely push for a sale of the entire business. Both Wi-Fi vendor Meru and integrated circuit company PLX Technology were sold after VIEX Founder and Managing Member Eric Singer joined their BODs. My best guess is that even without a turnaround Support.com would fetch in the neighborhood of $126M in a sale (cash and investments + $62M midpoint of management's estimate for 2016 revenue). That would be nearly a triple from the current market value.
Even if the business isn't sold the extremely depressed share price provides a margin of safety. Like most net nets, the company is priced as if there is little chance of management turning the ship around. This means that nearly any operational improvements should drive the share price up.
Speaking of operational improvements, the third reason for optimism is that a turnaround is possible. CEO Elizabeth Cholawsky has only been with the company since May of 2014 and has a strong SaaS background with Citrix (NASDAQ:CTXS). Their cloud offering was only fully rolled out in Q4 2015 and so still has plenty of time to ramp up. Aiding the ramp up will be SPRT's new Vice President of Sales who was just hired in February. Management has also laid out a credible plan to restore profitability by leveraging cost reductions and growing high margin cloud revenue.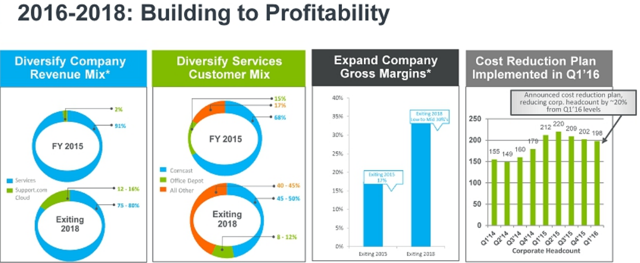 The bear case here is simple: the company continues on its current cash burning path for the foreseeable future, thus destroying shareholder value over time. However it ignores just how deeply discounted the current stock price is, the strong possibility that VIEX pushes for a sale of the company, and/or management turning the company around. At the current price Support.com is a "heads I win, tails I don't lose much" situation.
Disclosure: I am/we are long SPRT.
I wrote this article myself, and it expresses my own opinions. I am not receiving compensation for it. I have no business relationship with any company whose stock is mentioned in this article.
Editor's Note: This article covers one or more stocks trading at less than $1 per share and/or with less than a $100 million market cap. Please be aware of the risks associated with these stocks.