In a previous article I laid out a case as to why I think Abbott Laboratories (NYSE:ABT) is a great long-term investment. One of my reasons for optimism relates to the firm's technological expertise, demonstrated by its ability to constantly bring innovative products to market. The most recent example can be found in ABT's diabetes business, where a recent study showed that patients using ABT's continuous glucose monitor, the FreeStyle Libre, reduced time spent in hypoglycemia 38% compared to self-monitoring blood glucose systems that rely on a finger stick blood sample. The device was approved in Europe in 2014, and approval in the US is expected later in 2016. The product has been well received in Europe and sales across the pond have surpassed management expectations. Thanks to this revolutionary device, diabetes care was Abbott's best performing device business in the first quarter of 2015, driving growth of 2.8% and offsetting reimbursement pressures in the US.
The FreeStyle Libre consists of a small glucose sensor worn under the skin that connects to a plastic patch on the upper arm (Figure 1). The sensor remains in place for up to 14 days, and the user scans over the area with a small touchscreen reader to obtain blood glucose information. It appears that ABT has once again unlocked a new avenue for growth. According to ResearchAndMarkets, a provider of market research papers, "the most significant growth in the global diabetes market will come from the nascent segment of continuous blood glucose monitors". The FreeStyle Libre has a number of advantages over traditional glucose monitoring kits. Consumers generally agree that the product is easier to use, less painful than routine fingersticks, more discrete, just as accurate, and more informative. Diatribe.org, a diabetes blog, argues that by providing real time glucose values, trend information, and comprehensive reports, the readings are more actionable for users compared to those offered on traditional devices.
Figure 1: FreeStyle Libre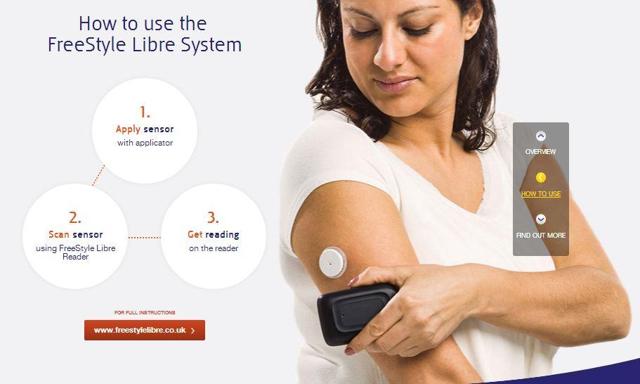 Source: blogspot.com
Abbott is not the only company to test the waters in this exciting new market. Both Medtronic (NYSE:MDT) and Dexcom (NASDAQ:DXCM) offer continuous glucose monitors, but there are aspects to ABT's devices that could potentially separate it from the competition. The FreeStyle Libre does not require start-up calibration or daily adjustments, it simply calibrates itself once inserted into the user. It is also much more affordable, and cost effectiveness is a critical competitive advantage with third party payers looking to cut costs. Finally, the FreeStyle does not require a prescription. Consumers can purchase it directly through online channels, and in bypassing the paperwork associated with getting clearance from doctors, ABT should be able to grow market share at a faster pace than its rivals.
The FreeStyle Libre will by no means transform ABT's fortunes, as the firm has a massive scope of products that comprise a much higher portion of revenues compared to the diabetes business. But it does illustrate Abbott's capacity to continually innovate, which is the only way healthcare firms can sustain growth over time. FX headwinds and reimbursement pressures have overshadowed the company's strong performance in recent quarters. But this does not impact our view of the company's favorable long-term economics.
Disclosure: I/we have no positions in any stocks mentioned, but may initiate a long position in ABT over the next 72 hours.
I wrote this article myself, and it expresses my own opinions. I am not receiving compensation for it (other than from Seeking Alpha). I have no business relationship with any company whose stock is mentioned in this article.