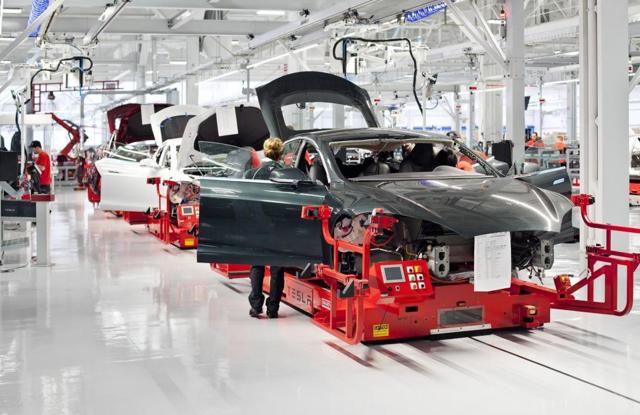 Please be advised that this article is not about Model S suspension issues, SolarCity (SCTY) deal, recurring capital increases, non-existing profit or Elon Musk's sleeping bag. In this article, I provide an overview of Tesla's inventory numbers and explain why the company is still under production constraint. Demand for Tesla (NASDAQ:TSLA) cars is not evaporating, quite the contrary. Sometimes numbers provide a better explanation than rumors and speculation.
Back in Q1 2014, Tesla had revenues of $620.542 million. Two years later Tesla reported $1147.048 million for Q1 2016, almost double. Increasing revenues mean increasing demand. If Tesla had more production capacity, reported revenues would have been higher thanks to growing consumer interest for electric cars. The company is also building inventory to meet demand. Total inventory increased to $1301.961 million in Q1 2016, outpacing revenues. Another item represents this strong interest: deferred revenues. From InvestingAnswers, deferred revenue refers to "payments received in advance for services which have not yet been performed or goods which have not yet been delivered. These revenues are classified on the company's balance sheet as a liability and not as an asset."
In Q1 2014, the company reported deferred revenues of $112.74 million in comparison with $516.62 million for Q1 2016. Deferred revenues mainly represents the leasing program offered by Tesla. It makes it easier for customers to acquire a Tesla car without having to pay the full price upon delivery. These deferred revenues will be earned in the future, when the sale is completed. This program improves sales growth potential.
Model 3 is also coming in 2017 (or 2018 as we all know Musk deadlines) and will represent the major source of growth going forward. Believe it or not, a cheap electric car is what young people want and no one will change that.
No other car manufacturers can claim to have received 373,000 pre-orders for a car. Even if "pre-orders" fall back to 200,000 or even 100,000 it does not provide an accurate picture of final demand. Personally, I would never give $1,000 to "book" a car before delivery. A lot of people are reasoning like that and will want to see the car on the road before booking one. Demand will likely increase as Model 3 is built and delivered to early customers. The Gigafactory (which is not giga at all) will also provide a boost to current sales and will help reduce the waiting time for model 3 production.
Demand is there and will continue to be there for the foreseeable future, whatever bears are trying to prove. Of course, there will be manufacturing issues as every other car manufacturer experiences one day or another.
Moving to the inventory analysis provides more color on the demand constraint myth. Inventory analysis demonstrates the fact that Tesla is still production constrained. In the below table, raw materials and work in progress have massively increased from $197.779 and $64.431 million, respectively, for Q1 2014 to $507.529 and $199.157 million for Q1 2016. This increase points out that the company continues to expect strong demand in the future and is building inventory. Model X production is ramping up and supports this inventory growth. Furthermore, finished goods amount continues to remain below raw materials and work in progress combined, which reinforces the assumption that the final inventory is moving fast to customers. The story is going to repeat with Model 3. This is why I'm not expecting a change in the production constrained model.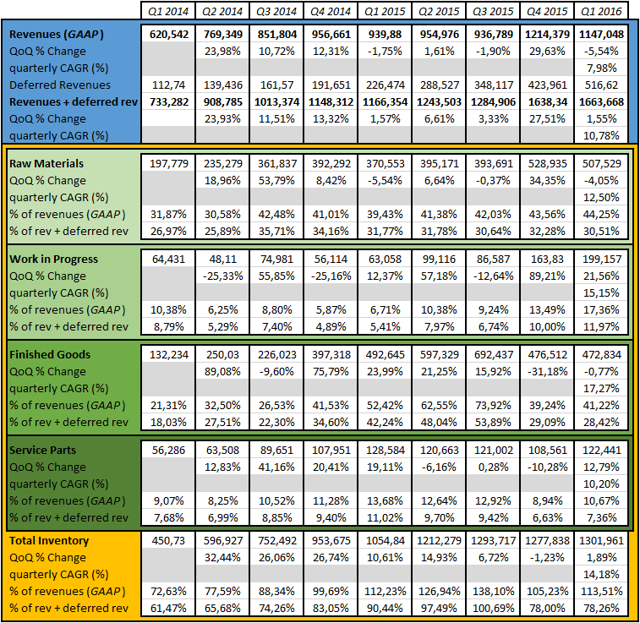 A comparison between inventory and reported revenues adds more fuel to the thesis. For smoothing perspective, I also added a comparison of revenues (GAAP) and deferred revenues, as deferred revenues will be recorded as earned sooner rather than later. Added revenues and deferred revenues improve the overall picture but I will not argue my analysis on that "non GAAP" metric.
From this table, we can derive two trends. First, finished goods increased a lot from $132.234 million in Q1 2014 to $692.437 in Q3 2015. Afterwards, finished goods started to decrease. Second, raw materials and work in progress are increasing quarter over quarter.
When Tesla reported Q3 2015 results, the situation started to look awful, as final inventory was not moving to customers. In fact, finished goods represented 73.92% of total revenues, having increased from 21.31% in Q1 2014. There seemed to be an inventory issue at that time. However, the situation has now been resolved. Finished goods accounted for only 41.22% in Q1 2016, having decreased two quarters in a row. Moreover, raw materials and work in progress as a percentage of total revenues slightly increased in the same period. Next quarter it will be very interesting to confirm the decreasing trend. That would be a confirmation that the demand for Tesla cars is still strong despite the numerous reports saying otherwise.
Conclusion
On an inventory perspective, Tesla appears to be moving in the right direction and will continue to do so in the foreseeable future. I don't expect demand for Tesla and electric cars to decrease any time soon for the reasons listed above. The Gigafactory will increase production capacity and will positively impact Tesla's top line. However, I'm skeptical it will add to the bottom line.
I don't expect Tesla to earn any profit in the coming future as gross profit remains too low to compensate expenses. Tesla is overvalued by any metrics, but it does not matter when people are focused on the never ending growth story. The last capital increase confirms this trend. I would not try to short here as the stock can easily come back to $250 on any good news. I'm cautiously optimistic in the short term despite the SolarCity deal announced, but remain bearish on a long-term perspective.
Disclosure: I/we have no positions in any stocks mentioned, but may initiate a long position in TSLA over the next 72 hours.
I wrote this article myself, and it expresses my own opinions. I am not receiving compensation for it (other than from Seeking Alpha). I have no business relationship with any company whose stock is mentioned in this article.