General Motors (NYSE: GM) shares were hit especially hard by the company's reported sales for May. However, I believe the month's results were anomalous and that data for June will present a better picture. GM shares were already paying a fat 5.1% dividend yield and were valued at discount on various metrics. But given the relevant decline in the shares on the most recent data, and if I'm right about the arbitrage opportunity, I think they offer another 4% bonus upside to the 13.1% total return (includes 8% capital appreciation on EPS growth) I would otherwise conservatively see for them over the next year (does not include possible P/E expansion). A 17% total return (8 + 5.1 + 4) may not sound so sexy to Tesla (NASDAQ: TSLA) holders, but it's probably going to beat a stagnant market from here and prove more reliable than seemingly sexier stakes in still cash needy stocks in this environment that I believe includes a rising cost of capital.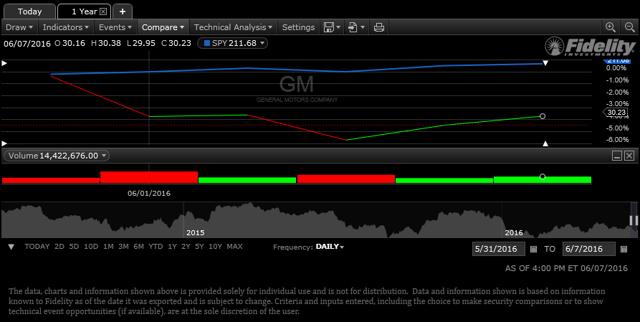 Chart Comparison GM vs. SPY Since May Sales - Fidelity.com
General Motors' shares dropped 3.4% on June 1, 2016, as the SPDR S&P 500 (NYSE: SPY) gained by 0.2%, for a divergence of 3.6% between the stock and the market. The spread widened in the three days following the data and was 4.2% on the June 7 close. The main reason for that was because a good many investors sold the stock on what they thought was a good reason.
After all, General Motors reported a year-to-year sales decline of 18% for May. GM was not alone in its bad day, though, as Ford (NYSE: F) fell 2.8% on June 1st as well on its own reported sales decline of 6.1%. General Motors, however, was among the worst performers among automakers that day because its May sales were the poorest of the poorly reported. Let's look at why auto sales declined so much and why GM's declined more than the rest.
The media sounded an alarm on the apparent disaster and made apparently bad news seem absolutely catastrophic. In my experience, though, when something looks too good or bad to be true, it usually is. Or, in other words, there's usually an explanation for it that is not as relative to the company's operations, its strategy, the industry or economy as it may seem. Thus, its stock is not deserving of the significant penalty it often bears, though risk must be priced in to some degree. In this case, reporters attributed blame to every possible nightmare, including supposed softened consumer spending and "peak auto sales." The peak auto sales argument is popular these days given the ironically high annual pace of auto sales, but actually, that is the first place investors should have looked for a clue to common sense.
I believe I show the May auto sales disaster claims to be anomalous, misreported and misunderstood in my report disputing it all. Please read the report for further clarification. It's important to note that May's sales ran at a seasonally adjusted annual pace of 17.5 million, versus 17.4 million in April, with North American sales at 13.7 million versus 13.8 million in April. That doesn't seem bad at all does it? Remember, though, we're comparing May to May in the corporate data, whereas the aggregate data is matching to the sequentially preceding month. Total auto sales were in fact about 1.54 million this May, according to Autodata Corp., which was 6% less than last year's period.
Still, the key to the year-to-year difference probably had little to do with the economy or "peak auto sales" or the position of the moon for that matter. Rather, this year's period had two less selling days in it, or just 24 sales days versus last year's 26. Now that would seem to matter a lot wouldn't it? Still, skeptics will say GM's sales were down far more than its peers, and 18% is probably bigger than 2 days account for.
That's true, but I think I know why GM suffered to a greater extent than its rivals. First of all, strategy did play a role in GM's variance, but even so, its results are expected to improve in the second half of the year and its brand for much longer. GM made an active effort to reduce its rental sales and May represented its most significant drop in those sales. Over the long-term this will shore up resale values and strengthen GM's brands. Secondly, GM's new products, which are making significant market share inroads, had their launch inventories severely hampered by the recent earthquakes in Japan. Management expects a much different story in the second half of the year in this regard.
The anomalous reasons for GM's pain are as follows. GM is known for its greater focus on the retail customer than its peers, and there was a second important factor at play this May that likely impeded retail sales of cars. Memorial Day weekend, a key sales period for auto dealerships, fell in the last few days of the month this year, versus a week earlier in 2015. I think this is relevant because of the greater likelihood it creates for sales initiated on the holiday weekend but not closed until a few days later, which in this case would fall into June's data.
I spoke with a person very close to me who sells cars for a living, and he helped me to vet some theories I have about May. I think the decision to buy a car is more critical than most purchases people make. I think that as a result, cars are not always sold on the first meeting, as some people would want to take some time to think things over or talk it over with other people. In this case, though, where sales existed, buyers would have wanted to get the special holiday deal, and would certainly have come in for it on the holiday. Salesmen and dealerships, seeking to close the deal, might focus the buyer on the special sales period, but I would guess that many if not all dealers would likely extend the sales terms to accommodate tentative buyers.
I am somewhat confident these issues came into play because of the improvement I'm seeing in the economy in Q2. While the latest nonfarm payroll data was weak; job openings are on the rise; weekly jobless claims are low (today's number was down 18K to 259K); and the unemployment rate is low. The latest Personal Income & Outlays data also showed stronger consumer spending, and GDP expectations for Q2 are at 2.6%.
GM, being more focused on retail sales than peers, would see a bigger impact from the two less selling days year-to-year and also from the later falling of the holiday weekend this year. If I am right, though, then June sales should make up some of May's shortfall.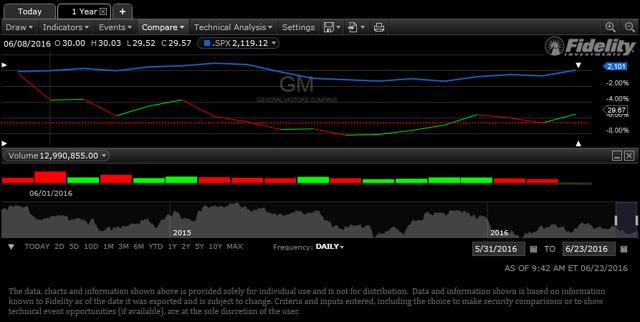 Chart GM vs. S&P 500 May 31 Close to June 23 Intraday
You can see in the chart here that the divergence that began at the start of the month has held to June 23 intraday. The stock was cheap already on most relative metrics, as too much capital seeks sexier shares at Tesla and elsewhere while fearfully contemplating dramatic change for the industry. Meanwhile, established automakers and industry leaders like GM are positioned best to tap into new disruptive technologies, which they are now paying closer attention to thanks to new competition and thought, not to mention the valuation penalty.
And then there is GM's experience as a going concern, versus nascent rivals in auto-making and innovating. GM has made great strides to shore itself up for the next economic recession as well. Can its newest rivals say the same? So GM's shareholders shouldn't fear the sensational speaking of media and markets today. The company is capable of breaking even at an annual sales pace around 10 to 11 million vehicles, according to a recent statement by CEO Mary Barra, and that is far fewer than today's current pace, even if it is "peak sales."
The return of GM shares is roughly negative 12% this year after adjusting for dividends paid. GM's trailing P/E ratio is roughly 4.4X. That compares to Ford's relative P/E of roughly 6.1X and Tesla's P/E of 285X (not on its trailing 12 months but on those estimated for 2016)! Importantly, GM trades at a steep discount to analysts' projections for growth, which is 14.1% for the next five years. That means you can attribute its shares about that rate of growth, minus its dividend yield, if it is to maintain its current P/E, which seems to have a margin of safety built in. Though, there's obviously some skepticism about that growth figure, given projections for just 3.7% EPS growth in 2017, after 13.1% seen for this year. Even so, collecting a fat 5.1% dividend yield while probably being rewarded with about 8% (13.1- 5.1) capital appreciation in a year the market could very well stay put isn't shabby. And if I'm right about the arbitrage opportunity this month, you can add an extra 4% to that return, for a total return of 17% (8 + 5.1 + 4) in 2016. That may bore investors in Tesla, but I would gladly take that somewhat more reliable return this year. Wouldn't you? I'm planning much tighter coverage of the auto industry moving forward and invite relative investors to follow my column here at Seeking Alpha.
Disclosure: I/we have no positions in any stocks mentioned, and no plans to initiate any positions within the next 72 hours.
I wrote this article myself, and it expresses my own opinions. I am not receiving compensation for it (other than from Seeking Alpha). I have no business relationship with any company whose stock is mentioned in this article.