Wednesday was a bumpy day for the markets, as stocks sold off pretty sharply into the close. The S&P 500 (NYSEARCA:SPY) faded from 2,100 to 2,085 by the end of session. On top of that volatility (NYSEARCA:VXX) (NYSEARCA:UVXY), made a large surge as the day closed.
However all that has reversed as of Thursday morning. As of this writing several hours before the opening bell, the S&P, Nasdaq (NASDAQ:QQQ) and Dow (NYSEARCA:DIA) futures are all up more than 1%. The Euro (NYSEARCA:FXE) and British Pound (NYSEARCA:FXB) are spiking higher - the pound especially is on a tear.
As you might expect, this has been powered by Brexit "remain" enthusiasm. The latest batch of polling combined with heavy rains in pro-leave parts of the country have analysts thinking remain will secure the victory. On the betting sites, leave has hit its lowest odds of success in weeks.
Relief appears to be widespread. Volatility, which spiked yesterday, is already down 8% and counting on the front-month VIX futures. Commodities are broadly higher, enjoying the effects of a sharply weakening dollar. Only gold (NYSEARCA:GLD) is flat in listless trading, as the weak dollar runs against the crosscurrent of diminishing fear.
Today is likely to be a volatile session, particularly if anything comes out during the day that would threaten the Brexit is going to fail narrative. Stay alert if you're making trades today.
In the bigger picture, the vote for remain - assuming the general consensus holds - is probably a positive for investors. Personal feelings about staying or going aside, markets prefer predictable rules and in general the status quo leads to better valuations than great uncertainty.
So, there's the potential we get a serious rally in the ensuing week as the market calms down. But don't get married to the upside. The US market continues to face extreme resistance at the old all-time S&P 500 high around 2,130.
We've got what's likely to be another uninspiring earnings season coming up fairly soon, and rate hike talks will get going again now that the Brexit concerns are about played out.
If we take any message from the Brexit panic, it's that the market is ready to correct on the slightest of causes. For one indicator of this, just look at the chart of volatility indices over the past week or two. If you weren't following the news, you'd imagine something much worse had happened.
Or look at the crash in a sleep-well-at-night world-class business like Diageo (NYSE:DEO):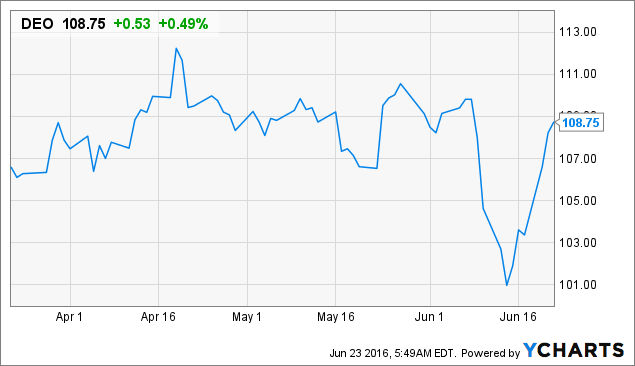 It actually traded under 100 for a bit, though it never closed that far down. Due to Brexit fears (that were irrelevant to Diageo's business in any case) the stock dumped 10% in a week. Going back to the days when Diageo was simply Guinness, this is a company that has made generations of families profoundly rich and without fail grows earnings at faster than 5% a year compounded over 10-year stretches.
Alcohol companies don't lose 10% of their real business value in a week - ever. If Diageo's market cap can get slashed 10% in a week on nothing from what was already an exceedingly fair starting valuation, don't be surprised if even the bluest of the blue chips stateside experience similar markdowns on the next irrational market scare.
At the end of bull markets, people look for the slightest excuse to sell positions. If you sold stocks at inopportune moments over the past week due to the Brexit panic, this is a good time to reconsider your portfolio management strategy.
Keeping portfolio hedges or cash on hand makes it easier to sit through these sorts of transitory news-driven fear events without making bad decisions. The easy bull market of 2013 where stocks went steadily higher with only brief shallow dips has long since passed.
Colombia: Peace At Last
After years of tense on and off negotiations, the Colombian government and the left-wing FARC rebels have reached a real agreement to end the war. The war had endured for more than 50 years, and led to the deaths of more than 200,000 people since 1964. Indirect costs have been tremendous; among them, millions of Colombians were displaced by violence.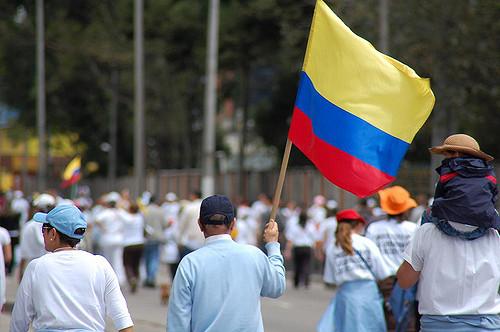 Scene from an anti-FARC rally. Source
After four years of negotiations, today in Cuba, a deal will be signed between Colombian president Juan Manuel Santos and rebel leader Timochenko. The deal came farther than most expected, laying down precise terms for most of the disputed conditions, including immunity for the 8,000 or so active rebels and efforts to integrate the rebels back into society.
For Colombia, this is arguably a huge victory, on both societal and economic terms. Many of the country's resource extraction industries have been hampered by ongoing rebel activity. Even with the decline in FARC activity in recent years, Colombian oil titan Ecopetrol (NYSE:EC) has continued to get hit by attacks on their infrastructure now and again. Expect Ecopetrol to receive analyst upgrades and increased investor attention in coming days.
The other clear winner should be the Colombian banks. While there was little remaining FARC activities in cities (where bank branches tend to be), the banks will get a big boost in international credibility with this geopolitical hazard off the table. For Grupo Aval (NYSE:AVAL) in particular - which is currently disputing with a rating agency over a downgrade - this could tip the balance in a most helpful way.
While Bancolombia (NYSE:CIB) has fewer pressing issues, it also benefits from any general improvement in Colombian sentiment. Shares of Bancolombia in particular rallied nicely Wednesday as news of the deal filtered into the markets. The Colombian Peso advanced 2% on the day - one of the biggest one-day jumps I recall this year.
Arguably Colombian stocks (NYSEARCA:GXG) haven't reacted enough to the news, there's potentially a swing trade here long GXG - the country ETF - or Ecopetrol: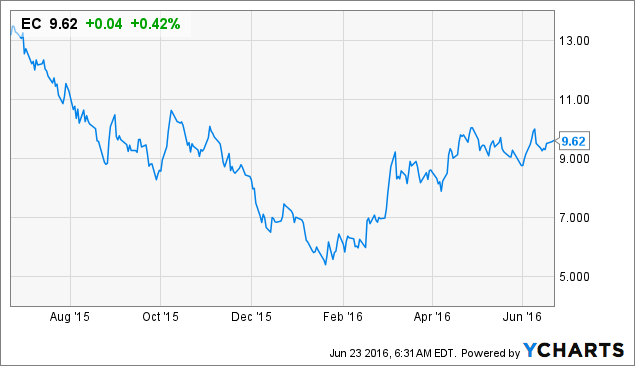 In the long run, it's not all roses for Colombia, there are heavy costs that come with reintegrating the rebels into society. Those against the deal have argued the hike in the national sales tax is tied to raising funds for enacting the peace treaty.
Many opponents of the deal (including, I should disclose, my Colombian girlfriend) want FARC completely eradicated through force, rather than dealt with via a costly peaceful solution. The FARC rebels will, in many cases, be receiving more financial support from the state than responsible middle-class professional workers earn in wages. With reason, people perceive that as grossly unfair.
While there will be significant short-term costs, in the long run, the advantages of peace should carry the day. Public opinion is deeply divided about President Santos, who has staked his reputation on negotiating this deal. Both from a human and economic perspective, there's a lot riding on this treaty. Sentiment had been moving against Colombia in recent months as the international perception grew to be that the Santos government was bogged down.
Tentatively, let's call it a big victory for the Santos administration and Colombia. The country continues to be one of the premier investment destinations of the 21st century. Settling this long-running war is another piece of the puzzle for the country's continued rise toward intermediate-term first-world status.
Disclosure: I am/we are long EC, CIB, AVAL, DEO.
I wrote this article myself, and it expresses my own opinions. I am not receiving compensation for it (other than from Seeking Alpha). I have no business relationship with any company whose stock is mentioned in this article.
Additional disclosure: I'm short UVXY.