As I have highlighted in previous articles there are a number of significant question marks surrounding NQ Mobile's (NYSE:NQ) latest attempt to sell 65% of their mobile game subsidiary FL Mobile to the plastic packaging material company called Shenzhen Prince New Materials. One of the key issues I mentioned is the lack of cash on Shenzhen Prince's balance sheet and how much money they would have to successfully raise.
In September 2015 Shenzhen Prince only had around 197 million RMB in cash and short term investments.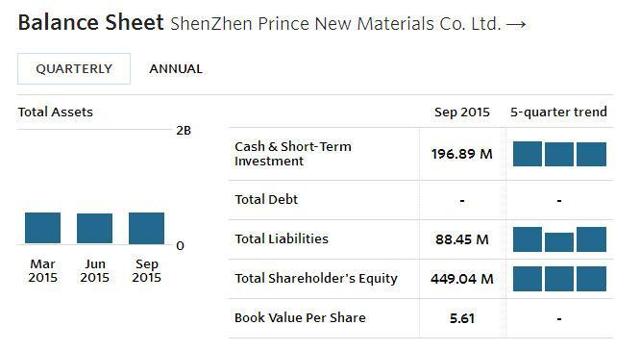 The terms of the deal announced by NQ is that Shenzhen Prince will purchase the 65% stake of FL Mobile for 3.24 billion RMB. This means Shenzhen first has to be able to successfully raise over 3 billion RMB. As disclosed in the press release, Shenzhen Prince plans to raise the money using equity financing.
Raising this much money by itself already seems like a difficult task and a significant hurdle for this deal. However new regulations that was just announced by the China Securities Regulatory Commission (CSRC for short) likely means that Shenzhen Prince would not even be allowed to attempt to raise money at all for this deal.
New CSRC Ban On Raising Funds For Asset Restructuring
These new rules from the CSRC was announced on Friday June 17, 2016 in China. There are articles available in English which outlines these new regulations. Such as this one titled "China bars companies from raising funds using backdoor listings" from the South China Morning Post.
There is another article in English article from the China Daily titled "Watchdog tightens scrutiny on IPOs" which also goes over these new rules.
The key part which affects the pending FL Mobile and Shenzhen Prince deal is a new ban on fund raising for asset restructuring. As the article states:
… the CSRC also revised the rules for major asset restructuring by listed companies, aiming to better regulate back-door listings and to curb the sometimes feverish speculation surrounding shell companies.

The regulator will ban listed companies from raising funds for asset restructuring and will extend the share lockup period for new shareholders to 24 months under the new rules.
Since Shenzhen Prince is a listed company in China and as part of the announced deal they would have to raise around 3 billion RMB or more in cash from equity financing to purchase FL Mobile as an asset, these new rules would obviously seem to apply to them. If Shenzhen Prince is not allowed to raise any money for the deal there would be very little chance that the sale can actually be successfully completed.
Although given the difference in the market cap of NQ Mobile compared to the announced prices of the various pending FL Mobile stake sales, the market never really believed the deals would succeed in the first place even before this new fund raising ban in China. Hardly a surprise though when considering all the other failed FL Mobile deals announced by NQ Mobile in the past two years.
For a lengthy and more in depth translation of these new set of regulations from the CSRC, there is also an article available in English from Xinhua Finance Agency titled, "CSRC launches the strictest shell-borrowing rule, cutting grey profit chain". It goes into much greater detail of the specific rules and also provides various examples.
Reasons For the New CSRC Rules
One of the main reasons the CSRC is now preventing listed Chinese companies from raising cash for asset restructuring is because they are trying to curtail and stop the growing number of back door/reverse merger listings in China. Instead of going through the IPO process which can take many years due to a backlog, many Chinese companies have been structuring deals with already listed shell companies to quickly gain a listing in China.
A reverse merger or backdoor listing can be successfully completed in just months compared to waiting years for an IPO in China. A number of Chinese companies which have gone private and delisted from the US in the past year or two have already used this method to quickly relist in China.
However regulators in China are concerned about a stock market bubble being created from this. Many of the retail investors in China who are buying and bidding up shares of shell companies being used for reverse mergers may have very little idea what they are exactly investing in. Some retail investors are simply buying shares based solely on the fact that they read the shell company is part of a reverse merger with little or no regard for the underlying businesses. As one of the article states:
The shell firms reported to be involved in reverse merger deals have drawn frenzied buying from mainland investors, prompting the CSRC to rein in irrational buying in an effort to curb excessive volatility on the beleaguered market.
There is a newscast available from China Central Television's where a spokesman for the CSRC named Deng Ge explains some of the reasons behind their new rules. He stated it is to "stem shell speculation" and "reduce the possibility for speculating bogus and junk shells to gain profit." The new rules will also help "contribute to removing zombie companies from the market and enable the survival of good listed firms and the elimination of the inferior ones"
It would appear the only rational reason behind any legitimate attempt for NQ Mobile to sell FL Mobile to Shenzhen Prince is for FL Mobile to gain a listing status on China's stock market. This will allow shareholders of Shenzhen Prince to profit off of any "frenzied buying" from new Chinese investors. Under almost no normal circumstances would you ever find a plastic packaging company like Shenzhen Prince buying a video game company solely for business purposes. However as noted this is the type of speculative practice that the CSRC is trying to prevent or put a stop to.
Conclusion
Regardless of the reasoning behind the ban from the CSRC on raising funds, these new rules likely drastically reduce any chance of a successfully completion of the deal to sell FL Mobile to Shenzhen Prince. Without the ability to raise funds there are no way that Shenzhen Prince can afford to buy the 65% stake of FL Mobile for 3.24 billion RMB.
Furthermore in the press release announcing the Shenzhen Prince deal it states that:
" The Transaction and the equity financing are both subject to customary closing conditions and shareholder approval of Shenzhen Prince and regulatory approval by the China Securities Regulatory Commission"

If the CSRC is no longer allowing the financing that Shenzhen Prince is attempting, this sounds like it could be grounds for termination of this deal.
With these new rules from the CSRC prohibiting fund raising it will be interesting going forward to see if the parties involved will somehow try to restructure the FL Mobile deal. Or would this Shenzhen Prince deal be cancelled and replaced by a new deal with a different new party buying FL Mobile like the number of other failed FL Mobile deals in the past?
Disclosure: I/we have no positions in any stocks mentioned, and no plans to initiate any positions within the next 72 hours.
I wrote this article myself, and it expresses my own opinions. I am not receiving compensation for it. I have no business relationship with any company whose stock is mentioned in this article.