If you have been following our writing over the past couple of months you will be aware that back in February of this year we got quite bullish on oil (NYSEARCA:USO) prices.
The timing of that was mostly luck, but we also owe it to the fact that we pay attention to what the smartest investors in the world are saying. The arguments that multiple Superinvestors presented convinced us that oil prices were going to rise.
Looking back at WTI oil prices in the $20's in February getting bullish then seems like a no-brainer. The reality was of course that it wasn't, because most of the media was reporting that $10 per barrel was coming next.
There was also commodities specialist Dennis Gartman on CNBC saying that oil would never hit $44 again in his lifetime. He was a bit off on that one considering it got back there within a couple of months. The good news for Dennis is that nobody remembers such calls and he is still on CNBC sharing his wisdom.
We have looked at a lot of oil producers over those few months and we have scanned the portfolios of the Superinvestors we follow (not Gartman) looking for the same. Most of what we have found hasn't impressed us all that much.
These companies have as a whole done such a poor job of allocating capital and managing the cyclical nature of this business that we have been disappointed with the options available.
Earthstone Energy (NASDAQ:ESTE) though looks a little different. We'd like to investigate it a little further today and you can decide if you agree. We'd like to join you in the comments section of this article if you are interested in discussing (don't worry we have thick skin!)
Insider Buying Got Us Looking
As a normal course of our daily routine we spend some time looking for smaller companies that have had a significant amount of recent insider buying. Following insider buying doesn't guarantee success but we sure think it is a good way to get tipped off to some opportunities the market has missed.
Here is what has been going on at Earthstone:
Insider Transactions Reported - Last Two Years

Date

Insider

Shares

Type

Transaction

Value*

21-Jun-16

LODZINSKI FRANK ALANOfficer

24,500

Direct

Purchase at $10.50 per share.

$257,250

21-Jun-16

SINGLETON RAY J JROfficer

9,500

Direct

Purchase at $10.50 per share.

$99,750

1-Jun-16

WONSON G. BRETOfficer

25,000

Direct

Acquisition (Non Open Market)

N/A

1-Jun-16

URBAN ZACHARY G.Director

9,000

Direct

Acquisition (Non Open Market)

N/A

1-Jun-16

ANDERSON ROBERT JOHNOfficer

75,000

Direct

Acquisition (Non Open Market)

N/A

1-Jun-16

SINGLETON RAY J JROfficer

65,000

Direct

Acquisition (Non Open Market)

N/A

1-Jun-16

LODZINSKI FRANK ALANOfficer

150,000

Direct

Acquisition (Non Open Market)

N/A

1-Jun-16

JOLIAT JAY FREDERICKDirector

9,000

Direct

Acquisition (Non Open Market)

N/A

14-Jan-16

JOLIAT JAY FREDERICKDirector

10,000

Indirect

Purchase at $11.72 - $11.72 per share.

$1,170,002
Source: Yahoo Finance
You can decide for yourself if that is a significant level of insider buying. We think that $1.3 million of employee after-tax dollars going into the company that they know the most about is.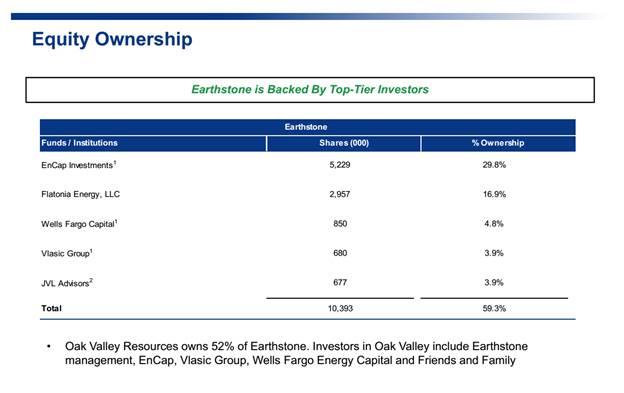 Source: Earthstone presentation
The Track Record
When it comes to investing in smaller energy companies are opinion is as follows. You can look at financials and reserve reports all you like, but the most important thing is quality of management.
You need to invest alongside people who have proven that they can create value for shareholders. This business is full of management teams that can spend money and grow production.
But can they actually create value per share and eventually realize that value? That is the question that you need to focus on.
Earthstone's management team has built and sold five previous companies. And yes those sales resulted in shareholders making out very well (you were ready to ask that obvious question right?).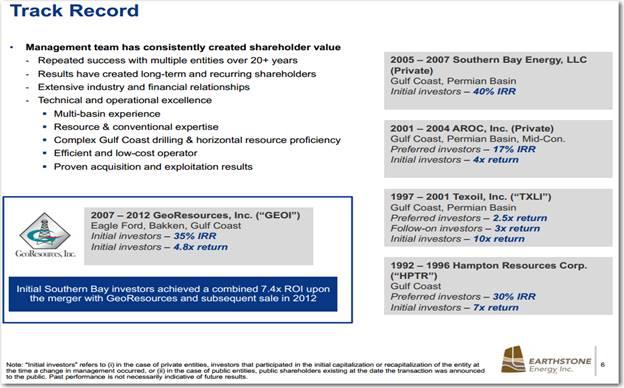 Source: Earthstone Presentation
That slide above is in our opinion the most important thing to know about Earthstone. Like anything else it doesn't guarantee success, but it certainly increases the odds significantly.
Earthstone has been put together through a series of acquisitions that have taken place mostly since the oil price crash. That is a good time to be buying assets in this business.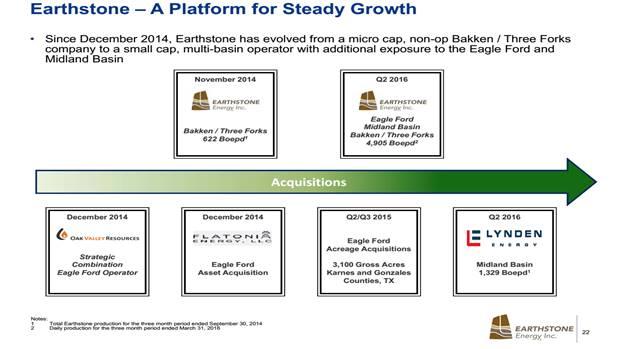 Source: Earthstone presentation
From having 622 boe/day of production in the Bakken in 2014 Earthstone now has nearly 5,000 boe/day of production which is spread across the Bakken, Eagle Ford and Permian.
To be honest we prefer companies that remain focused on one play and wringing every little bit of efficiency (and oil) out of it. Given Earthstone's history of successfully building companies we would assume though that they are picking up good assets at really good prices.
Earthstone Energy - The Business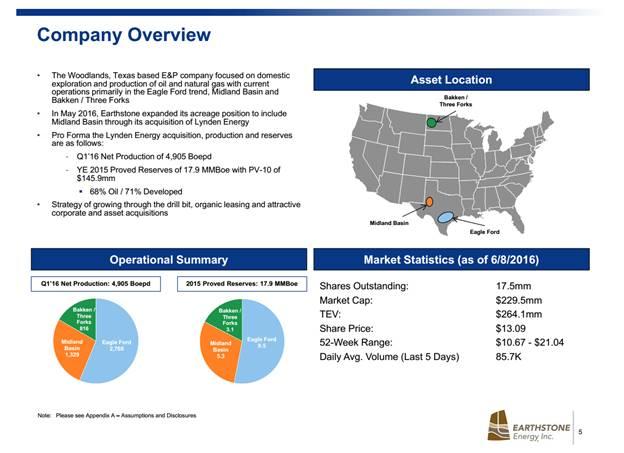 Source: Earthstone presentation
As we mentioned Earthstone is now operating in the three big shale oil plays. Production and reserves are roughly 70% weighted towards oil. As investors we always need to pay attention to that, all boe (barrels of oil equivalent) are definitely not created equal. At recent prices all hydrocarbon production stinks (economically speaking), but if you want exposure to oil and not natural gas or associated liquids you need to be aware of the production split.
Roughly 56 percent of production is from the Eagle Ford, 25% is from the Permian and the remainder is Bakken. If we could pick which plays we would prefer in order it would likely go Permian, then Bakken and then Eagle Ford.
But it really depends on the specific acreage more than the actual name of the play. As outside investors trying to really determine how good a producer's acreage is would be very difficult. That is again why management is so critically important.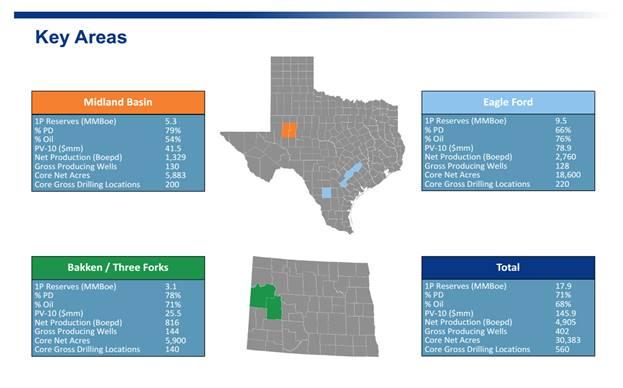 Source: Earthstone presentation
On a reserve basis the 17.9 million barrels of proved reserves are split:
- Permian 5.3 million boe
- Eagle Ford 9.5 million boe
- Bakken 3.1 million boe
The company breaks out future drilling locations as:
- Permian 200
- Eagle Ford 220
- Bakken 140
Note that those are gross drilling locations and not "net" to Earthstone. There is a big difference between the two for Earthstone (more on that coming).
Where Earthstone plans to allocate its capital in the coming 12 months is interesting as it is almost all going towards the Eagle Ford.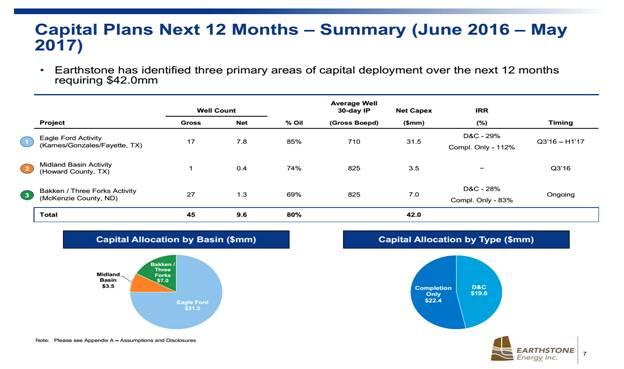 Source: Earthstone presentation
The chart above shows how small Earthstone's working interest in its Bakken land is. With 27 gross wells being drilled Earthstone only gets a net share of 1.3 of those which is just a 4% working interest. Earthstone's interest in the Eagle Ford and Bakken is closer to 50%.
We don't like those small working interests. We would much rather a company have full operatorship of its properties and the market will recognize that in the valuation it assigns to production and cash flow. Not having operatorship of your acreage means that you aren't in control of anything including the timing of capital allocations.
It would probably make sense for Earthstone to divest its Bakken assets if a decent price was available.
The full return on investment for drilling and completing wells in both the Eagle Ford and Bakken is just under 30% (per Earthstone). Those IRRs use May 25, 2016 strip pricing. In our opinion those aren't great returns for taking on the risk of drilling oil wells, and they are also likely only half cycle returns which is misleading. That isn't a knock on Earthstone, that is how all these companies present things in their presentations. We don't think drilling horizontal wells and fracking them is a profitable business at current oil and gas prices.
Note to readers……don't believe everything you read in corporate presentations. In fact take all of it with a shaker of salt.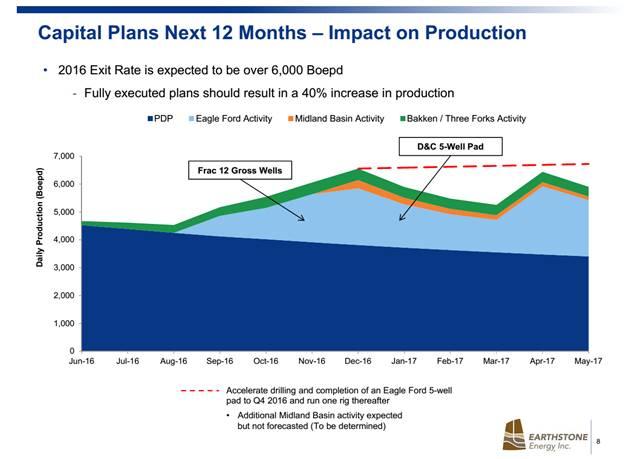 Source: Earthstone presentation
Earthstone plans to grow production to nearly 6,000 boe/day by the end of the year. That is over a 20% increase. Is growing production into $50 oil and current natural gas prices something to celebrate? We aren't sure about that.
It is nice that the company has the balance sheet that allows them to grow even in this depressed environment.
The Permian/Midland assets were acquired recent by acquiring Lynden Energy through an issuance of Earthstone shares.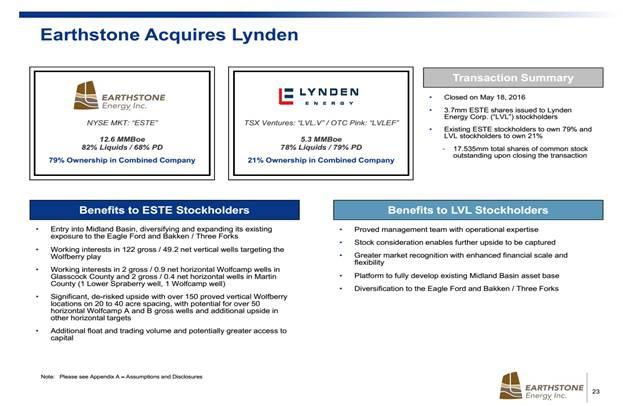 Lynden was a sleepy company sitting on a pretty good sized land position in the Permian. Getting these assets into the hands of Earthstone's management group is likely good for both companies.
This deal made Earthstone significantly larger and was deleveraging. Getting bigger can open some doors and provide more access to capital. It seems like a good deal to us, but what will ultimately determine if it was will be the rate of return that Earthstone generates by investing capital into this play.
As we noted earlier there isn't much capital being allocated to the Permian in the coming months. Below is what Earthstone had to say about the deal which again puts them in a non-operating role:
"Our acquisition of Lynden Energy is a pivotal event for our Company. We will diversify our asset base and move into attractive acreage with significant horizontal potential in the Midland Basin. We will also broaden our shareholder base through this all-stock deal. Many in the financial community will recall that in our prior public company, GeoResources, Inc. (NASDAQ: "GEOI"), we initially entered the Bakken shale play in the Williston Basin on a non-operated basis with another excellent operator and quickly established an operating presence thereafter. We intend to expand our presence in west Texas and pursue operated properties and acreage as our management team has done in each of our four prior public companies. While the transaction puts the Company in a new basin, rest assured that our management team has significant experience across the entire Permian Basin. For this transaction, we look forward to working with CrownQuest to maximize our respective interests. "
Source: Earthstone press release
Balance Sheet
On June 16 Earthstone announced that it was raising $45 million by issuing 4.5 million shares at $10.50. Some investors get worked up about dilution if they think shares are undervalued, we think priority number one for these smaller producers is to keep a clean balance sheet.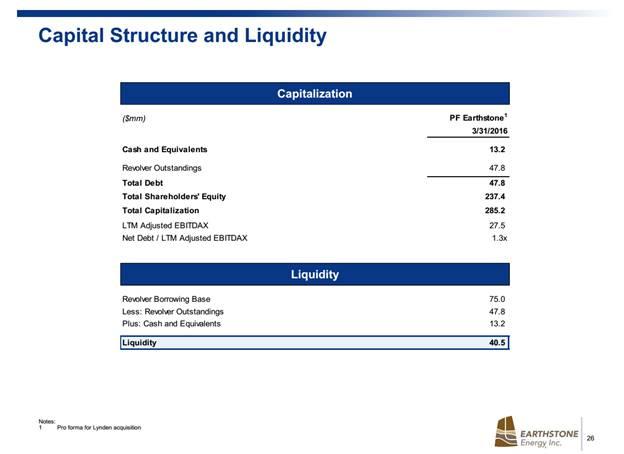 Source: Earthstone presentation
On March 31 (see slide above) Earthstone had $47 million of net debt. This equity issuance makes the company essentially debt free. That is a very advantageous position to be in with a lot of companies in dire, dire straits.
Thoughts On Valuation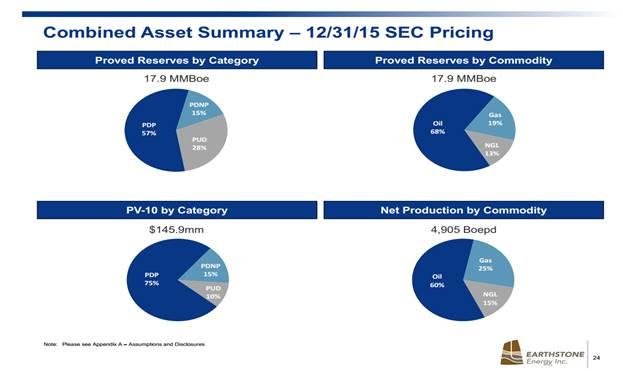 Source: Earthstone presentation
We knew you were going to ask us about this!
How about you give us your target for what oil prices are going to average over the next 10 years and we will give you a valuation?
Valuation of these companies is truly complicated. There is the value that the company could be sold for today and then there is how much you think it might be worth 5 years from now if oil is at a certain price.
We think the latter is the valuation that we should think about and it is quite likely very different than the former.
After the recent equity issuance Earthstone has 22 million shares outstanding and no debt. With a share price of $10.45 that is an enterprise value of $229 million.
On a production basis that would value Earthstone at $46,938 per boe/day of production. That clearly isn't expensive for an oil weighted producer, we could get you a pretty long list of them trading at over $100,000 per boe/day even today.
What is tricky about Earthstone is that its operations are spread across three different plays and it has a low working interest on average across those plays. Both of those things deserve a bit of a discounted valuation.
What we would key on is that you are getting a proven value creating management team with a pristine balance sheet at a decent price (if not a really good price). If you build a portfolio of small oil producers with those traits you are going to do well over time.
A Buyer In A Buyer's Market
In all, we think Earthstone looks pretty darn interesting. Management does too evidently because there has been some insider buying. That insider buying is why we looked at the company in the first place. What could also be a big plus is that this is a company with the ability to acquire assets in a market that is full of desperately leveraged sellers. That has to be a good thing.
Investors should be aware that the freely traded float for Earthstone is pretty tight. That isn't a problem for us, we don't mind volatility and we really like having management aligned with shareholders by having a big equity stake.
We recently turned over a rock in the gold sector where we found another management team (and balance sheet) like Earthstone's that we really like. One of the Superinvestors we follow has 11% of his portfolio invested in this little company and we just released a 20 page report on it for our premium subscribers. If you would like to join our subscribers and get a look at this company, just follow this link.
If you would like to get more of our free content, make sure to click the follow option at the top of the article. Thanks for reading. Good luck with your investing.

Disclosure: I/we have no positions in any stocks mentioned, and no plans to initiate any positions within the next 72 hours.
I wrote this article myself, and it expresses my own opinions. I am not receiving compensation for it (other than from Seeking Alpha). I have no business relationship with any company whose stock is mentioned in this article.